Research article
Open Access
Structural analysis of heme proteins: implications for design and prediction
BMC Structural Biology
2011
11:13
Received: 26 October 2010
Accepted: 3 March 2011
Published: 3 March 2011
Abstract
Background
Heme is an essential molecule and plays vital roles in many biological processes. The structural determination of a large number of heme proteins has made it possible to study the detailed chemical and structural properties of heme binding environment. Knowledge of these characteristics can provide valuable guidelines in the design of novel heme proteins and help us predict unknown heme binding proteins.
Results
In this paper, we constructed a non-redundant dataset of 125 heme-binding protein chains and found that these heme proteins encompass at least 31 different structural folds with all-α class as the dominating scaffold. Heme binding pockets are enriched in aromatic and non-polar amino acids with fewer charged residues. The differences between apo and holo forms of heme proteins in terms of the structure and the binding pockets have been investigated. In most cases the proteins undergo small conformational changes upon heme binding. We also examined the CP (cysteine-proline) heme regulatory motifs and demonstrated that the conserved dipeptide has structural implications in protein-heme interactions.
Conclusions
Our analysis revealed that heme binding pockets show special features and that most of the heme proteins undergo small conformational changes after heme binding, suggesting the apo structures can be used for structure-based heme protein prediction and as scaffolds for future heme protein design.
Keywords
Protein Data BankHeme IronAxial LigandHeme ProteinHeme Binding
Background
This year marks the 50th anniversary of the publication of the very first two protein structures, myoglobin and hemoglobin, two prototype heme proteins involved in oxygen storage and transport [1, 2]. Heme proteins, or hemoproteins, are a group of proteins carrying heme as the prosthetic group. Heme proteins are ubiquitous in biological systems and exhibit diverse biological activities. These include the classical functions of diatomic gas transportation/storage and electron transfer as exemplified by myoglobin, hemoglobin and cytochrome c[3, 4]. More recent studies continue to reveal more pleiotropic roles of heme proteins in transcriptional regulation [5, 6], ion channel chemosensing [7], circadian clock control [8], and microRNA processing [9].
The identification of human Rev-erb nuclear receptors as heme sensing transcription factors represents an important addition to the heme protein family [10, 11]. Rev-erbα (NR1D1) and Rev-erbβ (NR1D2) have been implicated in the regulation of circadian rhythms, lipid and glucose metabolism, and diseases [12–15]. They were previously categorized as orphan receptors with no known physiological ligand. Computational modeling and X-ray crystallization of the ligand binding domain (LBD) of Rev-erbs provided incentives for proposing heme as the bona fide ligand. However, the proposal was largely based on the homology between Rev-erb LBD and that of a known heme sensing protein E75, a Drosophila nuclear receptor; and the authenticity of heme as a ligand remained elusive at the time due to the lack of unified information on heme binding sites and heme-protein interaction. Therefore detailed analysis and prediction were not possible. Yet the Rev-erb story prompted us to ask: can we predict heme proteins? The worldwide structural genomics projects have produced a large number of new structures with unknown functions or annotated as hypothetical proteins [16, 17]. Owing to the ubiquitous and essential nature of heme in life, we hypothesize that some "orphan" structures in Protein Data Bank (PDB) [18] are heme proteins.
To date, structure-based protein function prediction remains a major challenge in structural bioinformatics. Rational design of heme proteins represents another attractive research front for its potential in the development of advanced biocatalysts and therapeutics [
19
–
25
]. Regardless of the purposes, a thorough understanding of protein-ligand interaction is essential. The interactions between heme and its host proteins are complicated. Heme as a prosthetic group can exist in different forms. Among the known forms, heme
b
and heme
c
represent the most common types of heme groups associated with proteins [
26
]. Heme
b
binds to proteins noncovalently while heme
c
forms covalent bonds between the heme vinyl groups and two cysteine residues of proteins (Figure
1
). Previous studies suggested that the functional versatility of heme proteins is delivered not only by the variability of the heme molecules but also the diverse micro-environment of the proteins, the nature of the axial ligands to iron, and the relative solvent accessibility of heme [
27
,
28
]. Heme proteins encompass diverse protein fold structures, among which is the well-known globin fold. However as probably the result of convergent evolution, analogous fold structures do not always warrant successful functional inference. For example, the N-terminal domain of RsbR, a protein involved in environmental stress signaling, assumes a globin-fold structure but does not bind to heme [
29
], highlighting the complexity of heme proteins and the need for detailed analysis of the heme binding surroundings.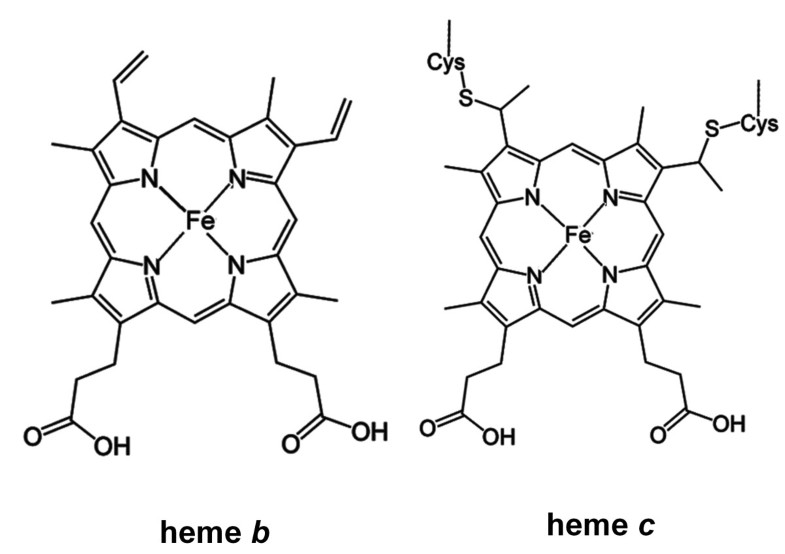 As a first step towards a long term goal to develop methodologies for predicting and designing novel heme proteins, a field of interest with great potential in medicine and green energy [27, 30], we set out to investigate the common characteristics of heme binding sites and the conformational differences between apo (without heme) and holo heme proteins, aiming at consolidating and synthesizing a large body of experimental data and extracting useful information and novel integrative insights.
We take into consideration two key questions crucial to the structure-function paradigm of heme proteins. The first concerns the structural implications of the heme-interactive sequence motifs. CXXCH represents the classic type-c heme binding motif in which the two vinyl groups of heme form covalent bonds with two cysteine residues in proteins [27, 28]. Recently, a heme regulatory motif CP (for cysteine-proline dipeptide) has received increasing attention [31–35]. But up to the present the functional importance of this CP heme sensing or regulatory motif has been studied only through mutational experiments on a limited number of proteins. It is still not clear from a structural point of view how the CP motif is involved in regulation of heme binding as has been established for the CXXCH heme c motif.
The second question concerns the structural environment or the physiochemical features of the heme binding pockets. Of particular importance is the conformational difference between the apo and holo forms of heme proteins since, in most cases, only apo structures will be available for prediction. Even though the global and local conformational changes induced by ligand binding in general have been surveyed by a number of studies [36–39], such systematic studies on heme proteins have not been reported. In this study, we compiled a non-redundant dataset of apo-holo pairs to examine the conformational and pocket changes in heme proteins after heme binding.
The diversity and conservation of interactions between heme and proteins have been analyzed previously by Schneider et al. [27]. However they used a redundant dataset with 68 type-b heme proteins (based on 60% sequence identity cutoff) due largely to the limited availability of heme protein structures [27, 40]. A very recent study performed analysis on a smaller dataset of 34 heme proteins, each of which represents one CATH homologous family or a SCOP family [41]. There are seven different heme groups in the 34 heme proteins with heme b and heme c as the dominant forms [41]. Here we performed structural analysis on a larger, non-redundant dataset of heme proteins containing heme b and/or c types. Heme proteins are found in at least 31 different structural folds in all the four major classes based on SCOP classifications [42], attesting to the diversity and complexity of heme-protein interactions. The heme binding pockets are enriched in aromatic amino acids and relatively depleted with respect to the charged residues, glutamic acid, aspartic acid, and lysine. We also found that the CP motif has structural implications in heme-protein interactions.
Methods
Datasets
Two non-redundant datasets were generated in this study. The first dataset, containing 125 heme-binding protein chains, was used for analysis of heme binding environment. This set was culled from protein structures in the Protein Data Bank (PDB, November 24, 2009) [18] with HEM (for heme b) or HEC (for heme c) as ligands with the following criteria: experimental method = X-ray crystallography, maximum resolution = 3 Å, and maximum R-value = 0.3. The protein chains that interact with heme molecules (described in next section "Analysis of heme interacting residues") were selected, and a non-redundant set of 125 heme-binding protein chains was generated using PISCES [43] with a sequence identity cutoff of 25% (Additional file 1, Table S1). The second dataset has 5596 protein chains in which each pair of protein chains has less than 25% sequence identity and each structure has a resolution of 2.5 Å or better and an R-factor of 0.3 or better. This set was used for calculating background frequencies of amino acids, secondary structure types, and relative solvent accessibility. The sequences for the protein chains derived from the PDB "SEQRES" records may have cloning and expression artifacts such as His-tags at the N- or C-terminus and some of the protein chains have missing residues [44, 45]. To avoid such artifacts and incomplete sequences, the amino acid frequencies were calculated using the full-length protein sequences through mapping PDB chains to Uniprot entries with PDBSWS [46].
Analysis of heme interacting residues
A residue is considered as a heme axial ligand if the distance between the nitrogen, sulfur or oxygen of the residue and the heme iron is within 3 Å. Residues having heavy atoms within 4.5 Å of any non-hydrogen atoms of the heme molecule are identified as heme interacting amino acids. A protein chain is considered as heme binding if it has residue(s) as axial ligand(s) to the heme iron or has at least ten residue interactions with the heme molecule. DSSP was used to assign each residue to one of three secondary structure states, helix, strand, and coil [47]. Following the widely used convention, H (α-helix), G (310-helix) and I (π-helix) from DSSP are classified as helix type while E (extended strand) and B (residue in isolated-bridge) states are classified as strand type. All the other states from DSSP are considered as coils. The relative solvent accessibility was calculated by dividing the absolute value of exposed area from DSSP over the maximum accessibility of each residue [48]. We employ a three-state classification for relative solvent accessibility: buried (≤7%), intermediate (>7% and ≤37%), and exposed (>37%), as described previously [49].
Structural comparisons between apo and holo heme proteins
To maximize the number of possible apo-holo heme protein pairs, each of the heme protein chains was first compared with all the non-heme protein chains derived from PISCES pdbaaent file using BLAST [50]. There are a number of ligands that are similar to heme b or c in PDB, so structures with these heme-like ligands are not considered as apo proteins for our apo-holo comparisons. Based on HIC-Up keyword search using heme and porphyrin [51] and SuperLigands ligand structure similarity search [52], we identified 55 heme-like ligands in PDB (Additional file 1, Table S2). The highly similar apo-holo heme protein pairs (cutoffs set at 90% sequence identity and 95% sequence alignment overlap) were then culled to generate a list of 15 non-redundant apo-holo pairs using PISCES with a sequence identity cutoff of 25% [43]. Five of the 15 apo proteins that contain other non-heme ligands in the heme-binding pockets were removed from the list as they are not truly "apo" forms with respect to the heme binding sites. The structural differences were evaluated with two structure alignment programs, FAST [53] and CE [54] for structure comparisons. The similarity/difference between two structures is measured by the RMSD (root mean square deviation) of the Cα atoms of aligned residues. The pocket/cavity was predicted using the CASTp server (Computed Atlas of Surface Topography of proteins)[55]. To compare the shape of the pockets, Rvs, the ratio between the volume and the surface area is used[56].
Conclusion
In this study, we surveyed the known heme protein structures for the purpose of structure-based heme protein prediction and novel heme protein design. We first compiled a non-redundant dataset of 125 heme (type b and c) binding protein chains that encompass a large number of protein structural folds, reflecting the diversified roles of heme proteins. Structural analysis revealed that the residues interacting with heme are mainly non-polar, especially aromatic amino acids, providing a hydrophobic environment for the heme ring structure. We also investigated the possible structural roles of CP motifs that are implicated in the regulation of heme binding and have received much attention recently. While the CP dipeptide is not as strong a signature for heme binding as the classic CXXCH heme c binding motif, the proline in the heme-interacting CP dipeptides assume important structural roles when CP is conserved and the cysteine functions as an axial ligand with heme iron. Indirect interaction between CP motifs and heme binding has also been reported in HMOX-2 protein, in which CP dipeptides form thiol/disulfide redox switch away from the heme binding pocket [62, 64], suggesting the heterogeneity of CP-heme interactions.
Comparisons between the apo and holo heme proteins indicate that most of the heme proteins undergo small conformational changes after heme binding, suggesting the apo structure can be used for structure-based heme protein prediction and as a scaffold for heme protein design. In addition our analysis on the heme binding pockets showed that despite the different sizes, the Rvs values of heme binding pockets are confined in a small range, whereas the data from non-heme binding proteins spread over a large range. We will apply the results from this study to investigate if any of the hypothetical proteins in PDB are potential heme proteins through computational prediction and experimental validations in the near future.
List of abbreviations used
Å:

angstrom
CP:

cysteine-proline
LBD:

lipid binding domain
SCOP:

structural classification of proteins
PDB:

protein data bank
RMSD:

root mean square deviation
Rvs:

ratio of volume over area.
Declarations
Acknowledgements
The authors thank Dr. Dennis Livesay and Dr. Laura Schrum for comments on this manuscript. This research was partly supported by the NSF CAREER grant (DBI#0844749) to JTG, the NIH 5R01DK038825 to HLB, and the CMC-UNC Charlotte Collaborative Grants Program (09-002) to TL and JTG.
Authors' Affiliations
(1)
Cannon Research Center, Carolinas Medical Center, Charlotte, USA
(2)
Department of Biology, University of North Carolina at Charlotte, Charlotte, USA
(3)
Department of Medicine, University of North Carolina at Chapel Hill, Chapel Hill, USA
(4)
Department of Medicine, University of Connecticut Health Center, Farmington, USA
(5)
Department of Bioinformatics and Genomics, University of North Carolina at Charlotte, Charlotte, USA
Copyright
© Li et al; licensee BioMed Central Ltd. 2011
This article is published under license to BioMed Central Ltd. This is an Open Access article distributed under the terms of the Creative Commons Attribution License (http://creativecommons.org/licenses/by/2.0), which permits unrestricted use, distribution, and reproduction in any medium, provided the original work is properly cited.