Research article

Open Access
Designing and benchmarking the MULTICOM protein structure prediction system
BMC Structural Biology
2013
13:2
Received: 16 October 2012
Accepted: 21 February 2013
Published: 27 February 2013
Abstract
Background
Predicting protein structure from sequence is one of the most significant and challenging problems in bioinformatics. Numerous bioinformatics techniques and tools have been developed to tackle almost every aspect of protein structure prediction ranging from structural feature prediction, template identification and query-template alignment to structure sampling, model quality assessment, and model refinement. How to synergistically select, integrate and improve the strengths of the complementary techniques at each prediction stage and build a high-performance system is becoming a critical issue for constructing a successful, competitive protein structure predictor.
Results
Over the past several years, we have constructed a standalone protein structure prediction system MULTICOM that combines multiple sources of information and complementary methods at all five stages of the protein structure prediction process including template identification, template combination, model generation, model assessment, and model refinement. The system was blindly tested during the ninth Critical Assessment of Techniques for Protein Structure Prediction (CASP9) in 2010 and yielded very good performance. In addition to studying the overall performance on the CASP9 benchmark, we thoroughly investigated the performance and contributions of each component at each stage of prediction.
Conclusions
Our comprehensive and comparative study not only provides useful and practical insights about how to select, improve, and integrate complementary methods to build a cutting-edge protein structure prediction system but also identifies a few new sources of information that may help improve the design of a protein structure prediction system. Several components used in the MULTICOM system are available at: http://sysbio.rnet.missouri.edu/multicom_toolbox/.
Keywords
Protein structure prediction
Template identification
Template combination
Model generation
Model assessment
Model combination
Model refinement
Background
Predicting protein tertiary structure from sequence is an important and challenging problem in bioinformatics and computational biology [1, 2]. Computational protein structure prediction is useful for protein function study, protein design, protein engineering, drug design, and protein evolution analysis [3, 4]. It is becoming increasingly important in the post genomic era as millions of new protein sequences are produced by numerous DNA sequencing projects each year, leading to an enlarged knowledge gap between sequences and known experimental structures [5].
During the last few decades, numerous techniques were developed by scientists in multiple disciplines, such as biophysics, computational chemistry, computer science, and bioinformatics, to address different aspects of protein structure prediction. These aspects include secondary structure prediction, solvent accessibility prediction, disordered region prediction, domain boundary prediction, template identification, query-template alignment, template-based model generation, template-free model sampling, loop modeling, model/alignment quality assessment, and model refinement. Although not perfect, many of these methods can produce complementary and useful information to inform the final tertiary structure of a query protein [6, 7]. In addition to technological advances, increasing amounts of protein structures have been determined by experimental techniques and provide a rich set of structural data for enhancing protein structure prediction. Thus, it has become an important task to systematically integrate these diverse and complementary methods into a state of the art protein structure prediction system that can mine the enlarging protein sequence and structure databases to accurately and quickly predict the tertiary structure of any query protein [5, 8].
In order to integrate diverse protein structure prediction methods and multiple sources of information into one effective system, we have designed an open, five-layer, component-based protein structure prediction pipeline [9] that corresponds to the five major steps of protein structure prediction: template identification, query-template alignment and combination, model generation, model quality assessment, and model refinement. The components in the pipeline are loosely linked through information flow from one layer to next. The input to the pipeline is a query sequence and the output of the previous step is used as input to next step until the final structural models are produced from the pipeline. The interfaces between components are flexible and well designed, so that different methods developed for each step can be easily plugged into the system. Once the system is constructed under the open architecture, the next challenge is to benchmark the system and optimize a large number of parameters of the components. This system then selectively integrates the sequence and structural information produced by these components to generate final protein conformations of good quality. We blindly tested our current implementation of the system, MULTICOM, during the ninth Critical Assessment of Techniques for Protein Structure Prediction (CASP9, http://predictioncenter.org/casp9/) in 2010. The open system delivered very good performance. After the blind prediction phase of CASP9 ended, we systematically analyzed the intermediate data generated by each component in each prediction step and gained a great deal of experience about how to combine and configure components and integrate multiple sources of information in order to build a high-quality protein structure prediction system. In addition to presenting a comprehensive benchmark of the components of the MULTICOM system as tested in CASP9, this work describes a number of new methodological developments incorporated into our system since it was first launched during the CASP8 experiment.
Methods
Overview of system architecture, design, and implementation
Figure 
1
illustrates the architecture of the MULTICOM protein structure prediction system [
9
]. The system consists of five major layers. The template identification layer accepts an input query sequence and searches it against a non-redundant protein sequence database to construct a query sequence profile. This profile is searched against a template library in order to identify a list of template protein structures that may provide conformation information about the structure of the query. A subset of top ranked templates and their sequence alignments with the query protein if available are fed into the template combination layer, which combines the structurally similar templates and the query into query-template alignments. The query-template alignments may contain more than one template which provides complementary information about the query. Then the systematic combination of multiple templates generates a number of query-template alignments. The query-template alignments and template structures are fed into model generation tools (model generator) to sample conformations for the query. The regions of the query that align with templates are sampled by a template-based model generator (e.g. a comparative modeling tool) and the large (>10 residues) unaligned query regions are sampled by a template-free model generator (e.g. a fragment-assembly tool). The model generators usually produce a number of models, which are then evaluated by the model quality assessment layer. The model quality assessment tools assign a global quality score to each model measuring its overall quality (e.g. overall similarity between the model and the known native structure) and a local quality score to each residue predicting its deviation compared with the native structure. Finally, the models and their predicted quality scores are fed into the last model refinement layer in order to further improve their quality. In this layer, multiple models with similar conformations may be combined (e.g. averaged) and the low-quality regions of some models may be refined by stochastic simulations. At the end, the models with the best predicted qualities are released from the system as the final predictions.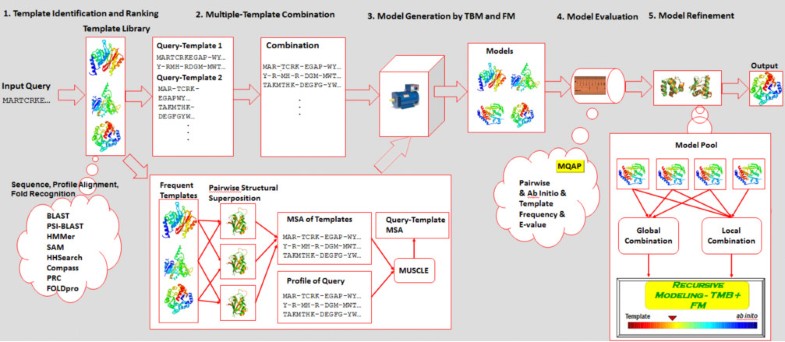 The open architecture of the protein structure prediction system makes it easy to plug in complementary methods as components and integrate multiple sources of information (e.g. template conformations) drawn from the template and sequence library / databases in order to produce high quality models. The subsections below present the implementation of the MULTICOM system emphasizing the new developments occurred since its first version [9] and the components that were thoroughly assessed in this work.
Conclusion
Developing high-quality protein structure prediction systems is critical for addressing the protein structure challenges faced in the post genomic era. In this work, we described how to construct a protein structure prediction system (MULTICOM) under a five-layer open architecture, which can integrate complementary component methods and multiple sources of information to reliably and accurately predict protein structure from sequence. We focused on investigating and validating the effectiveness and complementarity of different components employed in each layer. The experiments provided insights about how to select, use, and combine existing techniques to improve protein tertiary structure prediction using an open architecture. Additionally, the experiments provide a direct, comprehensive and quantitative assessment of various components of a single protein structure prediction system in a blind prediction setting and lead to some interesting findings such as the impact of protein disorder prediction on protein model selection. These results shed new light on designing and developing better protein structure prediction systems and algorithms.
However, despite the reasonable performance that the MULTICOM protein structure prediction system achieved on most protein targets, our benchmark suggests there is still room for improvement in each step of protein structure prediction process. In the future, we plan to add more sensitive or complementary template identification methods into the system to address the failure of identifying good templates for some hard targets. These improvements will include more complementary or even better alignment methods to generate more accurate target-template alignments, improve alignment-based model quality assessment methods with more features and multiple-template information, incorporate residue-residue contact information to improve ab initio model generation (i.e., a major bottleneck of protein structure prediction), and explore the usage of residue disorder prediction in both template-based and ab initio model generation.
Declarations
Acknowledgements
We would like to thank Jianfeng He for some data analysis, Zheng Wang for helping make a figure, and Howard H. Luo for English editing. The work was partially supported by an NIH grant R01GM093123 to JC and a NLM fellowship 5T15LM007089-20 to JE.
Authors' Affiliations
(1)
Computer Science Department, University of Missouri, Columbia, USA
(2)
Informatics Institute, University of Missouri, Columbia, USA
(3)
C. Bond Life Science Center, University of Missouri, Columbia, USA
Copyright
© Li et al.; licensee BioMed Central Ltd. 2013
This article is published under license to BioMed Central Ltd. This is an Open Access article distributed under the terms of the Creative Commons Attribution License (http://creativecommons.org/licenses/by/2.0), which permits unrestricted use, distribution, and reproduction in any medium, provided the original work is properly cited.