Research article
Open Access
The crystal structure of the catalytic domain of a eukaryotic guanylate cyclase
BMC Structural Biology
2008
8:42
Received: 17 September 2008
Accepted: 07 October 2008
Published: 07 October 2008
Abstract
Background
Soluble guanylate cyclases generate cyclic GMP when bound to nitric oxide, thereby linking nitric oxide levels to the control of processes such as vascular homeostasis and neurotransmission. The guanylate cyclase catalytic module, for which no structure has been determined at present, is a class III nucleotide cyclase domain that is also found in mammalian membrane-bound guanylate and adenylate cyclases.
Results
We have determined the crystal structure of the catalytic domain of a soluble guanylate cyclase from the green algae Chlamydomonas reinhardtii at 2.55 Å resolution, and show that it is a dimeric molecule.
Conclusion
Comparison of the structure of the guanylate cyclase domain with the known structures of adenylate cyclases confirms the close similarity in architecture between these two enzymes, as expected from their sequence similarity. The comparison also suggests that the crystallized guanylate cyclase is in an inactive conformation, and the structure provides indications as to how activation might occur. We demonstrate that the two active sites in the dimer exhibit positive cooperativity, with a Hill coefficient of ~1.5. Positive cooperativity has also been observed in the homodimeric mammalian membrane-bound guanylate cyclases. The structure described here provides a reliable model for functional analysis of mammalian guanylate cyclases, which are closely related in sequence.
Keywords
Adenylate CyclaseGuanylate CyclaseCatalytic ResidueSoluble Guanylate CyclaseMembrane Guanylate Cyclase
Background
The second messenger 3',5'-cyclic guanosine monophosphate (cGMP) is central to many signal transduction pathways, primarily eliciting effects by modulating the activities of phosphodiesterases, protein kinases, and ion channels [1–3]. In mammals, cGMP is synthesized by two distinct classes of guanylate cyclases, which are either cytoplasmic or membrane-bound [4]. Both classes of guanylate cyclase share a catalytic module that is closely related in sequence to that of mammalian adenylate cyclases. The catalytic domain is a class III nucleotide cyclase domain [5], which is distributed widely from bacteria to humans. The class III nucleotide cyclase domain is often found fused to diverse regulatory domains, but is also found as an isolated protein [6–8]. The mammalian membrane-bound guanylate cyclases, which respond to extracellular peptide binding or to the levels of intracellular Ca2+, function in maintenance of fluid homeostasis, inhibition of myocyte hypertrophy, skeletal development, and visual and olfactory signal transduction [9]. The mammalian soluble guanylate cyclases are regulated primarily by binding of nitric oxide (NO), and they modulate a wide range of physiological functions, such as maintenance of vascular tone, platelet aggregation, and neurotransmission [10]. Dysfunction of guanylate cyclase signaling underlies many pathophysiological conditions, ranging from stroke and hypertension to gastrointestinal disease and neurodegeneration [11–13].
Mammalian soluble guanylate cyclases are heme-containing heterodimers of homologous α and β subunits [10]. The N-terminal regulatory domain of each subunit contains a heme-NO and/or oxygen-binding (H-NOX) domain [14, 15], and the H-NOX domains of the β subunits have been shown to bind the heme cofactor [16, 17]. The homologous regions of the α subunits do not bind heme, but are predicted to possess a similar fold. The α and β subunits each contain a central region, shown to be involved in heterodimerization, that consists of an H-NOXA (H-NOX associated) domain and an amphipathic helical extension predicted to form a coiled-coil [18, 19]. The catalytic domain is located in the C-terminal segment of the protein, and it associates with the catalytic domain of the partner subunit to form a heterodimeric catalytic unit [20, 21]. The mechanism of soluble guanylate cyclase activation by NO involves the binding of NO to the heme cofactor [22], but the details of this activation mechanism are unknown. The response of soluble guanylate cyclase to NO is regulated allosterically by nucleotides [23, 24], but how this happens is also not understood.
The three-dimensional structure of a guanylate cyclase catalytic domain has not been reported. Crystal structures have been obtained for an oxygen-bound H-NOX domain of a methyl-accepting chemotaxis protein from the obligate anaerobe Thermoanaerobacter tencongensis [25, 26] and for NO- and carbon monoxide-bound forms of an H-NOX domain from a histidine kinase operon in the cyanobacterium Nostoc sp. [27], yielding clues to the mechanism of soluble guanylate cyclase heme ligand recognition and discrimination. Additionally, the crystal structure of the H-NOXA domain of a signal-transduction histidine kinase from Nostoc punctiforme was reported recently [28], revealing that the dimeric H-NOXA domain adopts a Per/Arnt/Sim (PAS) fold and suggesting a mechanism for the preferential heterodimerization exhibited by mammalian soluble guanylate cyclase. Homology modeling based on crystal structures of the related mammalian and bacterial class III adenylate cyclase catalytic domain dimers has provided some information concerning the structure of the catalytic domain of the guanylate cyclases (reviewed in [7]).
There are distinct soluble guanylate cyclases in invertebrates, including insects, nematodes, and algae [
25
,
29
,
30
]. Also called atypical soluble guanylate cyclases, several of these have been predicted to function as homodimers instead of heterodimers, and a number have been demonstrated to be regulated by oxygen [
31
–
34
]. The core subunit architecture outlined above for the mammalian enzymes is conserved in these atypical ones, with additional domains of unknown function appended to the C-terminus of some of the proteins. Here, we report the structure of the catalytic domain of a soluble guanylate cyclase (CYG12) from the unicellular green algae
Chlamydomonas reinhardtii
, which shares 40 to 50% identity with the soluble and membrane-bound guanylate cyclase catalytic domains (Figure
1
). The 991-residue full-length CYG12 protein contains each of the domains present in well-characterized soluble guanylate cyclases as well as an additional C-terminal domain of unknown function, and has the full complement of residues necessary to function as a homodimer. As expected, the
C. reinhardtii
guanylate cyclase catalytic domain has the same protein fold as the mammalian adenylate cyclases. With minor differences, the positions of the residues necessary for catalysis and nucleotide base recognition are in the same locations for guanylate and adenylate cyclases, although the identities of the base recognition residues are obviously different. Compared to mammalian adenylate cyclase, the crystal structure is in an inactive conformation, with distorted active site structural elements. Based on the structure, we propose a mechanism for the positive cooperativity that is observed for mammalian homodimeric membrane-bound guanylate cyclases and demonstrated by us for the
C. reinhardtii
guanylate cyclase. We speculate that the activation mechanism for the guanylate cyclases involves structural rearrangement analogous to that exhibited by the mammalian adenylate cyclases.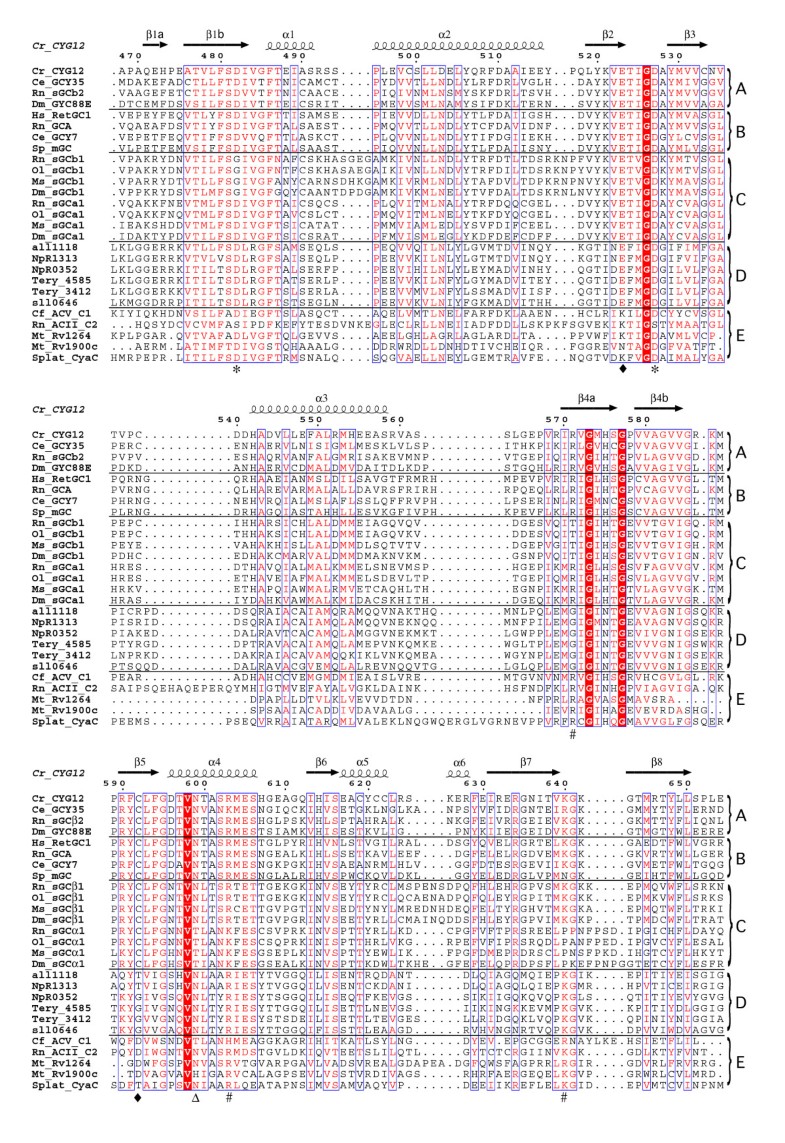 Conclusion
We report the first structure of a eukaryotic guanylate cyclase catalytic domain. The resemblance of the domain to that of the mammalian adenylate cyclase is unsurprising, given the sequence and functional similarity between them. Nevertheless, more than ten years have elapsed between the first reports of the structures of the adenylate cyclases [35, 41] and our results, presented here. The difficulty in crystallizing a guanylate cyclase domain may reflect an increased intrinsic flexibility in the guanylate cyclase domain relative to the adenylate cyclase domain, and it is possible that we succeeded in part because of the fortuitous cysteine modifications that may have increased the rigidity of the domain, facilitating crystallization. We have been unable as yet to crystallize the catalytic domain in the absence of these modifications.
The high degree of sequence conservation between the soluble guanylate cyclase catalytic domain described here and the catalytic domains of mammalian soluble and membrane-bound guanylate cyclases (40 to 50% identity) suggests that our structure will serve as a superior model for functional studies, compared to the mammalian adenylate cyclase catalytic domains (25 to 30% sequence identity). Our structure indicates that the differences between the adenylate and guanylate cyclase are generally localized to flexible regions, some of which are proposed to mediate coupling with regulatory domains and other control elements. While specific differences in regulatory interactions are likely determined by the sequence and local structure of these variable elements, the overall activation mechanism, involving conformational switching by helix α1 and attendant changes in the adjacent β sheet, is expected to be conserved.
Methods
Cloning and protein purification
PCR was used to amplify the gene encoding a 991-residue soluble guanylate cyclase homolog CYG12 (GenBank: XM_001700795) from a C. reinhardtii cDNA library obtained from the Chlamydomonas Center [56]. Forward and reverse PCR primers were 5'-ATGCTGGGCTGGTATGACCGT-3' and 5'-TTACTCCAAACACGGGTTGTCA-3', respectively. PCR products were phosphorylated, blunt-cloned into the vector pGEM, and verified by sequencing (UC Berkeley DNA Sequencing Facility). The guanylate cyclase catalytic domain was expressed and purified using a SUMO-based system (LifeSensors) as follows: residues 468–655, which comprise the catalytic domain of CYG12, were subcloned into a vector containing the yeast SUMO homolog SMT3 with an N-terminal His-tag, and the fusion protein was expressed in Escherichia coli Tuner(DE3) (Invitrogen) for 18 h at 20°C. The fusion protein was purified from supernatant by passage over a HisTrap Ni Sepharose affinity column (GE Healthcare). A His-tagged version of the SMT3-specific protease was used to cleave the N-terminal SMT3 fusion partner from the guanylate cyclase domain, which was separated from the protease and SMT3 by a second Ni affinity step. The guanylate cyclase domain was further purified by Q Sepharose anion-exchange chromatography, followed by gel filtration into a final buffer of 25 mM triethanolamine, pH 7.5, 25 mM NaCl, and 10 mM dithiothreitol. Purified protein was concentrated and stored at -20°C until use. Protein concentrations were determined by absorbance using the calculated extinction coefficient ε280 = 7680 M-1 cm-1.
Crystallization and X-ray data collection
Crystals were grown using the sitting-drop vapor diffusion method. Equal volumes (200 nl) of protein [40–60 mg/ml in 25 mM triethanolamine, pH 7.5, 25 mM NaCl, 5–10 mM dithiothreitol, 10 mM tris(2-carboxyethyl)phosphine] were mixed with crystallization solution [0.1 M sodium cacodylate, pH 5.0–6.4, 42–62% saturated (NH4)2HPO4] and then equilibrated with a 100-μl reservoir of the same crystallization buffer at 20°C. Crystals grew in the trigonal space group and appeared within 1–2 days. Crystals were transferred to a solution of mother liquor containing 28% glycerol as a cryoprotectant, and cryo-cooled and stored in liquid nitrogen. Diffraction data were collected at 100 K using synchrotron radiation at beam line 8.2.2 at the Advanced Light Source, Lawrence Berkeley National Laboratory. Reflections were integrated and scaled with the programs MOSFLM [57] and SCALA [58]. The structure was solved by molecular replacement with the program PHASER [59] using the mammalian adenylate cyclase catalytic domain (PDB code 1AZS) [35] as the search model, and the space group was identified as P3221. Map improvement was carried out using ARP/wARP [60] and RESOLVE [61]. The model was built using COOT [62] and refined using PHENIX [63]. Six TLS domains were used during refinement: residues 467–475 and 578–595, monomer A/B; residues 476–560, 569–577, and 596–608, monomer A/B; and residues 613–651, monomer A/B. Analysis of model quality was carried out using MOLPROBITY [64]. Figures were prepared using PYMOL [65]. The atomic coordinates and structure factors have been deposited in the Protein Data Bank (3ET6).
Guanylate cyclase assays
Guanylate cyclase assays were performed in duplicate at 24°C as described previously [66]. Assays contained 5 μg of guanylate cyclase in 25 mM triethanolamine, pH 7.5, 25 mM NaCl, 4 mM MnCl2 or MgCl2 and 5 mM dithiothreitol. Assays were initiated by addition of indicated amounts of GTP, and were quenched after 2 minutes by addition of 400 μl of 125 mM Zn(CH3CO2)2 and 500 μl of 125 mM Na2CO3. cGMP was quantified using a cGMP enzyme immunoassay kit, format B (Biomol), per the manufacturer's instructions. Experiments were repeated three times to ensure reproducibility.
Declarations
Acknowledgements
We would like to thank Carmen Schwechheimer, Caleb Cassidy-Amstutz, and Bianca Lee for technical assistance, and Nicholas Levinson and Markus Seeliger for critical reading of the manuscript. This work was supported in part by NIH grant GM077365 (M.A.M.). J.A.W. was supported by an American Heart Association Postdoctoral Fellowship. The Advanced Light Source is supported by the U.S. Department of Energy under Contract DE-AC03-76SF00098 at the Lawrence Berkeley National Laboratory.
Authors' Affiliations
(1)
Department of Molecular and Cell Biology, University of California, Berkeley, USA
(2)
Department of Chemistry, University of California, Berkeley, USA
(3)
Howard Hughes Medical Institute, University of California, Berkeley, USA
(4)
Division of Physical Biosciences, Lawrence Berkeley National Lab, Berkeley, USA
Copyright
© Winger et al; licensee BioMed Central Ltd. 2008
This article is published under license to BioMed Central Ltd. This is an Open Access article distributed under the terms of the Creative Commons Attribution License (http://creativecommons.org/licenses/by/2.0), which permits unrestricted use, distribution, and reproduction in any medium, provided the original work is properly cited.