Research article

Open Access
Universal partitioning of the hierarchical fold network of 50-residue segments in proteins
BMC Structural Biology
2009
9:34
Received: 07 October 2008
Accepted: 20 May 2009
Published: 20 May 2009
Abstract
Background
Several studies have demonstrated that protein fold space is structured hierarchically and that power-law statistics are satisfied in relation between the numbers of protein families and protein folds (or superfamilies). We examined the internal structure and statistics in the fold space of 50 amino-acid residue segments taken from various protein folds. We used inter-residue contact patterns to measure the tertiary structural similarity among segments. Using this similarity measure, the segments were classified into a number (Kc) of clusters. We examined various Kc values for the clustering. The special resolution to differentiate the segment tertiary structures increases with increasing Kc. Furthermore, we constructed networks by linking structurally similar clusters.
Results
The network was partitioned persistently into four regions for Kc ≥ 1000. This main partitioning is consistent with results of earlier studies, where similar partitioning was reported in classifying protein domain structures. Furthermore, the network was partitioned naturally into several dozens of sub-networks (i.e., communities). Therefore, intra-sub-network clusters were mutually connected with numerous links, although inter-sub-network ones were rarely done with few links. For Kc ≥ 1000, the major sub-networks were about 40; the contents of the major sub-networks were conserved. This sub-partitioning is a novel finding, suggesting that the network is structured hierarchically: Segments construct a cluster, clusters form a sub-network, and sub-networks constitute a region. Additionally, the network was characterized by non-power-law statistics, which is also a novel finding.
Conclusion
Main findings are: (1) The universe of 50 residue segments found here was characterized by non-power-law statistics. Therefore, the universe differs from those ever reported for the protein domains. (2) The 50-residue segments were partitioned persistently and universally into some dozens (ca. 40) of major sub-networks, irrespective of the number of clusters. (3) These major sub-networks encompassed 90% of all segments. Consequently, the protein tertiary structure is constructed using the dozens of elements (sub-networks).
Keywords
Conformational SpaceContact PatternModularity AnalysisFold RegionProtein Tertiary Structure
Background
Despite the vast number of amino-acid sequences, protein folds (or superfamilies) are quantitatively limited [1–4]. Consequently, protein fold classification is an important subject for elucidating the construction of protein tertiary structures. A key word to characterize protein folds is "hierarchy". Well-known databases – SCOP [5] and CATH [6] – have classified the tertiary structures of protein domains hierarchically. Similarly, a tree diagram was produced to classify the folds [7].
Mapping the tertiary structures of full-length protein domains to a conformational space, a structure distribution is generated: a so-called protein fold universe [8–11]. A key word to characterize the fold universe is "space partitioning". A two-dimensional (2D) representation of the fold universe was proposed in earlier reports [12, 13], where the universe was partitioned into three fold (α, β, and α/β) regions. A three-dimensional (3D) fold universe was partitioned into four fold regions: all-α, all-β, α/β, and α+β [10]. Software that is accessible on a web site, PDBj http://eprots.protein.osaka-u.ac.jp/globe.cgi, serves the distribution on a global surface [14].
The structures of short protein segments have also been studied: Segments of a few (2–3) amino-acid residues long were projected in a two-dimensional (2D) space, where some typical combinations frequently appeared [15]. Fold universes of segments of 4–9 residues long [16] and 10–20 residues long [17–19] showed several clearly distinguishable structural clusters. A systematic survey for 10–50 residue segments has shown that the fold universe is classifiable into segment universes of three types: short (10–22 residues), medium (23–26 residues), and long (27–50 residues) [20]. In this work, the 3D shape of the universe varied abruptly at 23 and 27 residues long. A sequence-structure correlation found in short segments supports the tertiary structure prediction of full-length proteins [21–23].
These studies of protein segments and domains exemplify some structural clusters existing in the low-dimensional (2D or 3D) conformational space. The benefit of the low-dimensional expression is that one can readily imagine the shape of the universe. Increasing the segment length, however, the lowering of the space dimensionality hides the internal architecture of the structure distribution. Consequently, the internal architecture of the distribution for 50-residue segments (or longer segments) is unclear [20]. To compensate the full-dimensional information to the low-dimensional expression, a network is helpful in which two structures close to each other in the full-dimensional conformational space are connected.
Presume an ensemble of points (or nodes). Inter-node linkages form the networks. The network concept has been applied recently to biological systems [24–27]. Structurally similar segments can be linked for the segment fold universe. The structural similarity is computed for the overall structures of two segments (i.e., all coordinates of the segments). Therefore, the similarity is a quantity defined in full-dimensional space. Consequently, a 2D or 3D universe consisting of linked nodes involves full-dimensional information. To assign inter-node linkage in the ensemble, a score is important to quantify the structural similarity between two tertiary structures. Inter-residue contact (native contact) patterns have been used as reaction coordinates in protein folding studies [28–30]. When two structures have similar native contact patterns, they exhibit similar inter-residue packing. Results of several studies indicate that the native contacts are useful indicators to assess the protein folding process [31–43] and folding time scale [41–43].
Herein, we constructed a fold network of 50-residue segments taken from four major structural classes of protein domains. We used the inter-residue contact pattern for the similarity score. The resultant networks showed the main partitioning, as expected. Furthermore, as a new finding, the network of the segment structures was partitioned into dozens of universal communities (sub-networks). From these observations, we propose a novel protein structure hierarchy with community sites at a hierarchy level. The novelty of the currently identified hierarchy was ensured by non-power-law statistics in the hierarchy, which differs from power-law statistics characterizing other hierarchies ever found for protein tertiary structures.
Results
As described in Methods, 50-residue segments were taken from representative proteins and classified into Kc clusters, each of which consists of structurally similar segments. We calculated the native contact patterns that are common in each cluster, and constructed networks by connecting the clusters according to their contact pattern similarity. In Results, we first examine the general aspects of the obtained clusters. Second, we check the conformational distribution using a 3D map. Finally, we analyze the characterization of 50-residue segment universe using a network analysis.
As described in this paper, indices i and j are used for specifying residue positions in a 50-residue segment, s and t for segment ordinal numbers, u and v for cluster ordinal numbers, and w for a community ordinal number.
Discussion
Herein, we described universal partitioning of two types in the 50-residue segment networks (Figure
5
) based on the network analysis. The main partitioning (the network separation by fold regions) resembles that in the classification scheme of existing databases such as CATH and SCOP. The mainly α, mainly β, αβ, and randomly structured regions consist respectively of α, β, αβ, and randomly structured communities. However, for the first time, we found communities in the segment fold universe: this sub-partitioning (network separation by communities) is a novel finding. High modularity ensures persistently existing communities, where the intra-community clusters are linked tightly and the inter-community clusters are linked weakly. The universality of the sub-partitioning was remarkable for
f
0
(0.65 ≤
f
0
≤ 0.75). Nevertheless, outside this range, the universality vanishes gradually. Our results reveal a hierarchically structured universe for 50-residue segments, as depicted in Figure
12
. This hierarchy is robust because the main and sub-partitionings are independent of
K
c
for
K
c
≥ 1000.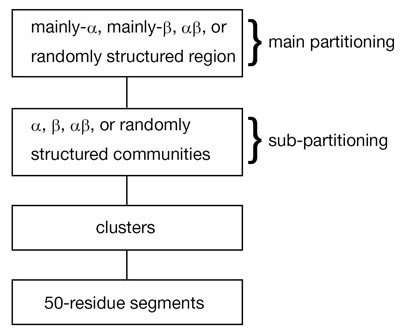 Figure 10B portrays that the current universe for the 50-residue segments consists of some dozens (ca. 40) of major communities. Kihara and Skolnick reported that the current PDB database might cover almost all structures of small proteins [50]. Crippen and Maiorov generated many self-avoiding conformations of a chain and suggested that the possible structures of a 50-residue chain are classifiable roughly into a small number of types, although the secondary-structure formation was not incorporated in their model [51]. A study proposed the conjecture that tertiary-structure evolution of proteins might be achieved using limited repertoires of basic units such as supersecondary structure elements [52]. Results of such studies are consistent with our results because we have shown that protein tertiary structures can be decomposed into the dozens of major communities of 50-residue segments. Actually, 90% of clusters belong to the major communities. To link those studies with our study more closely, detailed contents of each major community should be investigated. In fact, such a research project is proceeding now. Moreover, the role of the minor communities in the protein structure construction should be studied.
The currently observed 50-residue segment universe was characterized by the non-power-law distribution. Our result apparently differs from the power-law distribution widely known for the hierarchical protein domain universe [9, 46, 47, 53]. The emergence of the non-power-law statistics might be related to the usage of the inter-residue contact, which is a more relaxed similarity measure than widely used ones such as RMSD or the DALI Z-score. It is known that in the power-law statistics the rate for isolated clusters in the entire clusters is high [53]. In our non-power law statistics, the rate was low because the relaxed measure provided linkages between clusters. Thus, the two statistics compensate to each other to survey the fold universe. From the non-power-law universe, we could show a novel hierarchy (Figure 12) in the universe and the existence of 40 repertories (Figure 10) to construct the protein tertiary structures, which have not been reported from the power-law universe. These results were also found in the 60- and 70-residue segment universes (data not shown). This suggests that the non-power law is likely to be a general property for segment universes.
The current network helps to trace conformational changes of segments along the network linkages. Supplementary Results displays that the conformation gradually changes when shifting the view from a cluster to another (see Additional file 1).
The inter-residue contact (native contact) has been widely used as a reaction coordinate in protein folding (see Introduction). We intend to use the currently obtained networks for protein folding study. The networks of fixed-length segments are readily applicable for conformational sampling in protein folding, where the chain length is usually fixed. The randomly structured clusters are located at the root of the distribution (Figure 4 and Figure 5), from which the segment conformation can diversify to mainly α, mainly β, or αβ regions with increased compactness (Figure 7).
Conclusion
We constructed a 50-residue segment network for investigating the protein local structure universe. The network was partitioned into some dozens (ca. 40) of major communities with high modularity (0.60 <Qmod < 0.65), independent of the spatial resolution (Kc). The major communities existed universally and persistently in the universe. Surprisingly, 90% of all segments were covered by the major communities. Consequently, numerous similarities exist among local regions (i.e., 50-residue segments) of proteins. Furthermore, the currently constructed segments networks are characterized by non-power-law (non-scale-free) statistics, which apparently differs from reported characteristics for the fold universe of full-length proteins.
Methods
This section includes six subsections. The first three – "Generation of 50-residue segment library", "Clustering segments", and "Computation of inter-residue contact patterns" – are preparative subsections describing construction of the 50-residue segment fold universe. In the subsection titled "Construction of a universe and network", construction of the fold universe and the network is described. "Modularity analysis" presents analyses used to examine the network. The subsection "Characterization of communities by structural features" describes a method to characterize communities depending on five structural features. Specification of indices i, j, s, t, u, v, and w is given at the beginning of Results.
Declarations
Acknowledgements
KI and JH were partly supported by BIRD of Japan Science and Technology Agency (JST). JH was also partly supported by New Energy and Industrial Technology Development Organization (NEDO).
Authors' Affiliations
(1)
Graduate School of Frontier Science, University of Tokyo, Kashiwa, Japan
(2)
School of Life Sciences, Tokyo University of Pharmacy and Life Sciences, Tokyo, Japan
(3)
Computational Biology Research Center (CBRC), National Institute of Advanced Industrial Science and Technology (AIST), Tokyo, Japan
(4)
PharmaDesign, Inc., Tokyo, Japan
(5)
The Center for Advanced Medical Engineering and Informatics, Osaka University, Open Laboratories for Advanced Bioscience and Biotechnology, Osaka, Japan
Copyright
© Ito et al; licensee BioMed Central Ltd. 2009
This article is published under license to BioMed Central Ltd. This is an Open Access article distributed under the terms of the Creative Commons Attribution License (http://creativecommons.org/licenses/by/2.0), which permits unrestricted use, distribution, and reproduction in any medium, provided the original work is properly cited.