Research article
Open Access
In silico identification and characterization of the ion transport specificity for P-type ATPases in the Mycobacterium tuberculosis complex
BMC Structural Biology
2012
12:25
Received: 25 June 2012
Accepted: 27 September 2012
Published: 3 October 2012
Abstract
Background
P-type ATPases hydrolyze ATP and release energy that is used in the transport of ions against electrochemical gradients across plasma membranes, making these proteins essential for cell viability. Currently, the distribution and function of these ion transporters in mycobacteria are poorly understood.
Results
In this study, probabilistic profiles were constructed based on hidden Markov models to identify and classify P-type ATPases in the Mycobacterium tuberculosis complex (MTBC) according to the type of ion transported across the plasma membrane. Topology, hydrophobicity profiles and conserved motifs were analyzed to correlate amino acid sequences of P-type ATPases and ion transport specificity. Twelve candidate P-type ATPases annotated in the M. tuberculosis H37Rv proteome were identified in all members of the MTBC, and probabilistic profiles classified them into one of the following three groups: heavy metal cation transporters, alkaline and alkaline earth metal cation transporters, and the beta subunit of a prokaryotic potassium pump. Interestingly, counterparts of the non-catalytic beta subunits of Hydrogen/Potassium and Sodium/Potassium P-type ATPases were not found.
Conclusions
The high content of heavy metal transporters found in the MTBC suggests that they could play an important role in the ability of M. tuberculosis to survive inside macrophages, where tubercle bacilli face high levels of toxic metals. Finally, the results obtained in this work provide a starting point for experimental studies that may elucidate the ion specificity of the MTBC P-type ATPases and their role in mycobacterial infections.
Keywords
TuberculosisMycobacterium tuberculosis complexP-type ATPasesIon transportConserved motifs
Background
Tuberculosis (TB) is one of the most important challenges in public health maintenance throughout the world. According to the World Health Organization (WHO), 8.5-9.2 million new TB cases were estimated to have occurred in 2010 [1], and 1.2–1.5 million deaths were caused by species of the Mycobacterium tuberculosis complex (MTBC) that includes M. tuberculosis, M. bovis, M. bovis BCG (vaccine strain), M. africanum, M. microti, M. canettii, and M. pinnipedii, which produces TB in humans and some animal hosts [2, 3]. Part of the infected population will develop active TB, whereas the majority of cases (approximately 90%) progress to a non-infectious disease or latent TB, where mycobacteria survive in a dormant state inside immune cells [4]. Individuals with latent TB may be asymptomatic during prolonged periods of time; however, TB can reactivate when the host immune response diminishes due to malnutrition, steroid use, and HIV co-infection [5].
The emergence of multidrug and extensively drug-resistant tuberculosis strains (MDR-TB and XDR-TB) and the lack of drugs against latent TB have become serious problems for TB control. Therefore, the identification of new therapeutic targets useful in the development of novel drugs and vaccines against latent TB is essential. New anti-TB drugs, such as diarylquinolines (TMC207) and benzothiazines (BTZ043) target essential membrane proteins that affect mycobacterial viability [6]. Thus, antimicrobials designed against proteins of plasma membrane are ideal because they avoid problems related to membrane permeability.
Ion transport in bacteria is carried out by enzymatic systems that belong to either the P-type ATPase, ATP binding cassettes (ABC transporters) and metallic ion/H+-antiporter systems [7]. In general, ATPases help maintain the ion gradients responsible for cell volume control and transport of nutrients across the cell membrane [8–11]. ATPases hydrolyze ATP, releasing energy that is used in the transport of ions against electrochemical gradients in plasma membranes. The enzymatic mechanisms of P-type ATPases were initially described in eukaryotic cells [12–14]. These enzymes have five different functional and structural domains: three of these domains are cytoplasmic (A, actuator; N, nucleotide binding and P, phosphorylation), and the other two are embedded in the membrane (T, transport and S, class specific support domain) [15]. P-type ATPases have the following two conformational states: E1, which binds ion substrates on one side of the cell membrane, inducing their auto-phosphorylation and generating a new conformational state; and E2, which has a lower affinity for substrates and therefore releases them to the other side of the cell membrane, promoting ion transport and finally recovery of the E1 state [15, 16].
Despite P-type ATPases share the same catalytic mechanism based on conformational changes in their five structural domains, their regulation and substrate affinities are different [15, 16]. P-type ATPases are phylogenetically classified into five subfamilies (PI-PV), and within these subfamilies are 10 different subtypes that are categorized based on the transported substrate [17].
In this study, probabilistic profiles were constructed to compare and classify all P-type ATPases of the MTBC based on their structural features and ion transport. Twelve possible P-type ATPases were detected in the proteome of M. tuberculosis H37Rv and from other members of the MTBC. The high number of heavy metal transporters discovered in the MTBC suggests an important role for P-type ATPases in M. tuberculosis survival within macrophages.
Methods
Construction of hidden Markov models (HMM)
To obtain a representative group of each phylogenetic subfamily, a set of 128 well-characterized P-type ATPases with evidence of existence at the protein level were retrieved from Uniprot (Swiss-Prot section) [18]. Each group of sequences was aligned using the Praline tool (http://www.ibi.vu.nl/programs/pralinewww/) with the BLOSUM62 matrix and Phobius transmembrane structure predictor, which was developed to improve the multiple alignments of membrane protein sequences [19]. The HMM package of programs [20], available in the Mobyle Pasteur portal (http://mobyle.pasteur.fr/cgi-bin/portal.py#welcome), was used to find these types of pumps in the MTBC proteomes. The Hmmbuild tool with default settings and the multiple sequence alignments was used for HMM building. The default parameters of the Hmmer tools use an ad hoc position-based sequence weighting algorithm that makes the models appropriate for the identification of distant members of the P-type ATPases family. Consensus sequences were generated with the Hmmemit tool.
Search and classification of MTBC P-type ATPases
To date, the following 10 MTBC genomes have been completely sequenced and assembled (NCBI): M. africanum GM041182 (NC_015758), M. bovis AF2122/97 (NC_002945), M. bovis BCG str. Pasteur 1173P2 (NC_008769), M. bovis BCG str. Tokyo 172 (NC_012207), M. canettii CIPT 140010059 (NC_015848) and five M. tuberculosis strains, H37Rv (NC_000962), H37Ra (NC_009525), F11 (NC_009565), CDC1551 (NC_002755) and KZN1435 (NC_012943); these proteomes were obtained from Uniprot (http://www.uniprot.org/). Because strains of M. microti and M. pinnipedii had not been sequenced, they were not included in this study. HMM and Hmmsearch tool were used to find P-type ATPases in the MTBC proteomes.
Hydrophobicity profile construction
The amino acid sequence of the M. tuberculosis H37Rv P-type ATPases and consensus sequences generated by Hmmemit tool were analyzed by TMHMM 2.0. Hydrophobicity profiles of consensus sequences for previously characterized P-type ATPases were used as comparison patterns.
Conclusion
Mycobacteria are unicellular organisms that respond to environmental stimuli, and the transport of substances across the plasma membrane could play a fundamental role in their adaptability. Computational analysis shows that each MTBC species has a consistent aggrupation of the 12 P-type ATPases involved in ion transport. In this context,
M. tuberculosis
strains H37Ra and H37Rv share identical sequences for P-type ATPases, facilitating subsequent genetic studies using the attenuated strain H37Ra. The large number of HM P-type ATPases expressed by the MTBC strongly suggests that they could be essential for the bacteria to counteract the increased level of HM accumulated by macrophages after infection with tubercle bacilli. Thus, compensatory ion transport strategies could be used by mycobacteria to survive in host cells.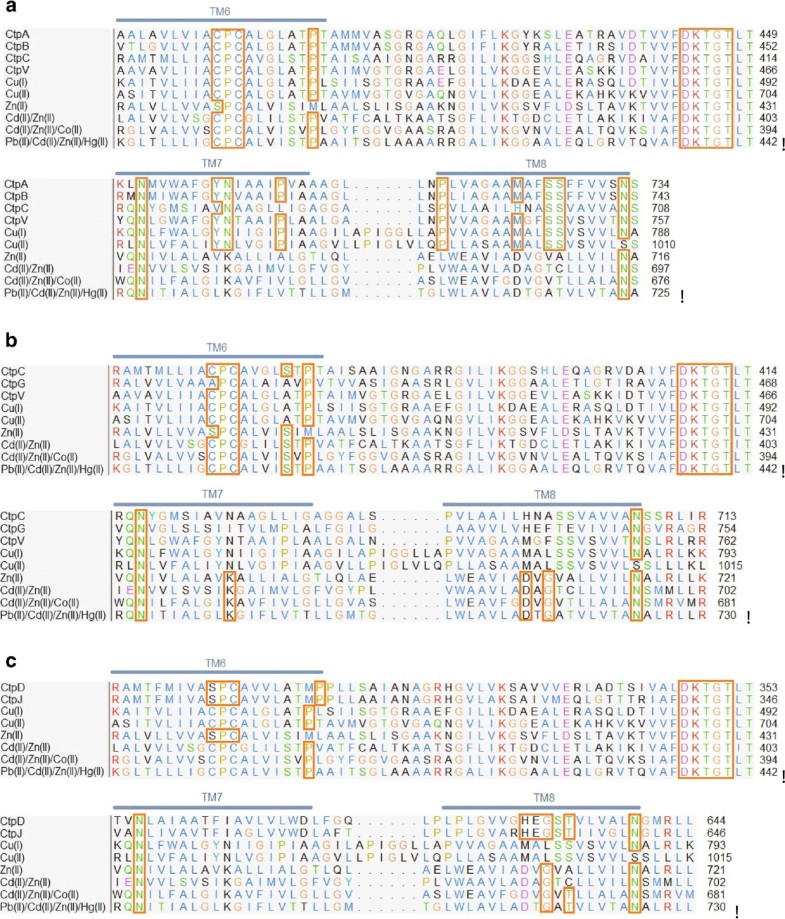 The different bioinformatics approaches used in this work to analyze the P-type ATPases identified in the MTBC are in agreement with the initial classification from the HMM search. The results obtained show that M. tuberculosis has the following three groups of P-type ATPases: HM transporters (CtpA, CtpB, CtpC, CtpD, CtpG, CtpJ and CtpV), AEM transporters (CtpE, CtpF, CtpH, and CtpI) and the KdpB protein, which corresponds to the β subunit of a multimeric K+ ATPase transporter exclusive to prokaryotes. Hydrophobicity analysis identified α-helix type TMS grouped into the following three topological types: type I (HM group), type II (AEM group) and type III (KdpB group). Interestingly, we report a possible mis-annotation for CtpH and CtpI in the TCDB Database, where they are classified as FUPA 24 type with two TMS, unlike the ten TMS identified for these unusually large transporters in this work. Finally, a counterpart of non-catalytic β subunits of Na+/K+ or H+/K+ ATPases does not exist within the MTBC proteomes.
Declarations
Acknowledgements
This work was supported by the Dirección de Investigación Bogotá (DIB)-Universidad Nacional de Colombia, grants 12351, 12176, 11875, 11882 and Colciencias grant 13802. This research was supported in part by the Intramural Research Program of the National Institutes of Health, National Library of Medicine and National Center for Biotechnology Information.
Funding
This work was supported by the Dirección de Investigación Bogotá (DIB)-Universidad Nacional de Colombia, grants 12351, 12176, 11875, 11882 and Colciencias grant 13802. This research was supported in part by the Intramural Research Program of the National Institutes of Health, National Library of Medicine and National Center for Biotechnology Information. The funding sources had no involvement in the study design; collection, analysis and interpretation of data; the writing of the manuscript or the decision to submit the article for publication.
Authors' Affiliations
(1)
Chemistry Department, Faculty of Sciences, Universidad Nacional de Colombia, Bogotá, Colombia
(2)
Computational Biology Branch, NCBI, NLM, NIH, Bethesda, USA
(3)
PanAmerican Bioinformatics Institute, Santa Marta, Colombia
Copyright
© Novoa-Aponte et al.; licensee BioMed Central Ltd. 2012
This article is published under license to BioMed Central Ltd. This is an Open Access article distributed under the terms of the Creative Commons Attribution License (http://creativecommons.org/licenses/by/2.0), which permits unrestricted use, distribution, and reproduction in any medium, provided the original work is properly cited.