Research article
Open Access
Molecular details of ligand selectivity determinants in a promiscuous β-glucan periplasmic binding protein
BMC Structural Biology
2013
13:18
Received: 21 June 2013
Accepted: 27 September 2013
Published: 4 October 2013
Abstract
Background
Members of the periplasmic binding protein (PBP) superfamily utilize a highly conserved inter-domain ligand binding site that adapts to specifically bind a chemically diverse range of ligands. This paradigm of PBP ligand binding specificity was recently altered when the structure of the Thermotoga maritima cellobiose-binding protein (tmCBP) was solved. The tmCBP binding site is bipartite, comprising a canonical solvent-excluded region (subsite one), adjacent to a solvent-filled cavity (subsite two) where specific and semi-specific ligand recognition occur, respectively.
Results
A molecular level understanding of binding pocket adaptation mechanisms that simultaneously allow both ligand specificity at subsite one and promiscuity at subsite two has potentially important implications in ligand binding and drug design studies. We sought to investigate the determinants of ligand binding selectivity in tmCBP through biophysical characterization of tmCBP in the presence of varying β-glucan oligosaccharides. Crystal structures show that whilst the amino acids that comprise both the tmCBP subsite one and subsite two binding sites remain fixed in conformation regardless of which ligands are present, the rich hydrogen bonding potential of water molecules may facilitate the ordering and the plasticity of this unique PBP binding site.
Conclusions
The identification of the roles these water molecules play in ligand recognition suggests potential mechanisms that can be utilized to adapt a single ligand binding site to recognize multiple distinct ligands.
Keywords
Periplasmic binding proteinCarbohydrate recognitionLaminarinABC transportLigand specificity
Background
The periplasmic binding proteins (PBP) are a protein superfamily that serve as primary receptors for a diverse group of metabolic solutes in signaling [1], chemotaxis [2] and metabolite transport systems in bacteria [3], eukaryotes and archaea. PBP mediated transmembrane transport of ligands are coupled to either ATP hydrolysis (ABC transport) [4] or H+/M+ motive force (TRAP transport or tripartite tricarboxylate transport) [5]. In addition, the PBP module is also found in enzymes [6], transcriptional control elements [7] and eukaryotic neurotransmission systems [8]. PBPs bind multiple ligands that range in size from a few Daltons to as large as 1 kDa, including ions [9], amino acids [10], peptides [11], monosaccharides [12], oligosaccharides [13], polyamines [14], oxidized inorganics [15]. Many other ligands continue to be discovered through current genome sequencing technology [16].
Despite the wide variation in PBP cognate ligand size and chemical functionality, the three-dimensional structure is highly conserved across all PBPs. PBPs are comprised of two α/β domains connected by a flexible linker region that serves as a pivot point for the ligand induced hinge-bending motion that this protein superfamily is known for [17–20]. PBPs were initially classified into three distinct sub-groups based upon the topology of β-strands in each domain [21]. Recently, the PBP super-family was re-categorized into six distinct clusters by combining known ligand specificities with the wealth of structural information available in the Protein Data Bank [22].
PBPs typically bind cognate ligands with exquisite specificity, discriminating among anomeric/epimeric carbohydrates or different ions [23, 24]. This remarkable ability to specifically bind their cognate ligands from pools of similarly related molecules has been attributed to the localization of the PBP ligand binding site at the interdomain interface [25]. In the apo form, ligand binds to a highly adaptable solvent exposed surface which upon complexation with ligand, and the other PBP domain, produces an environment similar to a less adaptable solvent excluded protein core [26, 27]. In most cases PBP function relies on differential recognition of the apo and ligand bound forms of the protein by transmembrane-bound proteins [28]. Ligand binding at the interdomain interface stimulates a conformational change which is characterized as a rigid body hinge-bending/twisting motion about the interdomain linker region. The relative orientation of the two domains changes by as much as 60-70° [29, 30], although the magnitude of the hinge-bending motion is variable and can be rather small in some cases [31]. The conformational coupling of ligand binding and function is also conserved when the PBP module is found in larger multidomain proteins, such as the eukaryotic glutamate receptor [8] and the LacI family of transcriptional regulators [7].
This PBP ligand binding paradigm was recently altered when the crystal structure of the
Thermotoga maritima
cellobiose binding protein (tmCBP) was solved [
13
]. Unlike other PBPs, the tmCBP binding site is bipartite, being composed of a typical PBP solvent excluded disaccharide binding site (subsite one) that is adjacent to an atypical large solvent filled cavity (subsite two) where three additional saccharide rings could be placed (Figure
1
). The structure of tmCBP was solved in the presence of β(1,4) linked sugars, however the size of the tmCBP binding cavity and molecular modeling suggested additional glucan sugar linkages could be accommodated in both the disaccharide binding site and the solvent filled cavity (Figure
1
). tmCBP is found in an operon that consists of an ABC transport system and an endoglucanase, the natural substrate of which has been predicted to be the algae-based storage polysaccharide laminarin [
32
–
34
]. Using a series of laminarin-based β(1,3) linked carbohydrates we sought to further identify the molecular mechanisms underlying simultaneous encoding of specificity and promiscuity in tmCBP subsites. These studies suggests ways that the bound hydrogen bonding rich water molecules bound in subsite two can potentially be used to adapt and expand ligand binding sites beyond the functionality encoded by the fixed protein scaffold.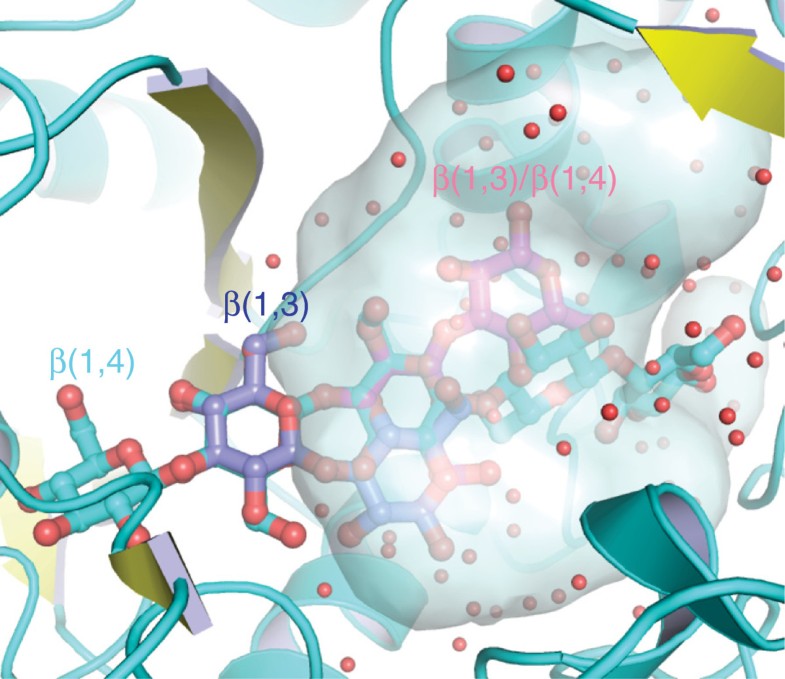 Conclusions
Depending on biological function, PBPs ligand selectivity is modulated through a combination of binding pocket adaptations that mediate ligand positioning, alter ligand size selection, or alter the free energy of ligand binding in such a manner that excludes incorrect ligands [35, 40]. The novel bipartite tmCBP binding site represents an additional, interesting alteration of PBP ligand recognition, exemplifying how both specificity and promiscuity are encoded in a single binding site. Comparison of the tmCBP structures bound to laminarin-based and cellodextrin-based carbohydrates allows for identification of the novel binding selectivity determinants found in this binding site.
The structural changes accompanying ligand binding in PBPs typically involves a re-organization of side-chain rotamers or the protein backbone. Although in some cases one of the two binding half sites in each domain undergoes conformational changes upon ligand binding and this has been suggested as a mechanism of ordering ligand binding [19]. Although lacking the apo crystal structure, analysis of the tmCBP ligand bound state suggests the binding site may be pre-ordered for binding of either laminarins or cellodextrins. Essentially no structural differences are observed among the amino acids in the ligand recognition sphere of either class of ligands. It should be pointed out that no side-chain movement is observed even when the same residue forms direct or indirect interactions with either ligand.
The conservation and positioning of water molecules trapped in the tmCBP binding pocket suggest they potentially play a role in tuning tmCBP ligand selectivity. Several classes of water molecules, playing distinct functional roles, are found in the tmCBP binding site. This network of water molecules preforms the ligand hydrogen bonding network and side chain conformations of ligand interacting amino acids, and thereby reduces the entropic penalty of ligand binding. Additionally, these water molecules are rich in hydrogen bonding potential, allowing for conservation of water placement while facilitating the plasticity of this bipartite binding site.
The mode of ligand binding found in tmCBP represents an interesting adaptation mechanism not previously observed in other PBPs. The downstream carbohydrate transport systems have a narrow, predefined limit to the size and type of carbohydrate that can be processed. The tmCBP binding cavity pre-filters this pool of ligands, potentially optimizing the transport process and in-turn eliminating the energetic penalty of presentation of incorrect carbohydrates to the transport machinery. In E. coli maltose binding protein ligands that do not fit within the binding site are still bound and presented to the transport machinery [4]. However, with tmCBP a single protein is used to promiscuously select a molecular class of ligands while at the same time sterically restricting the number of rings that can be placed within the constraints of the tmCBP binding cavity. Larger ligands are likely not bound as they would impede the hinge bending motion and in-turn specific ligand recognition.
Seven additional oligosaccharide binding proteins with varying substrate specificities are found in the T. maritima genome [32]. It remains to be observed whether the mode of ligand recognition in tmCBP is unique or found across this subset of periplasmic carbohydrate binding proteins. The adaptation mechanisms observed in tmCBP allow for expansion of binding site selectivity while maintaining specificity for a molecular class of ligands. These types of adaptation mechanisms could potentially be recapitulated in drug design studies where the rich hydrogen bonding potential of water molecules can be utilized to expand binding sites, or enable multiple drugs to bind to a single target site.
Abbreviations
tmCBP:

Thermotoga maritima cellobiose binding protein
CD:

Circular dichroism
SANS:

Small-angle neutron scattering
LR2:

Laminaribiose
LR5:

Laminaripentaose.
Declarations
Acknowledgments
A portion of this research was performed at Oak Ridge National Laboratory's Spallation Neutron Source, sponsored by the U.S. Department of Energy, Office of Basic Energy Sciences. PM was funded in part through a research grant from the National Science Foundation (Award 0922719).
Authors' Affiliations
(1)
Neutron Sciences Directorate, Oak Ridge National Laboratory, Oak Ridge, USA
(2)
Department of Chemistry, Middle Tennessee State University, Murfreesboro, USA
(3)
Department of Chemistry & Center for Informatics, Shiv Nadar University, Dadri, India
Copyright
© Munshi et al.; licensee BioMed Central Ltd. 2013
This article is published under license to BioMed Central Ltd. This is an Open Access article distributed under the terms of the Creative Commons Attribution License (http://creativecommons.org/licenses/by/2.0), which permits unrestricted use, distribution, and reproduction in any medium, provided the original work is properly cited.