LIGSITE csc : predicting ligand binding sites using the Connolly surface and degree of conservation
BMC Structural Biology
2006
6:19
Received: 22 May 2006
Accepted: 24 September 2006
Published: 24 September 2006
Abstract
Background
Identifying pockets on protein surfaces is of great importance for many structure-based drug design applications and protein-ligand docking algorithms. Over the last ten years, many geometric methods for the prediction of ligand-binding sites have been developed.
Results
We present LIGSITE csc , an extension and implementation of the LIGSITE algorithm. LIGSITE csc is based on the notion of surface-solvent-surface events and the degree of conservation of the involved surface residues. We compare our algorithm to four other approaches, LIGSITE, CAST, PASS, and SURFNET, and evaluate all on a dataset of 48 unbound/bound structures and 210 bound-structures. LIGSITE csc performs slightly better than the other tools and achieves a success rate of 71% and 75%, respectively.
Conclusion
The use of the Connolly surface leads to slight improvements, the prediction re-ranking by conservation to significant improvements of the binding site predictions. A web server for LIGSITE csc and its source code is available at scoppi.biotec.tu-dresden.de/pocket.
Keywords
Ligand Binding SiteSurface PatchConservation ScorePurine Nucleoside PhosphorylaseProbe Sphere
Background
In most cellular processes, proteins interact with other molecules to perform their biological functions. These interactions include the binding of ligands in receptor sites, the binding of antibodies to antigens, protein-DNA interactions, and protein-protein interactions. Shape complementarity has long been recognized as a major factor in these interactions [1–4]. The protein surface can form pockets, which are binding sites of small molecule ligands. The determination of pockets on protein surface is therefore a prerequisite for protein-ligand docking and an important step in structure-based drug design. In the last decade, many computational methods have been developed to predict and analyze protein-ligand binding sites. Many such as POCKET [5], LIGSITE [6], SURFNET [7], CAST [8], and PASS [9] use pure geometric characteristics and do not require any knowledge of the ligands.
One of the first methods, POCKET [
5
], introduced the idea of protein-solvent-protein events as key concept for the identification (see Fig.
1a
). The protein is mapped onto a 3D grid. A grid point is part of the protein if it is within 3 Å of an atom coordinate; otherwise it is solvent. Next, the
x
,
y
, and
z
-axes are scanned for pockets, which are characterized as a sequence of grid points, which start and end with the label protein and a period of solvent grid points in between. These sequences are called protein-solvent-protein events. Only grid points that exceed a threshold of protein-solvent-protein events are retained for the final pocket prediction. Since the definition of a pocket in POCKET is dependent on the angle of rotation of the protein relative to the axes, LIGSITE extends POCKET by scanning along the four cubic diagonals in addition to the
x
,
y
and
z
directions. LIGSITE was originally tested on 10 receptor-ligand complexes of which 7 bind in the largest, 2 in the second largest, and 1 in the third largest predicted pocket.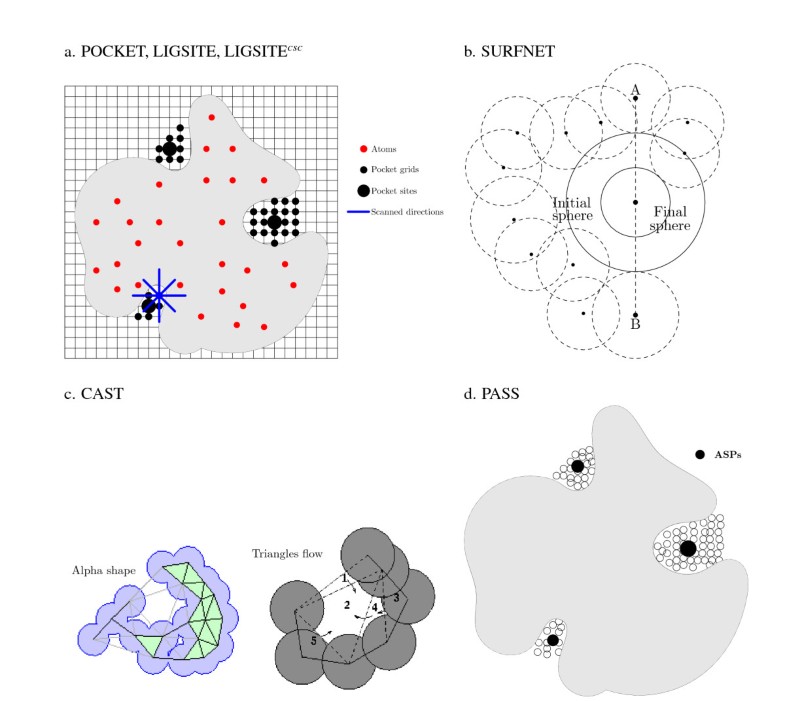 To further improve these results, we introduce two extensions to LIGSITE: First, instead of capturing protein-solvent-protein events, we capture the more accurate surface-solvent-surface events using the protein's Connolly surface [10], and not the protein's atoms. We call this extension LIGSITE cs (cs = Connolly surface). Second, we re-rank the pockets identified by the surface-solvent-surface events by the degree of conservation of the involved surface residues. We call this extension LIGSITE csc (csc = Connolly surface and conservation).
Three other approaches to pocket detection are SURFNET, CAST, and PASS. In SURFNET [7], the key idea is that a sphere, which separates two atoms and which does not contain any atoms, defines a pocket (see Fig. 1b). First, a sphere is placed so that the two given atoms are on opposite sides on the sphere's surface. If the sphere contains any other atoms, it is reduced in size until no more atoms are contained. Only spheres, which are between a radius of 1 to 4 Å are kept. The result of this procedure is a number of separate groups of interpenetrating spheres, called gap regions, both inside the protein and on its surface, which correspond to the protein's cavities and clefts. SURFNET was used to analyze 67 enzyme-ligand structures and the ligand is bound in the largest pockets in 83% of the cases [11].
CAST [8, 12] computes a triangulation (see Fig. 1c) of the protein's surface atoms using alpha shapes [13, 14]. In the next step, triangles are grouped by letting small triangle flow towards neighbouring larger triangles, which act as sinks. The pocket is then defined as collection of empty triangles. CAST was tested on 51 of 67 enzyme-ligand complexes used for SURFNET [11]. CAST achieves a success rate of 74%.
PASS [9] uses probe spheres to fill cavities layer by layer (see Fig. 1d). First, an initial coating of the protein with probe spheres is calculated. Each probe has a burial count, which counts the number of atoms within 8 Å distance. Only probes with count above a threshold are retained. This procedure is iterated until a layer produces no new buried probe spheres. Then each probe is assigned a probe weight, which is proportional to the number of probe spheres in the vicinity and the extent to which they are buried. Finally, a small number of active site points (ASP) are selected by identifying the central probes in regions that contain many spheres with high burial count. The final active site points are determined by cycling through the probes in descending order of probe weight, keeping only those above a threshold and farther than 8 Å apart from each other. Finally, the retained active site points are ranked by probe weight.
Besides the purely geometric methods above, there are methods, which take additional information into account to re-rank predictions. SURFNET's predictions were refined by considering the degree of residue conservation in the pocket [15]. Q-SITEFINDER [16] uses the interaction energy between the protein and a simple van Waals probe to locate energetically favorable binding sites.
The ultimate goal of ligand-binding sites prediction methods is to find active sites on uncharacterized structures. Therefore, it is of great importance to test and validate the methods on sufficiently large data sets. To this end, we use 210 bound structures from the Protein Ligand Database (PLD) [17] and 48 bound/unbound structures from [16] and [9].
Results and discussion
Table 1 shows the success rates using these five methods on 19 complexes from PASS [9] and 29 complexes from [16], excluding those structures already existing in PASS, for unbound and bound structures. For unbound structures, LIGSITE cs achieves both for the top prediction and the top three predictions the best overall success rates. Using the geometric feature alone, LIGSITE cs can identify ligand-binding sites at 60% and 77% accuracy for the top 1 and top 3 pocket sites, respectively. In the second stage of re-ranking by conservation, LIGSITE csc correctly re-ranks 34 out 37 top 3 predictions by LIGSITE cs . Thus, LIGSITE csc improves the success rate of top 1 predictions from 60% to 71%. For bound structures results are generally better (see Table 1). For the bound structures, LIGSITE csc improves the success rate from 69% to 79% for the first prediction. These results indicate that conformational changes pose a challenge for all methods. In 2tga/1mtw and 3gch/1chg, the loops near the ligand binding sites stretch significantly to allow ligand binding. None of the methods predicts the site correctly. However, this ligand binding sites is the biggest pocket on bound structure and is highly conserved (data not shown).
Conservation has been widely used for function site prediction [
26
–
28
] and protein-protein interaction interface prediction [
29
–
32
], combined with other physiochemical properties. Here, we propose to re-rank the top 3 geometric-based prediction using the degree of conservation of the involved residues. As a result, we can improve the ranking for 183 out of 210 structures, which are hits of LIGSITE
cs
's top 3 predictions. LIGSITE
csc
correctly ranks 157 out of these 183 as top 1 (86%). Fig.
3
shows a typical example that how conservation score improves the ranking for a Kringle domain (pdbid 1krn).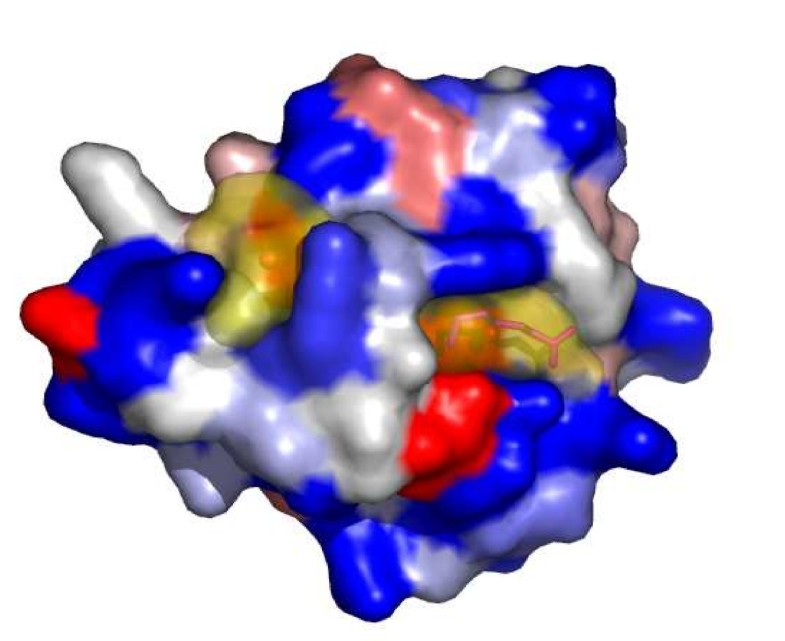 In LIGSITE
csc
, there are four key parameters which influence the results, namely grid size, minimal number of surface-solvent-surface events (MINSSS), the radius of the sphere to calculate the conservation score and the distance threshold for defining hits (see Methods and Materials). For grid size, we tested LIGSITE
csc
using 0.8, 0.9, 1.1 and 1.2 Å. The success rates only vary -5 to +5 percentage for the 210 bound structures (data not shown). Although a smaller grid size leads to finer-grained pockets, the ranking is not affected. Additionally, smaller grids leads to cubically increasing run-time. Thus we choose 1.0 Å. The surface-solvent-surface events (protein-solvent-protein events in LIGSITE) vary from 1 (buried) to 7 (very deeply buried). Fig.
4
shows the success rates of LIGSITE
cs
for different MINSSS values on the 210 bound structures. The cutoff of 6 leads to the best results and is therefore chosen. Scanning along Nonetheless, scanning along 7 directions fails if the structure forms a ring (see Fig.
5
). As mentioned earlier, at the second stage, the top 3 pocket sites are re-ranked by the average conservation score of residues with a sphere of radius 8 Å. This radius ensures a moderate size of patch within this sphere, which gives a reasonable average conservation score for re-ranking.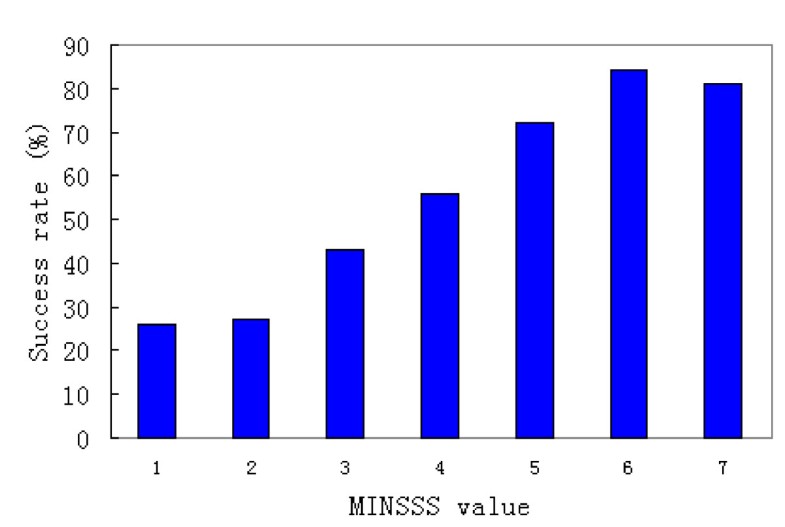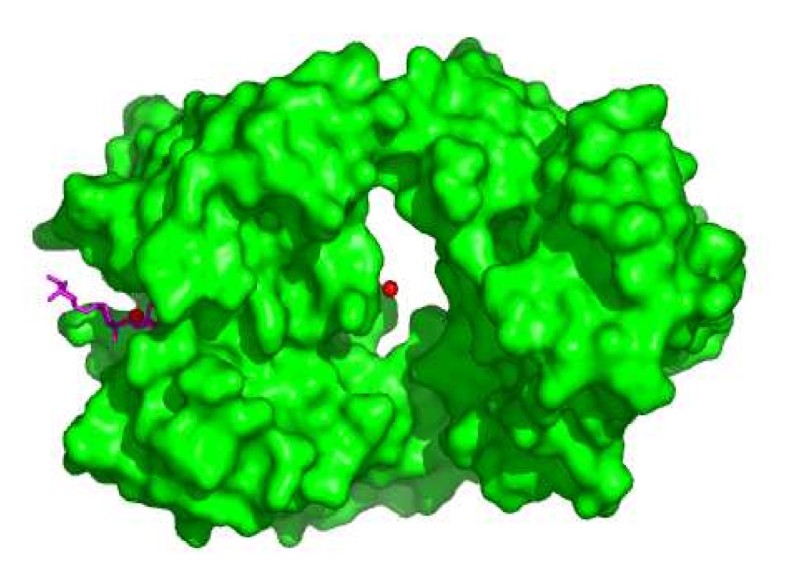 Representing the pocket site as the mass center of grid clusters is somehow too simple for very large pockets. The ligand does not occupy the whole pocket sites and does not locate around the center of the pocket sites. Also, the orientation of ligand and the shape of the pocket sites are very important for the assessment of predictions. Fig.
6a
shows a perfect prediction on Carbonic anhydrase II (pdbcode 2cba). In this case, the pocket sites cover all ligand atoms and the minimal distance between the mass center of this pocket and the ligand is 1.8 Å. However, as shown in Fig.
6b
, on Acetylchitotriose (pdbcode 1hel), only a small part of ligand atoms occupy the pocket sites. In Fig.
6c
, the ligand is very small comparing to the pocket site it locates on Purine nucleoside phosphorylase (pdbcode 1ula). The minimal distance between them is 5.10 Å, which is not counted as a hit (4 Å is used to define a hit). This phenomenon might be a reason why the success rates of SURFNET here are lower than reported in [
11
], which used a different hit definition. However, increasing the distance threshold does not improve the performance of LIGSITE
csc
significantly (data not shown). Nevertheless, the advantage of representing pockets as a single point is that different methods can be assessed by the same criteria. Moreover, rather than using the original grid points in the cluster, it is straightforward to extend this single point using a sphere of a certain radius.

Finally, let us consider LIGSITE csc 's performance on the negative datasets. As described in the implementation section, we defined two negative datasets of surface patches, which are unlikely binding sites and hence serve as a negative control. I.e. LIGSITE csc should not predict any of these sites as possible ligand binding sites. The first set consists of 1000 randomly selected surface patches, for which we varied the radius between 8 and 10 Å. LIGSITE csc misclassifies 8% (8 Å radius surface patch) and 23% (10 Å radius). The range from 8% to 23% is not surprising as the volume of a sphere doubles as its radius changes from 8 to 10 Å.
The second negative dataset consists of 1000 permanent protein complex interfaces. LIGSITE csc misclassifies 13% as predicted ligand binding sites. These results are in line with [33], who analysed pockets involved in protein-protein and protein-ligand interactions and found that there are fundamental differences including conservation. Thus, LIGSITE csc achieve reasonable results on the negative controls, further strengthening the positive results discussed above.
Conclusion
In the last decade, many computational methods have been developed to identify pockets on protein surfaces and to analyze the relationship between the pockets and ligand-binding sites. Most of them are purely geometric and do not require any knowledge of the ligands. However, there is no comparison between these methods. In this paper, we propose a method called LIGSITE csc , which extends LIGSITE [6] by defining surface-solvent-surface events and ranking them by the degree of conservation [15]. We compare LIGSITE csc to LIGSITE, PASS, SURFNET, and CAST on a dataset of 48 unbound/bound and 210 bound-only protein-ligand complexes using the same evaluation criteria. On the unbound/bound complexes, the methods predict the same correct ligand-binding sites in 28 out of 48 cases. Overall, LIGSITE csc performs slightly better than the other approaches and correctly predicts the ligand binding site in 71% and 75% cases, respectively.
Availability and requirements
LIGSITE csc is online at scoppi.biotec.tu-dresden.de/pocket. Users can submit PDB files or enter a PDB ID and specify the chain ID. The parameters can be adjusted by the user. It returns the pocket sites in a standard PDB file format and a python script for visualization of pockets using PyMol [20] as well. LIGSITE csc and LIGSITE are both implemented in C++ using the BALL [34] library. LIGSITE csc 's C++ source code is freely available for academic users from the web site, and as additional file 1 in compliment to this manuscript.
Declarations
Acknowledgements
We are great grateful to Wenhan Wang, Andreas Henschel, Frank Dressel and Wan Kim for their helpful discussions. Funding by EFRE project CODI and FoldUnfold is kindly acknowledged.
Authors' Affiliations
(1)
Bioinformatics Group, Biotechnological Center, Technical University Dresden, Germany
Copyright
© Huang and Schroeder; licensee BioMed Central Ltd. 2006
This article is published under license to BioMed Central Ltd. This is an Open Access article distributed under the terms of the Creative Commons Attribution License (http://creativecommons.org/licenses/by/2.0), which permits unrestricted use, distribution, and reproduction in any medium, provided the original work is properly cited.