Research article

Open Access
Identification of DNA-binding protein target sequences by physical effective energy functions: free energy analysis of lambda repressor-DNA complexes.
BMC Structural Biology
2007
7:61
Received: 20 February 2007
Accepted: 27 September 2007
Published: 27 September 2007
Abstract
Background
Specific binding of proteins to DNA is one of the most common ways gene expression is controlled. Although general rules for the DNA-protein recognition can be derived, the ambiguous and complex nature of this mechanism precludes a simple recognition code, therefore the prediction of DNA target sequences is not straightforward. DNA-protein interactions can be studied using computational methods which can complement the current experimental methods and offer some advantages. In the present work we use physical effective potentials to evaluate the DNA-protein binding affinities for the λ repressor-DNA complex for which structural and thermodynamic experimental data are available.
Results
The binding free energy of two molecules can be expressed as the sum of an intermolecular energy (evaluated using a molecular mechanics forcefield), a solvation free energy term and an entropic term. Different solvation models are used including distance dependent dielectric constants, solvent accessible surface tension models and the Generalized Born model. The effect of conformational sampling by Molecular Dynamics simulations on the computed binding energy is assessed; results show that this effect is in general negative and the reproducibility of the experimental values decreases with the increase of simulation time considered. The free energy of binding for non-specific complexes, estimated using the best energetic model, agrees with earlier theoretical suggestions. As a results of these analyses, we propose a protocol for the prediction of DNA-binding target sequences. The possibility of searching regulatory elements within the bacteriophage λ genome using this protocol is explored. Our analysis shows good prediction capabilities, even in absence of any thermodynamic data and information on the naturally recognized sequence.
Conclusion
This study supports the conclusion that physics-based methods can offer a completely complementary methodology to sequence-based methods for the identification of DNA-binding protein target sequences.
Keywords
Free Energy
Root Mean Square Deviation
Binding Free Energy
Solvent Accessible Surface Area
Surface Tension Coefficient
Background
Protein-DNA recognition plays an essential role in the regulation of gene expression. Although a significant number of structures of DNA binding proteins have been solved in complex with their DNA binding sites increasing our understanding of recognition principles, most of the questions remain unanswered. Several studies showed that protein-DNA recognition could not be explained by a simple one-to-one correspondence between amino acids and bases [1–3], even if hypothesized hydrogen bonding patterns and definite preferences have been actually found in experimentally solved structures [1]. Moreover regulatory proteins are known to recognize specific DNA sequences directly through atomic contacts between protein and DNA and/or indirectly through water-mediated contacts and conformational changes [1, 4, 5]. The degree of redundancy and flexibility seems to suggest that the recognition mechanism is ambiguous, therefore the prediction of DNA target sequences is not straightforward [6].
DNA protein interactions can be studied using several different computational methods, which could offer several advantages compared to the current experimental methods, more laborious and slow. In the following we will indicate, for simplicity, DNA-binding protein target sequences with the more specific term "transcription factor binding sequences", although the first term is more general.
Computational tools for the identification of Transcription Factors (TF) binding sequences can be organized in two main approaches:
"sequence based methods" in which a central role is played by the statistical properties of the base distribution in the DNA regions which are expected to be involved in transcriptional regulation (see [7, 8] for a general review on the subject).

"structure based tools" which use the structural information on protein-DNA complexes derived from X-ray crystallography and Nuclear Magnetic Resonance.
The main focus of this paper is on the second approach, although the best results will likely be obtained by tools able to combine in a clever way these two approaches.
Sequence based methods
This type of algorithms can in turn be divided into two broad groups:
i)
ii) local search algorithms, including expectation maximization and various flavours of Gibbs sampling (see e.g. [17–20]).
It is important to stress that this type of studies cannot be based exclusively on the statistical features of the DNA regions presumably involved in transcriptional regulation, but must be complemented with independent information about gene regulation. In this respect three important sources of information may be used: the functional annotations collected in public databases, gene expression data on a global scale, and the so called 'phylogenetic footprinting'. In particular this last approach, thanks to the increasing number of sequenced genomes, has proved to be very effective in these last few years (see e.g. [21–30]). The major problem of all these tools is the large number of false positives, above all in the case of higher eukaryotes (for a thorough analysis of this problem see the interesting assessment of TF binding sites discovery tools reported in [31]). It is exactly to cope with this type of problem that it could be important to resort to structure based approaches.
Structure based methods
These methods can be broadly divided into two classes according to a nomenclature adopted in the context of protein structure prediction [
32
]:
i)

those based on knowledge based potentials (mostly statistical effective energy functions, SEEFs);
ii) those based on physical potentials (or physical effective energy functions, PEEFs).
SEEFs are energy functions derived from a dataset of known protein-DNA structures. A set of features is selected (e.g. nucleotide-amino acid contacts, roll angles for DNA bases, interatomic distances, etc.); the process often involves parameter choices, like threshold on distances or interval binning. The statistical properties of these features are compared with a-priori expectations and log-odd scores are derived [6, 33–38]. At the most basic level, structures may be used to define contacts among DNA bases and protein amino acids and, for each pair of positions, the occurrences of nucleotides and amino acids contacts are used to derive effective potentials [36]. Moreover a statistical potential, taking into account contact geometry and spatial arrangement of contacting residues can be derived [6]. Recently interesting developments of this approach have been proposed ([38, 35, 5, 39]). The approach suffers from theoretical and practical problems. From the theoretical point of view potentials of mean force are not in general additive and the exact modelization of a-priori expectations (or so-called reference state) may be difficult for complex systems (see e.g. [40]). The main practical problem is the requirement of a large number of sequences or binding experimental data since the available data may be biased towards specific classes of protein-DNA complexes. Moreover datasets generally do not contain unfavourable interactions between amino acids and bases since they entail protein-DNA complexes that occur naturally. Thus the statistical potential may predict correctly the wild type targets as opposed to incorrect ones, but it may not be as good at distinguishing among mutants.
Notwithstanding all caveats usage of SEEFs are widespread in the field of structural predictions. Provided that sufficient data are available these methods are reasonably fast and accurate, as demonstrated for instance in the field of protein structure prediction (see e.g [41]).
A more radical approach is to estimate the free energy of binding starting directly from the available (or homology built) protein-DNA complexes using physical effective energy functions (PEEFs). This approach has been successfully used in many contexts, ranging from estimation of DNA- or protein-ligand binding free energy to estimation of protein-DNA binding free energy (see e.g. [
42
,
43
]). There are, however, many problems connected with the approach which are mainly due to:
i)

difficulties in estimating entropic effects;
ii) difficulties in properly estimating solvation effects;
No consensus has emerged on the choice of parameters (e.g. inner dielectric constant, surface tension coefficient, forcefield parameters) and on the protocols that should be applied;
iii) difficulties in estimating gas-phase energy with available forcefields which are derived from the analysis of small compounds at equilibrium and do not take into account electrostatic polarization.
In order to get rid as far as possible of all these problems, binding free energies are expressed relative to a reference system and in most computational studies optimal parameters have been chosen for matching experimental data.
As far as protein-DNA complexes are concerned attempts to compute binding free energies using physics based approaches have started in the 1990s. The electrostatic component of the binding free energy has been studied according to continuum methods and its dependence on temperature and salt concentration has been computed [44–46]. Integration of electrostatics with other components including DNA conformational free energy has been extended from DNA-ligand complexes [47] and protein-peptide complexes [48] to protein-DNA complexes [49]. Recently Wojciechowski et al. [50] studied the complex of telomerase end binding protein with single stranded DNA optimizing the weights of different contributions in order to reproduce binding data. The availability of the successful analytical generalized Born model treatment of electrostatics solvation effects enabled computation of binding energies with hybrid molecular mechanics/Generalized Born surface accessibility methods by Jayaram et al. [51]. The group of Kollman developed the molecular mechanics/Poisson Boltzmann surface accessibility (MM/PBSA) methodology and applied it extensively to biomolecular systems (see for a review of these applications [42, 43] and [42, 43, 43, 52] for important extensions of these ideas).
However, when MM/GBSA or MM/PBSA energy versus time plots are presented for explicit solvent molecular dynamics simulation snapshots, fluctuations in the range of tens to hundreds of kcal/mol are found, thus posing an issue on the reliability of averages. In this respect SEEFs appear much more robust energy estimation methods.
In a few very recent reports interesting results have been reported concerning the capability of hybrid methods to predict protein-DNA binding sites [53–57]. In this paper we focus on the application of PEEFs to a single DNA binding protein in complex with many different DNA sequences.
The availability of high resolution X-ray crystal structure [58] and suitable experimental data makes the λ repressor-operator complex an interesting system for computational analysis of protein-DNA interaction. The bacteriophage λ repressor protein is a small, 92 amino acid, protein that binds the DNA as a dimer. Each monomer binds to an operator half site. The amino-terminal domain of λ repressor is responsible for DNA binding and the carboxy-terminal domain is primarily responsible for dimerization [59]. Each monomer contains a typical helix-turn-helix motif found in a variety of DNA binding proteins [4, 60]. The free energy of binding of λ repressor for wild-type O R 1 operator DNA and of all possible single base-pair substitutions within the operator have been experimentally measured using the filter binding assay technique and changes in the free energy of binding caused by the mutations have been determined [61]. Besides being a perfect playground to test our methods, the so called "λ-switch" in which the λ repressor is involved is very interesting in itself (for a review see [62]). This "genetic" switch is tightly regulated by the λ repressor and the Cro proteins. In these last years this system, due to its relative simplicity and to the availability of rather precise experimental data attracted a lot of interest and various models (see for instance [63–65] and references therein) have been proposed to describe its behaviour. Despite these efforts in all these models there are still a few open problems which need to be understood. In particular it has been recently realized that in order to ensure the remarkable stability of the λ switch one should require a very high non-specific affinity both for the λ repressor and for Cro [65, 66]. Such a prediction is very difficult to test experimentally but could rather directly be evaluated with the tools which we shall discuss in this paper. In fact one of the main goal of the test which we shall perform on the λ repressor will be the evaluation of its non-specific binding energy and the comparison with the prediction of the model discussed in [66].
In the present work we apply different techniques to evaluate the binding affinities by means of computational methods. It is assumed that the relative free energy of binding of a protein to different DNA sequences may be expressed as the sum of a molecular mechanical term, that includes the non-bonded electrostatic and Van der Waals contributions, and a hydration term that can be further split in a polar and a hydrophobic contribution. Due to the peculiar nature of hydrogen bonds similar alternative models are tested where an energy term proportional to the number of hydrogen bonds is added.
The systems studied here differ only in one or two base-pairs and therefore the inaccuracies implicit in the assumption of rigid docking, of the solvation model, of the treatment of entropy and in lack of a complete conformational search for side chains at protein-DNA interface should mostly cancel out in comparison. The aims of this paper are:
1)

to provide an assessment of the accuracy of different methods and protocols by comparison with experimental data;

2)

to provide a reliable estimate of non-specific binding energies;

3)

to propose a protocol for the prediction of DNA-binding target sequences which makes no use of sequence information.
To pursue these objectives we make use of extensive computations and address several specific issues. In particular:
i)

we estimate optimal weights for different contributions to DNA-protein binding free energies using different solvation models;
ii) for 52 single base-pair mutants we perform 1 ns molecular dynamics (MD) runs and we assess the effect of MD on the computed binding energies;
iii) we compute MM/GBSA binding energies for one thousand complexes where the bases of the double stranded DNA are substituted according to randomly generated DNA sequences in order to estimate non-specific binding free energy;
iv) we scan the entire bacteriophage λ genome with the scoring profiles obtained from free energy computations. One of the profiles is obtained making use only of the structural data available for a single molecular complex, with no sequence information.
The statistical analysis of the results show that computational methods may offer a predictive tool truly complementary to sequence-based identification of DNA-binding protein target sequences. This is particularly important in view of the emergence of consensus protocols where the independence of the different methods is a prerequisite.
Results and discussion
Binding free energy changes between the λ repressor dimer and the DNA operator mutants have been calculated using different methodologies, as described in the Methods section.
Conclusion
In the present work physical effective energy functions are used to estimate the free energy of binding of λ repressor to the DNA operator and single base-pair mutants, for which thermodynamic data are available. Thermodynamic data allow one to study the best results achievable, with the modeling approach and energy functions presented here, with models that assume that the binding energy is a linear combination of different contributions.
Simple models that use a distance dependent dielectric constant and simple terms for surface area proportional energy contributions and for hydrogen bonding perform surprisingly well for values of ε ranging from 2r to 8r.
A two-parameter model for surface area proportional energy contributions performs better than the more complex model of Oobatake et al. [55], which was however not derived for usage in the more complex energy functions employed here.
The performance of MM/GBSA(+HB) and to a lesser extent MM/GBSA model is comparable to or superior to other models. A conclusion for the MM/GBSA model is that electrostatic energies should be reduced by a proper scaling factor corresponding to dielectric constants in the range of 6. This conclusion is reached also by a similar analysis of protein Cro-operator mutants.
The effect of molecular dynamics on the computed binding free energies is in general negative and the reproducibility of the experimental values decreases with the increase of simulation time considered. This may be a consequence of the large fluctuations developing in MD simulations which probably would require a much longer simulation time. Moreover it is reasonable to take into account that the poor performance of the method can be partially caused by the errors in the force field used in MD simulations. Another plausible source of inaccuracy is the mismatch between the energy model and system representation used in MD simulation and those used for minimization and energy evaluation. It appears therefore that it is worth to invest more time in optimizing the starting structure, rather than for sampling the conformational space by molecular dynamics simulations, or, alternatively, to adopt different strategies for sampling protein and DNA flexibility [75].
The analysis of non-specific complexes using the best performing energetic model with properly scaled coefficients allows to evaluate a non-specific binding energy difference, with respect to the specific bound sequence, of 6.06 ± 2.17 kcal/mol, definitely lower than what expected based on an additive model (18.1 kcal/mol for the single base-pair mutants computed energies). This result is in line with the saturation effect described by Stormo and co-workers [69, 70] and with the theoretical analysis of Bakk and Melzer [66].
Although the results presented on single base-pair mutants are not exciting, using computational methods may be very useful for identifying transcription factor binding sites.
When no thermodynamic data are available but the specific bound sequence is known the computed MM/GBSA(+HB) free energies are slightly more predictive than a simple substitution profile which assigns a penalty for any point mutation.
The most interesting test performed here considers a realistic scenario where no information on the bound sequence is available. Even in this case MM/GBSA(+HB) energies are predictive.
This result has important consequences for the prediction of transcription factor binding sites which often use consensus methods. A prerequisite for the usefulness of consensus methods is that these are as independent of each other as possible. Since most methods use common prior knowledge and often related statistical methods, independence is not guaranteed. Methods which are based on completely independent principles, like those based on physical effective energy functions and free energy computations, offer a completely complementary methodology for deriving profile matrices for scanning entire genomes. The results reported here, with much caution because the structural model for the specific bound sequence is known and not modeled by homology or other methods, support usage of these methods for the identification of DNA-binding protein target sequences. In view of the very recent impressive results reported by the group of Baker [76] it is apparent that significant improvements to the approach described in this paper may be obtained by extensive refinement and screening of protein side chain conformation at protein-DNA interface.
Methods
Model building
Atomic coordinates of the
λ
repressor dimer bound to
O
L
1 DNA operator were taken from the 1.8 Å resolution X-ray crystal structure deposited in the Protein Data Bank [
77
] (PDB code 1LMB). The operator is 17 base-pairs in length and is composed by two approximately symmetric parts, the "consensus half" (maintaining the notation of the PDB file, base-pairs A19-T23 to G11-C31) and the "non-consensus half" (base-pairs T3-A39 to G10-C32) (see Figure
7
). Since the coordinates of the NH
2
-terminal arm of the repressor bound to the non-consensus half operator were not available, the lacking amminoacids were added using the protein bound to the consensus half operator. Using the program ProFit V2.2 [
78
], the C
α
carbons of the proteins have been superimposed and afterward the amino acids of the rotated structure have been added to the other one. Since the detailed X-ray crystal structure is made up of
λ
repressor dimer and
O
L
1 operator DNA while the experimental data concern the
O
R
1 site, the WHATIF [
73
] program was used to substitute the base-pair at position 5 to obtain the wild-type
O
R
1 operator. All possible single base-pair substitutions within the DNA sequence were generated using the program WHATIF [
73
].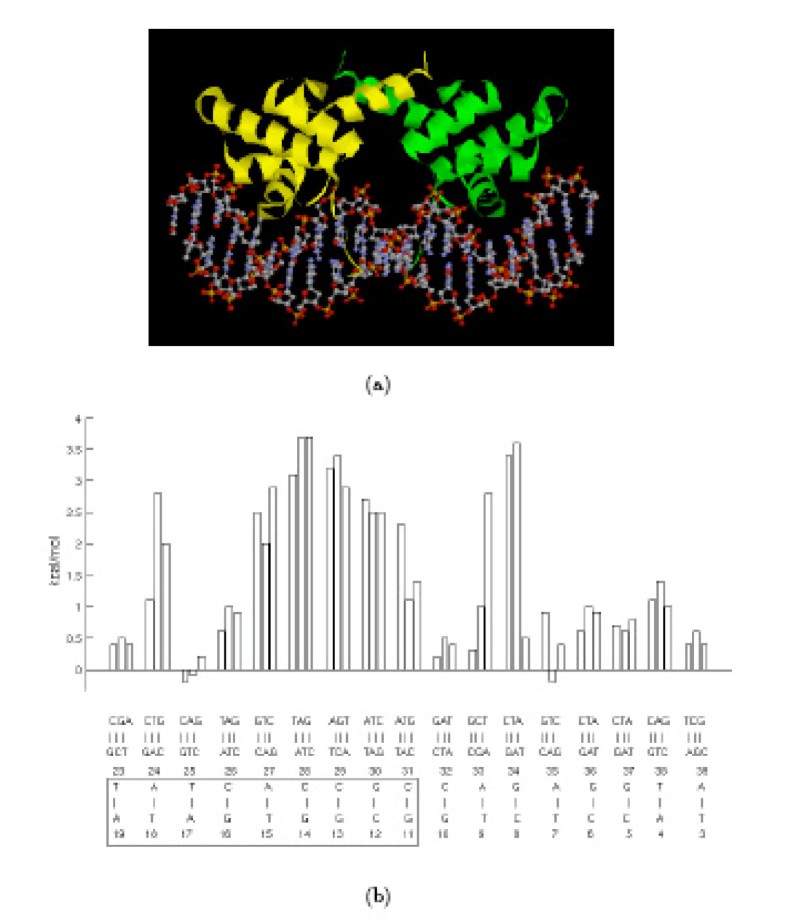 Molecular Dynamics Simulations
Hydrogen atoms have been added using the program pdb2gmx of the GROMACS package [79, 80]. Every structure has been optimized performing 200 steps of energy minimization using the NAMD program, fixing all C α carbons and phosphate groups coordinates. A dielectric constant of 10 has been employed with a cut-off of 12 Å for non-bonded interactions.
The net charge of the system (-36) has been neutralized placing a corresponding number of sodium counterions in energetically favourable positions. The electrostatic potential was calculated via numerical solutions of the Poisson-Boltzmann equation using the University of Houston Brownian Dynamics (UHBD, version 6.x) program [81, 82]. A counterion was placed at the lowest potential position at 7.0 Å from any heavy atom of the solute. The cycle was repeated until the net charge of the system was 0.
The complex and counterions were solvated in a box of TIP3P [83] water molecules using the solvate module in the program VMD [84]. The resulting system contained about 4200 solute atoms and 50400 solvent atoms. The coordinates of the solute were fixed and the solvent was energy minimized using 100 steps of conjugate gradient. A solvent equilibration was carried out by performing molecular dynamics for 50 ps using a 1 fs time step to let the water molecules move to adjust to the conformation of the solute. The system was then energy minimized using 100 steps of conjugate gradient and, after 100 ps equilibration, 1-ns MD simulations was performed using a 2-fs timestep. A snapshot of the trajectory was stored every 10 ps for later analysis. The shakeH algorithm was used in order to fix bond length between each hydrogen and its mother atom to its nominal value and to extend the simulation time-step [85]. All molecular dynamics simulations of the complex were run under constant NPT conditions using the NAMD program [86]. The pressure of the system was coupled, through a Berendsen-thermostat [87], to a pressure bath with target pressure 1.01325 bar and time constant 100 fs. The temperature has been kept to 300 K by simple velocity rescaling every picosecond. Long-range electrostatic interactions were treated by particle mesh Ewald (PME) method [88] employing a grid of 128 × 128 × 128 points. The cut-off was 12 Å and the tolerance was 10-6 which resulted in an Ewald coefficient of 0.257952. The order for PME interpolation was 4.
The simulations were performed on a cluster composed by ten dual-processor nodes based on Intel XeonTM 2.8 GHz, with hyper-threading technology.
Free energy calculations
The free energy of binding for each structure has been computed according to the framework reviewed by Gilson et al. [
89
] who derived the expression of the free energy of binding in terms of the microscopic properties of the two molecules involved, using standard statistical thermodynamics. Here, similar to other works employing continuum methods several simplifications are adopted. The free energy of binding for each complex minus the entropic contribution is expressed as the sum of the interaction energy between the protein and the DNA Δ
U
() and a solvation free energy term Δ
G
solv
:
It has been assumed that the entropy restriction in internal degrees of freedom and overall rotation and translation degrees of freedom is the same for all complexes.
The effect that association has on intramolecular energy has been neglected. Moreover no extended conformational search has been performed for protein side chains and DNA, partly because this task is not easily accomplished and partly because large conformational changes often result in large molecular mechanics energy changes, so we aimed at keeping the systems to be compared as close as possible. The free energy of binding has been calculated using different methodologies detailed below. For all models alternative versions in which an energy term proportional to the number of hydrogen bonds has been added have been considered.
Except where noted, all contributions to the free energy of binding have been optimally scaled in order to best reproduce available experimental data (see later).
MM/DDDC-OONS
In this method [54] electrostatic interactions have been estimated using a distance dependent dielectric constant (DDDC) while the solvation energy is proportional to the solvent accessible surface area through the atomic solvation parameters of Oobatake, Ooi, Nemethy and Scheraga (OONS) [55].
All structures have been energy minimized with 200 conjugate gradient steps, using a distance-dependent dielectric constant (four values have been tested: 1
r
, 2
r
, 4
r
, 8
r
, with the distance
r
expressed in Å) and a cut-off of 12 Å. The molecular mechanics interaction energy
U
() was evaluated using CHARMM (version 27b2), a classic and well-tested molecular mechanics force-field [
90
,
91
]. This term includes the nonbonded electrostatic and Van der Waals contributions. The solvation free energy term
G
solv
has been calculated according to the model developed by Oobatake et al. [
54
]. This model consists in assigning every atom to one of 9 classes of chemical groups and assuming that the hydration free energy of every group
i
in a solute is proportional to its solvent accessible surface area (SASA)
A
i
because the group can directly interact only with water molecules at the surface.
The proportionality constants have been determined from thermodynamic data on the transfer of small molecules from the gas phase into aqueous environment assuming the additivity of contributions from individual groups [55].
MM/DDDC-HP
In a very similar approach the OONS 9-parameter solvation model has been replaced by a simpler 2-parameter hydrophobic, polar (HP) solvation model. Energy minimization protocol and tested values are the same as for the MM/DDDC-OONS for proper comparison.
MM/GBSA
In this method the solvation free energy term is split in a polar (electrostatic) and a non-polar (hydrophobic) term.
The polar term is computed using the Generalized Born approach [92]. All complexes have been energy minimized by 200 conjugate gradients minimization steps using the generalized Born model as implemented in the CHARMM program, then the solute and solvation energy terms have been computed for both the complex and the isolated molecules. The binding energy was then computed by subtraction. Doubling the number of minimization steps does not affect significantly the results.
The non-polar term Gnon-polar, which takes into account the tendency of the non-polar parts of the molecule to collapse, is taken to be proportional to the solvent-accessible surface area A, i.e. Gnon-polar= γA, where the surface tension coefficient γ has been empirically determined to be equal to 20 cal Å -2 mol-1 for this kind of applications [93].
A variant of this methodology including splitting the solvent accessible surface area into a polar and a hydrophobic contribution (i.e. using two different surface tension coefficients), and including a term proportional to the number of hydrogen bonds has been considered here.
Finding optimal scaling factors
The choice of methods and parameters in molecular mechanics/implicit solvent methods is subject to large uncertainties. In order to explore the best performance achievable with these methodologies, optimal scaling factors for the different contributions were searched that could best reproduce the experimental data. This approach is not new and it has been used successfully by other groups (see e. g. [
57
]). In practice it is expected that proper scaling is able to compensate for the many inaccuracies of the model. In general terms, the free energy of binding has been computed as a linear combination of contributions
E
i
, with corresponding coefficients
x
i
, i.e.:
where Δ represents the difference between the complex and the isolated protein and DNA molecules. Coefficients x1,...,x n have been found in order to best reproduce the 52 experimentally available free energies of binding. Contributions have been arranged in a 52 × n matrix A where each row corresponds to each structural model and each column corresponds to a different contribution to the free energy of binding. The experimental binding free energies have been arranged in a 52-component vector ΔG exptl . The linear systemAx = ΔG exptl
where x is the n-component vector of coefficients, has been solved (in a least square sense) using singular value decomposition [94] and the best x i coefficients have been used to calculate binding energies ΔG calc . A constant term takes into account the entropy loss upon complexation and other possible contributions identical for all complexes.
A linear model, compared to more sophisticated methods, has the advantage that the number of adjustable parameters is limited and easily interpretable in physical terms.
In the following we detail the contributions considered for each energetic model.
The free energy of binding has been computed for the MM/DDDC-OONS model according to the following equation:ΔGMM/DDDC-OONS= x vdW ΔE vdW + x DDDC ΔEelec,DDDC+ x OONS ΔG OONS + xconst.(+x HB N HB )
where ΔE vdW is the van der Waal contribution, ΔEelec,DDDCis the Coulombic energy, computed with a distance dependent dielectric constant, ΔE OONS is the solvation energy according to the Oobatake et al. model [55] and N HB is the number of intermolecular hydrogen bonds.
As mentioned above, the coefficients bear physical meaning. For instance the term x const should account for rotational and translational entropy loss upon binding and it can be expected to be in the range 20–40 kcal/mol.
The term proportional to the number of hydrogen bonds was alternatively added in order to take into account possible inaccuracies in the treatment of these interactions by molecular mechanics and solvation terms. In practice every time this term is added the coefficients of molecular mechanics and solvation terms are greatly reduced thus avoiding double counting of hydrogen bond interactions.
A similar expression for the free energy of binding has been used for the MM/DDDC-HP model:ΔGMM/DDDC-HP= x vdW ΔE vdW + x DDDC ΔEelec,DDDC+ x H ΔA H + x P ΔA P + xconst.(+x HB N HB )
Here the coefficients x H and x P represent the surface tension coefficients multiplying hydrophobic and polar solvent accessible surface areas ΔA H and ΔA P , respectively. We expect these coefficients to be in the range of tens of cal Å-2 mol-1.
The solvent accessible area has been also splitted in polar and hydrophobic area for finding optimal scaling parameters for the MM/GBSA methodology:ΔGMM/GBSA= x vdW ΔE vdW + x Coul ΔE Coul + x GB ΔG GB + x H ΔA H + x P ΔA P + xconst.(+x HB N HB )
where ΔG GB is the generalized Born solvation energy. The coefficients x Coul and x GB are exactly and roughly, respectively, inversely proportional to the effective dielectric constant and are thus expected to be in the range 0.05 to 1.0.
Possible pitfalls of the method
Scaling energy terms for free energy evaluation of models which have been minimized without scaling such terms is clearly inconsistent. A correct procedure would be to iteratively find the optimal scaling factors, minimizing the energy using such scaling factors and repeating these two steps until convergence. This procedure faces some difficulties because an important term like the hydrogen bond term is discrete and does not have a counterpart in standard forcefields, where such interactions are described typically through electrostatic and van der Waals terms. Similarly the minimization of terms proportional to the solvent accessible surface area requires algorithms which are rarely available in molecular mechanics packages. A further difficulty is that any unbalance among forcefield terms might introduce distortions in molecular structure, notably of hydrogen bond lengths. Although the issue of iteratively fitting optimal scaling factors is worth being further investigated, here the approach of scaling factors has been applied in a more rough way. We have matched as far as possible the energetic model used for minimization with that used for fitting scaling factors, as mentioned above, but we have not minimized again the models using the scaling factors. A similar mismatch between conformational sampling and energy evaluation is implicit in the analysis of molecular dynamics snapshots. Other sources of error in this case are the large conformational (and energetic) fluctuations molecules undergo during simulation and in general the inaccuracy of implicit solvent methods (used in energy evaluation) where small energy differences arise from subtraction of rather large values. It should be noted that for molecular dynamics snapshots inaccuracies do not cancel out because there are no restrained parts in the molecules.
DNA sequence dependent deformability
An important aspect of protein-DNA interaction, addressed quantitatively by Olson and co-workers [39], is the capability of DNA sequences to adopt specific local conformations. The statistics of parameters and pairwise parameter correlations shows definite preferences. In the approach described above, changes in intramolecular energy terms are disregarded altogether by the assumption of rigid docking. The strains introduced in complex molecular structures, however, are typically relaxed over the structure and should have consequences on the intermolecular energy terms too. In order to assess the effect of DNA sequence dependent deformability we followed the approach of Olson and co-workers [39], who made available average parameters for the six parameters describing local geometry of a base-pair step in B-DNA, the force constant parameters for all pairwise deviation from equilibrium values and a program to analyse DNA structures [95].
The analysis was performed for the native structure parameters, simply replacing the identity of the base-pair mutated, and on the mutated structures, minimized using the generalized Born model. For both cases poor correlation with experimental binding data was found. Remarkably, however, the native sequence was the third lowest energy sequence among all 52 sequences. Energy minimization in general increases the energy associated with the deformability of DNA. Computation of the fitness of a sequence to local geometry parameters gives important informations although it is likely that the computed energy is not accurate for conformations far from equilibrium. Inclusion of the DNA sequence dependent deformability energy in the analyses detailed below did not improve results significantly, notwithstanding the additional scaling parameter introduced for this purpose. For this reason this term was not considered further.
Performance analysis
After fitting scaling factors to experimental data, the root mean square difference between calculated and experimental data was computed. This quantity can provide however a poor evaluation of the predictive power of the calculations when the test systems are very similar. Therefore the correlation coefficient between calculated and experimental data was also computed. Optimal scaling factors were computed taking all the data available.
Fitting 52 experimental data with up to 7 parameters will always results in a positive correlation coefficient. In order to make sure that the results obtained are significant we performed different kind of analyses:
i)

a leave-one-out scheme has been adopted. All but one of the data were taken and the root mean square difference and correlation coefficient were computed using the set of data not used in the fitting procedure. The same scheme has been applied to 5000 replicates with one third of the data left out of the fitting procedure and used for RMSD and correlation coefficient computation.
ii) the variance of each linear coefficient has been estimated from the multiple regression analysis using the variance/covariance matrix and the square error of computed data, according to standard linear regression procedures [
96
]. In practice the standard deviation of experimental data has been estimated as
Then the variance of each coefficient has been estimated from the variance/covariance matrix of coefficients:
The different models considered employ a different number of fitting parameters and therefore different performances are expected. Although these parameters are often correlated, the analysis of the variance gives an immediate clue as to which variables are more important.
iii) analysis of variance (ANOVA) calculations have been performed and a significance test based on the F-statistic and the corresponding confidence level has been computed [96].
iv) one thousand replicates of the original data has been generated with the column elements containing the experimental data randomly swapped. The average of the correlation coefficient between swapped experimental data and fitted data has been computed together with the standard deviation. The results of this computation (not reported) fully supports the results of the statistical analyses described above; Finally, a useful alternative to assess the quality of ΔG calc predictions and to compare the different models from a qualitative point of view, consists in determining the number of "correct predictions", defined as the number of cases in which both ΔG exp and ΔG calc are <1.0 kcal/mol, or >1.0 kcal/mol, or else separated by less than 0.3 kcal/mol. The threshold value of 1.0 kcal/mol requires some explanations. The experimental values of the free energy change relative to the wild-type operator O R 1 have been calculated using the equation ΔG exp = -0.546 ln (K d of substituted sequence)/(K d of O R 1) after having determined the dissociation constant of every mutant. It is simple to verify that the threshold value of 1.0 kcal/mol corresponds to a remarkable reduction in the dissociation constant of the mutant (ca. 5-fold), with respect to the dissociation constant of the wild-type operator (K d of O R 1 = 10-9), whereas values of ΔG higher than 1.0 kcal/mol correspond to a reduction in the dissociation constant from 5 (ΔG exp = 1.0 kcal/mol) to 25-fold (ΔG exp = 3.4, which is the maximum value of ΔG exp ). Therefore it is reasonable to define ΔG calc as correct, if both ΔG exp and ΔG calc are in one of the defined intervals or even if the difference D = |ΔG exp - ΔG calc | is lower than 0.3 kcal/mol, which corresponds to a ratio between the dissociation constant of a mutant and the dissociation constant of the wild-type complex lower than 2.0.
Analysis of non-specific protein-DNA binding
One thousand random DNA sequences were generated and the corresponding structural models were generated by performing mutations on the double stranded DNA in the complex crystal structure using the program WHATIF [
73
]. The resulting dataset of complexes was assumed to be representative of non-specific protein-DNA complexes. We are interested in understanding how reliable is the method for predicting putative binding sites. The so-called Z-score of the specific bound sequence compared to random sequences has been considered. The Z-score is defined here as the distance of the free energy computed for the specific bound 17-mer (ΔG) from the average non-specific binding energy (< Δ
G
>), normalized by the standard deviation of the computed non-specific binding energies (
σ
G
).
Averages are performed over the one thousand random sequences. A large Z-score implies that the specific bound sequence can be distinguished from other non-specific bound sequences. The structures were energy minimized using the same protocol used for MM/GBSA free energy estimation. For all minimized complexes the Coulombic energy, van der Waals energy, GB solvation energy, polar and apolar surface accessible area and intermolecular hydrogen bonds number were tabulated. For each model i of the 1000 random DNA sequence complexes the binding energy G(i) has been computed using different amounts of the experimental information available. Different analyses, detailed in the Results section, were performed. The possibility of using the data computed on the set of non-specific complexes for defining a profile of the recognized DNA sequences has been explored as follows. The calculated binding energy values for the set of non-specific complexes were summarised in a set of 68 values corresponding to the average contribution to the binding free energy of each possible of the 4 bases at each of the possible 17 bound sequence positions. These 68 values have been derived as follows. Possible substitutions are indexed from 1 to 4 for A, C, G and T, respectively. A 1000 × 68 matrix A was set where each element A(i, j) is 1.0 or 0.0 if the base at position j/4 (rounded at the closer upper integer) has index j mod 4 in sequence i. The set of 68 substitution free energies x(j) were found by solving (in a root mean square error sense) the overdetermined equation Ax = G. The resulting 68-element vector x was arranged in a 17 × 4 matrix. Variants on this procedure are described in the Results section according to the level of information available included in the analysis.
Scanning of bacteriophage λ genome
The free energy matrix derived from the analysis of non-specific protein-DNA complexes was used to score all 17-mer subsequences in the bacteriophage λ genome (Accession number: NC_001416.1, 48502 base-pairs) on both strands. In principle the score represents the free energy of binding of the 17-mer considered.
Reference "experimental" binding free energy values, for comparison with computed data, were obtained under the hypothesis of additivity [69, 70] using experimental data on single base-pair mutants.
Declarations
Acknowledgements
We wish to thank Drs. G. Tecchiolli and P. Zuccato of Exadron, the HPC Division of the Eurotech Group, for providing hardware and expert technical assistance.
Dr. M. Isola of the University of Udine is gratefully acknowledged for helpful discussions on statistical aspects of multiple regressions.
EM wishes to thank Profs. C. Destri, G. Marchesini and F. Rapuano for helpful discussions.
Part of the research was funded by FIRB grant RBNE03B8KK from the Italian Ministry for Education, University and Research.
Authors' Affiliations
(1)
Dipartimento di Fisica Teorica, Universià di Torino and INFN, Torino, Italy
(2)
Dipartimento di Fisica G. Occhialini, Università di Milano-Bicocca and INFN, Milano, Italy
(3)
Dipartimento di Scienze e Tecnologie Biomediche, Università di Udine, Udine, Italy
Copyright
© Moroni et al; licensee BioMed Central Ltd. 2007
This article is published under license to BioMed Central Ltd. This is an Open Access article distributed under the terms of the Creative Commons Attribution License (http://creativecommons.org/licenses/by/2.0), which permits unrestricted use, distribution, and reproduction in any medium, provided the original work is properly cited.