Research article
Open Access
Structural comparison of tRNA m1A58 methyltransferases revealed different molecular strategies to maintain their oligomeric architecture under extreme conditions
BMC Structural Biology
2011
11:48
Received: 20 September 2011
Accepted: 14 December 2011
Published: 14 December 2011
Abstract
Background
tRNA m1A58 methyltransferases (TrmI) catalyze the transfer of a methyl group from S-adenosyl-L-methionine to nitrogen 1 of adenine 58 in the T-loop of tRNAs from all three domains of life. The m1A58 modification has been shown to be essential for cell growth in yeast and for adaptation to high temperatures in thermophilic organisms. These enzymes were shown to be active as tetramers. The crystal structures of five TrmIs from hyperthermophilic archaea and thermophilic or mesophilic bacteria have previously been determined, the optimal growth temperature of these organisms ranging from 37°C to 100°C. All TrmIs are assembled as tetramers formed by dimers of tightly assembled dimers.
Results
In this study, we present a comparative structural analysis of these TrmIs, which highlights factors that allow them to function over a large range of temperature. The monomers of the five enzymes are structurally highly similar, but the inter-monomer contacts differ strongly. Our analysis shows that bacterial enzymes from thermophilic organisms display additional intermolecular ionic interactions across the dimer interfaces, whereas hyperthermophilic enzymes present additional hydrophobic contacts. Moreover, as an alternative to two bidentate ionic interactions that stabilize the tetrameric interface in all other TrmI proteins, the tetramer of the archaeal P. abyssi enzyme is strengthened by four intersubunit disulfide bridges.
Conclusions
The availability of crystal structures of TrmIs from mesophilic, thermophilic or hyperthermophilic organisms allows a detailed analysis of the architecture of this protein family. Our structural comparisons provide insight into the different molecular strategies used to achieve the tetrameric organization in order to maintain the enzyme activity under extreme conditions.
Keywords
Thermophilic ProteinThermophilic OrganismBury Surface AreaComparative Structural AnalysisHyperthermophilic Protein
Background
Extremophiles are microorganisms that are found in environments of extreme temperature (-2°C to 15°C, 60-110°C), ionic strength (2-5 M NaCl) or pH (< 4, > 9). They are source of enzymes with extreme stability (extremozymes). Understanding the origin of this stability at a molecular level is very attractive as extremozymes are stable and active under conditions previously thought to be incompatible with biological materials. Only represented by bacterial and archaeal species, hyperthermophiles grow optimally at temperatures above 80°C [1]. Some enzymes from hyperthermophiles are active at temperatures as high as 110°C and even above [2]. To clarify, the term thermostability refers to the preservation of the unique chemical and three-dimensional structure of a polypeptide chain under extreme temperature conditions.
The comparison of mesophilic and thermostable homologous proteins has revealed some important factors that contribute to the remarkable stability of thermoenzymes. Previously reported studies aiming at establishing the origin of thermostability have compared the sequence and/or the structure of homologous proteins from thermophiles and mesophiles. Concerning the primary sequence, different characteristics have been identified as contributors to stability. First, significant changes in the amino-acid composition between mesophilic and thermophilic proteins have been described. Charged and hydrophobic residues are often over-represented in thermophilic proteins [3–5]. A higher Proline content, related with higher rigidity of the backbone has also been reported [6, 7]. Long and flexible loops tend to be absent in thermostable proteins and are often replaced by short and rigid ones [8–10]. Different structural features have also been shown to contribute to protein thermostability, such as an increased number of hydrogen bonds, more ionic interactions, greater hydrophobic interactions, a more compact and rigid packing, and the presence of disulfide bridges [11–14]. Importantly, these studies revealed that there is no single universal mechanism that promotes stability, and the molecular mechanisms behind thermostability can vary from one protein to the other [1, 11, 12].
Numerous chemical modifications occur after transcription during the tRNA maturation process [15]. tRNA modification enzymes from extremophiles have not been so far the subjects of detailed structural analysis aiming at understanding the molecular basis of their stability. Actually, only thirteen post-transcriptional tRNA base modifications are conserved among the three domains of life, and twenty of them are common to bacteria and archaea [16]. Here, we compare the available crystal structures of TrmI methyltransferases (MTases) that methylate the N1 atom of adenine at position 58 in the T-loop of tRNA. m1A58 is one of the modifications present in the three domains of life although it is not frequently found in bacteria. It has been proposed that the presence of this positively charged modified nucleotide, which is located on the outer edge of the molecular tRNA structure, is important for the tRNA tertiary structure and/or for recognition by its partner proteins. In the yeast Saccharomyces cerevisiae, m1A58 is essential for cell growth under normal conditions, as shown by the non-viability of mutants defective in N1-methylation of A58 in initiator tRNA [17, 18], whereas in the bacterium Thermus thermophilus, the TrmI enzyme is required for cell growth at high temperatures [19].
Although S-Adenosyl-L-Methionine (SAM) MTases displaying a Rossmann-like fold are mostly monomeric [20], the TrmI proteins share a conserved tetrameric quaternary structure both in solution [19, 21–24] and in the crystals [25–27]. This architecture is unique among the tRNA modification enzymes characterized up to now. In bacteria and archaea, the enzyme consists of a tetramer formed by identical subunits of about 30 kDa. In contrast, the yeast [24] and human tRNA m1A58 MTases [23] are hetero-tetrameric enzymes composed of two different subunits encoded by the TRM6 and TRM61 genes. It has been proposed that both subunits of eukaryotic tRNA m1A58 MTases evolved from a common ancestor through gene duplication and divergent evolution [28]. Amino acid substitutions in either subunit prevent the yeast enzyme from binding to tRNAMeti, indicating that each subunit contributes to tRNA recognition [24]. In the case of the homo-tetrameric T. thermophilus TrmI, noncovalent mass spectrometry analysis showed that the enzyme binds to its tRNA substrate as a tetramer and is able to bind up to two tRNAs per tetramer [26]. This suggests that the structurally identical subunits have non-equivalent roles within the tetrameric structure, which is reminiscent of the case of homo-tetrameric archaeal tRNA splicing enzymes [29] and O-phosphoseryl-tRNA:selenocysteinyl-tRNA synthase [30]. This would provide an explanation for the existence of both homo- and heterotetramers of TrmI proteins depending on the organism.
In the present report, we have performed comparative studies of the available crystal structures of TrmI proteins to highlight their common properties and shed light on the different structural factors that might explain the stability of TrmI enzymes from extremophiles. We have first compared the TrmI monomers and examined the different mechanisms that can contribute to the thermal stability of the subunit structure. Secondly, since the subunits of thermostable oligomeric enzymes are generally more tightly assembled than in less stable homologous species [31, 32], we have analyzed and compared the inter-subunit contacts in the various crystal structures. Interestingly, our study revealed that different strategies at the level of the inter-subunit contacts have been developed to stabilize the TrmI proteins from thermophilic and hyperthermophilic organisms. The key to achieve TrmI activity under extreme conditions of life appears to lie in the preservation of the tetrameric organization.
Results and discussion
Structural comparison of TrmI proteins
The archaeal and bacterial m1A58 MTases have similar size and architecture
The crystal structures of three bacterial and one archaeal TrmIs have previously been reported (Table
1
): from
Mycobacterium tuberculosis
, a mesophilic bacterium (
Mt
TrmI, initially called Rv2118c) [
22
,
25
],
Thermus thermophilus
, a thermophilic bacterium (
Tt
TrmI)[
26
],
Aquifex aeolicus
(PDB code 2YVL,
Aa
TrmI), a hyperthermophilic bacterium and
Pyroccocus abyssi
, a hyperthermophilic archaeon (
Pa
TrmI) that lives in an environment of extreme pressure [
27
]. Moreover, a search in the Dali database reveals that the PDB code 1O54, a putative SAM-dependent O-MTase from the thermophilic bacterium
Thermotoga maritima,
is inaccurately annotated and corresponds to the m
1
A58 MTase (
Tm
TrmI). Finally, the PDB code 2B25, annotated as a human putative 1-methyladenosine MTase, corresponds to the product of the TRM61 gene (
Hs
TrmI-61), the SAM-binding subunit that composes the hetero-tetramer of m
1
A58 MTase in eukaryotes and shows extensive sequence similarity to the bacterial and archaeal enzymes [
23
]. These organisms, with structurally characterized TrmI proteins, display very different optimal growth temperatures (Table
1
). These TrmI proteins show sequence identity ranging from 24.8% to 40.8%, the bacterial proteins from
M. tuberculosis
and
T. thermophilus
being the most similar and the two hyperthermophilic proteins (
P. abyssi
and
A. aeolicus
) the most dissimilar (Additional File
1
, Table S1). Except otherwise stated, the residue numbering for
T. maritima
is used throughout the text.
Table 1
Crystal structures of TrmI proteins available in the PDB.
Name

Species (domain of life)

Optimal growth temperature a (°C)

PDB code

Resolution (Å)

Space group

ligand

Number of monomers in the asymmetric unitb

HsTrmI-61

H. sapiens (E)

37 (M)

2B25

2.5

C2221

SAM

2

MtTrmI

M. tuberculosis (B)

37 (M)

1I9G

1.98

I222

SAM

1

TtTrmI

T. thermophilus (B)

70 (T)

2PWY

1.7

C2221

SAH

2

TmTrmI

T. maritima (B)

77-80 (T/HT)

1O54

1.65

I222

-

1

AaTrmI

A. aeolicus (B)

85-96 (HT)

2YVL

2.2

P212121

SAM

4

PaTrmI

P. abyssi (A)

100-103 (HT, Ba)

3LHD

3LGA

3MB5

2.6

2.05

1.6

P212121

P31

I222

SAH

SAH

SAM

4

4

1
The TrmI proteins show a tetrameric organization in the crystals as it was shown in solution [
19
,
21
–
24
]. The crystallographic asymmetric unit consists of one, two or four subunits of the protein (Figure
1
, Table
1
) and the tetramer is assembled from the monomers using either the crystallographic or non-crystallographic symmetry. The four subunits of the homo-tetrameric TrmI proteins are related by a four-fold symmetry. Two opposite sides of the tetramer show positively charged grooves, wide enough to accommodate an A-form RNA helix [
26
], that likely bind the tRNA substrate (Figure
1A
). Interestingly, the electrostatic surfaces are not similar in all TrmI proteins,
Tm
TrmI showing a less positive surface than the four other proteins and
Mt
TrmI and
Pa
TrmI having the most positive surface (Figure
1A
). Based on the characteristics of the different monomer-monomer interfaces, the tetramer can be described as a dimer of two tightly assembled dimers (A/B and C/D), which interact back to back as shown in Figure
1B
. The two protruding antiparallel β-strands at the C-terminus of each monomer contribute significantly to the tetrameric assembly (Figure
1C
).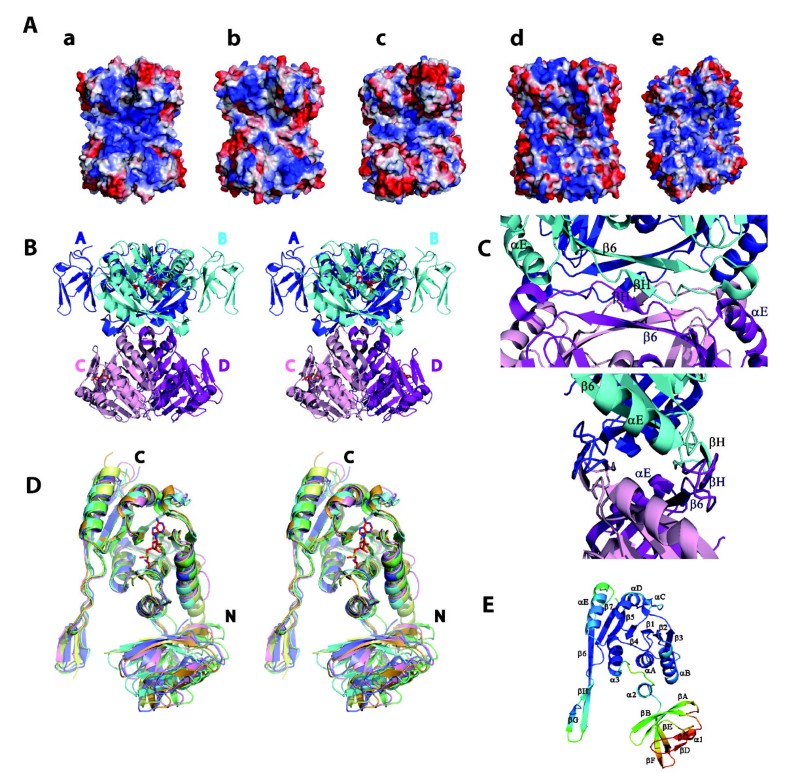 MtTrmI, TmTrmI and PaTrmI (space group I222) contain one TrmI monomer in the asymmetric unit and the tetramer is generated using the crystallographic symmetry. In AaTrmI and in the two crystal forms of PaTrmI in complex with SAH, the crystallographic asymmetric unit contains a full tetramer and there are similar relationships between the monomers except that all axes are non-crystallographic. The four monomers display an rmsd between equivalent Cα atoms of less than 0.27 Å, 0.66 Å and 0.05 Å for AaTrmI, PaTrmI (space group P212121) and PaTrmI (space group P31), respectively. In TtTrmI and HsTrmI, the asymmetric unit contains the tight A/B dimer and the A/D dimer, respectively, in which the two monomers are related by the non-crystallographic 2-fold axis. The two monomers are almost identical with an rmsd between equivalent Cα atoms of 1.04 Å and 0.36 Å for TtTrmI and HsTrmI, respectively. The full tetramer of TtTrmI is generated by proper crystallographic 2-fold symmetry. Although a homo-tetramer of HsTrmI-61 can also be formed using the 2-fold crystallographic symmetry, it is not biologically relevant because HsTrmI, in contrast to bacterial and archeal TrmIs, is a hetero-tetramer. The fact that the asymmetric unit of the HsTrmI-61 crystal consists of the A/D dimer is consistent with the modeling of the full yeast TrmI structure [24], and strongly suggests that in eukaryotic TrmIs, the A/B and A/C dimers are formed by two different subunits (TrmI-6 and TrmI-61). Therefore, in eukaryotes, the dimeric and tetrameric contacts are formed only between different subunits. The dimers and tetramers of all TrmIs are very similar, and the tetramers of all structures can be superimposed with rmsd of 1.65-3.2 Å (Additional File 1, Table S2A). Therefore, there is no rigid body rearrangement of the monomers between the TrmI proteins, which, in some cases [33], was shown to be a factor contributing to thermal stability.
Structural comparison of the TrmI monomers shows mobility of the N-terminal domain relative to the C-terminal catalytic domain
The monomer structures of TrmI proteins with known three-dimensional structure are closely similar, with rmsd between 1.34 and 2.70 Å and Q-scores between 0.41 and 0.59 (Additional File
1
, Table S2B; Figure
1
(D)). One monomer is formed by two domains: a catalytic C-terminal domain that binds the SAM/SAH cofactor with a Rossmann-like fold characteristic of SAM-dependent MTases, and a smaller N-terminal domain with a β-structure. A structure-based multiple sequence alignment and secondary structure assignment for the TrmI monomers are shown in Figure
2
. The N-terminal domain (residues 1-67) contains one helix (α1) and six β-strands (βA to βF). The C-terminal domain (residues 68-263) contains seven α-helices and eight β-strands, of which strands β6, βG and βH form an antiparallel β-sheet involved in the tetramer formation. Compared to the other enzymes,
Hs
TrmI-61 has a 10-residue insertion in the turn between αB and β3. The similarity of the structures extends even higher when only the catalytic domains are superposed (Figure
1
(D)), revealing a slightly different relative orientation of the N-terminal and catalytic domains in the TrmIs studied. Moreover, comparison of the four monomers in the structure of
Pa
TrmI in the P2
1
2
1
2
1
space group, in which SAH adopts two different conformations [
27
], reveals also mobility of the N-terminal domains relative to the tetramer core formed by four catalytic domains. Indeed, the four monomers in the asymmetric unit display a pair-wise rmsd of less than 0.66 Å comparing 253 pairs of Cα atoms, whereas the superposition of the catalytic domains alone gives an rmsd of less than 0.36 Å. The higher B-factors of the N-terminal domain also indicate its mobility relative to the tetramer core (Figure
1
(E)). It is possible that the mobility of the N-terminal domain may be critical to the activity of the enzyme and that a hinged movement may occur upon tRNA binding, as observed for other RNA modifying enzymes [
34
]. However, although the crystallographic contacts of
Pa
TrmI in the three different space groups are different (Figure
3
), the relative orientation of the catalytic and N-terminal domains remains unchanged, which suggests the existence of a preferred conformation of the protein in the absence of tRNA.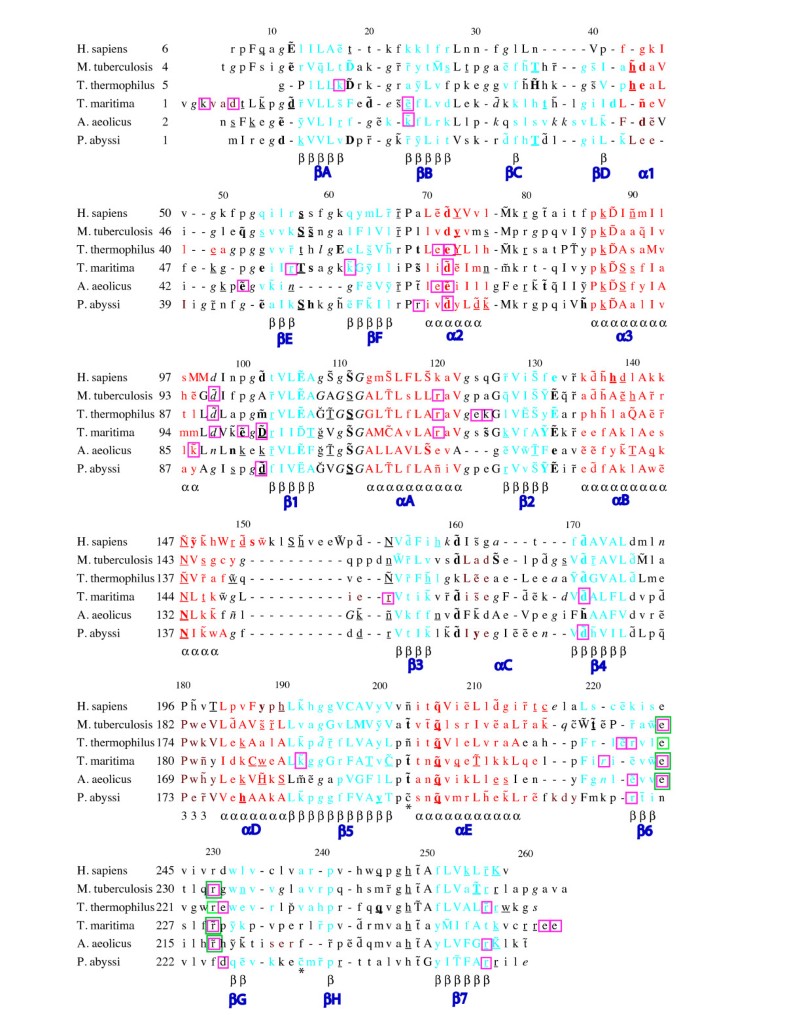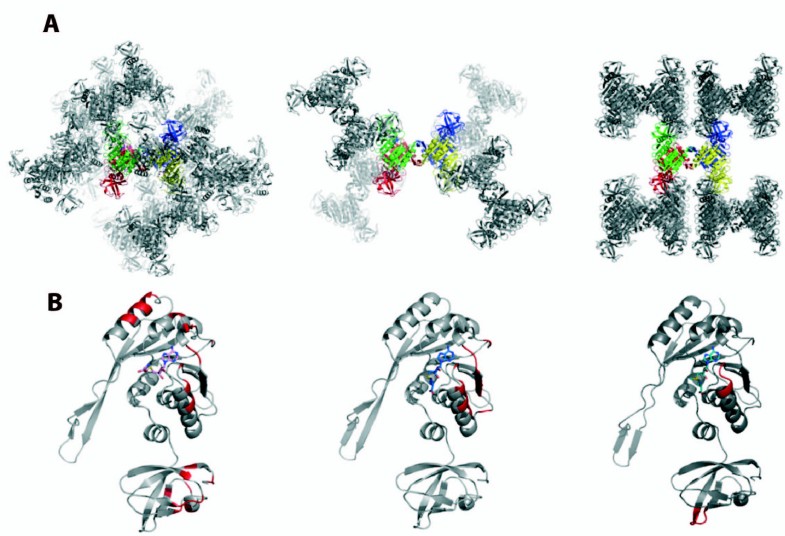 Factors responsible for the stability of TrmI proteins under extreme conditions
Structural comparison of homologous enzymes from thermophiles and mesophiles suggests that thermostability originates from several factors [11]. More ion pairs and hydrogen-bonding interactions, reduced exposure of hydrophobic surface, tighter hydrophobic packing of the protein core, reduction in the number and volume of cavities, as well as improved inter-subunit contacts within oligomeric proteins contribute to increasing thermostability [8, 31, 32, 35–39]. These various factors were examined in the case of the TrmI proteins.
Conclusions
In the present study, we aimed at performing a detailed structural analysis to investigate the structural mechanisms underlying stability in TrmIs from organisms spanning a large variety of optimal growth conditions. Our analysis of the different TrmI monomers, in terms of amino-acid composition, three-dimensional structure, hydrogen-bonding and ionic interactions, did not uncover clear hallmarks to explain the stability of the extremozymes. On the contrary, we identified structural differences between TrmIs from mesophiles, moderate or extreme thermophiles, in the compactness of their dimeric and tetrameric units and in the nature of the interactions between their monomers. Thermophilic TrmIs display tight packing at these interfaces, resulting in a slight increase of compactness upon multimerization. To investigate further this feature, we analyzed the contacts between monomers. First, the number of ionic interactions between monomers increases in the thermophilic TrmIs and seems to be one of the main factors providing thermostability. Secondly, the two hyperthermophilic TrmI proteins display dimeric interfaces with increased hydrophobic interactions. In addition, PaTrmI from P. abyssi, which grows not only under extreme conditions of temperature but also under high pressure, possesses inter-subunit disulfide bridges that were shown to be essential for its thermostability [21, 27]. Therefore, our analysis revealed that different molecular strategies have emerged to ensure strong interactions at the interfaces between monomers in order to preserve the tetrameric architecture of TrmI under extreme life conditions. The key challenge for TrmI extremozymes is thus to preserve the tetrameric architecture crucial for their catalytic activity.
Methods
Volume and surface calculations
The program VOIDOO was used to calculate molecular protein volumes and cavities [53]. The molecular volumes of the proteins per se were calculated using a grid spacing of 1 Å and a 0 Å radius probe and the cavity volumes with a 1.4 Å radius probe. The SAM/SAH cofactors and water molecules were omitted from the calculations. Accessible surface areas were calculated using the program ASA (P. Alzari, personal communication).
Structural analysis
The salt bridges and H-bonds within one monomer (less than 3.5 Å) were analyzed with HBOND (http://cib.cf.ocha.ac.jp/bitool/HBOND/). The H-bonds, ionic interactions and van der Waals contacts between monomers were analyzed by examining the structures graphically. The interface areas and stabilities of the tetramers were calculated with the program PISA, omitting the ligands (http://www.ebi.ac.uk/msd-srv/prot_int/pistart.html) [44]. Our analysis was done using the PDB coordinates. However, several side chain atoms are not observed in the electron density and are therefore missing in some PDB files. Those missing residues could influence the contraction upon dimerization and tetramerization if they were located at the interface between the different subunits. This is not the case except for one side chain (Leu228 in T. maritima 1O54). All other missing side chains belong to Lys, Arg, Glu and Gln residues at the surface of the protein, pointing towards the solvent.
The abbreviations used are: MTase: methyltransferase; rmsd: root mean square deviation; SAM: S-adenosyl-L-methionine; SAH: S-adenosyl-L-homocysteine; PaTrmI: Pyroccocus abyssi tRNA m1A58 methyltransferase; TtTrmI: Thermus thermophilus tRNA m1A58 methyltransferase; MtTrmI: Mycobacterium tuberculosis tRNA m1A58 methyltransferase; AaTrmI: Aquifex aeolicus tRNA m1A58 methyltransferase; TmTrmI: Thermotoga maritima tRNA m1A58 methyltransferase; HsTrmI-61: Trm61 subunit of Homo sapiens tRNA m1A58 methyltransferase.
Declarations
Acknowledgements and funding
This work was supported by the Association pour la Recherche sur le Cancer (to B.G.P) and by the CNRS.
Authors' Affiliations
(1)
Laboratoire d'Enzymologie et Biochimie Structurales, Centre de Recherche de Gif, CNRS, Gif-sur-Yvette, France
(2)
CNRS, UMR 8015, Laboratoire de Cristallographie et RMN biologiques, Paris, France
(3)
Université Paris Descartes, Sorbonne Paris Cité, UMR 8015, Laboratoire de Cristallographie et RMN biologiques, Paris, France
(4)
Institute of Molecular Biology and Biophysics, ETH Zurich, Zürich, Switzerland
Copyright
© Guelorget et al; licensee BioMed Central Ltd. 2011
This article is published under license to BioMed Central Ltd. This is an Open Access article distributed under the terms of the Creative Commons Attribution License (http://creativecommons.org/licenses/by/2.0), which permits unrestricted use, distribution, and reproduction in any medium, provided the original work is properly cited.