Research article
Open Access
The crystal structures of the tri-functional Chloroflexus aurantiacus and bi-functional Rhodobacter sphaeroides malyl-CoA lyases and comparison with CitE-like superfamily enzymes and malate synthases
BMC Structural Biology
2013
13:28
Received: 19 August 2013
Accepted: 4 November 2013
Published: 9 November 2013
Abstract
Background
Malyl-CoA lyase (MCL) is a promiscuous carbon-carbon bond lyase that catalyzes the reversible cleavage of structurally related Coenzyme A (CoA) thioesters. This enzyme plays a crucial, multifunctional role in the 3-hydroxypropionate bi-cycle for autotrophic CO2 fixation in Chloroflexus aurantiacus. A second, phylogenetically distinct MCL from Rhodobacter sphaeroides is involved in the ethylmalonyl-CoA pathway for acetate assimilation. Both MCLs belong to the large superfamily of CitE-like enzymes, which includes the name-giving β-subunit of citrate lyase (CitE), malyl-CoA thioesterases and other enzymes of unknown physiological function. The CitE-like enzyme superfamily also bears sequence and structural resemblance to the malate synthases. All of these different enzymes share highly conserved catalytic residues, although they catalyze distinctly different reactions: C-C bond formation and cleavage, thioester hydrolysis, or both (the malate synthases).
Results
Here we report the first crystal structures of MCLs from two different phylogenetic subgroups in apo- and substrate-bound forms. Both the C. aurantiacus and the R. sphaeroides MCL contain elaborations on the canonical β8/α8 TIM barrel fold and form hexameric assemblies. Upon ligand binding, changes in the C-terminal domains of the MCLs result in closing of the active site, with the C-terminal domain of one monomer forming a lid over and contributing side chains to the active site of the adjacent monomer. The distinctive features of the two MCL subgroups were compared to known structures of other CitE-like superfamily enzymes and to malate synthases, providing insight into the structural subtleties that underlie the functional versatility of these enzymes.
Conclusions
Although the C. aurantiacus and the R. sphaeroides MCLs have divergent primary structures (~37% identical), their tertiary and quaternary structures are very similar. It can be assumed that the C-C bond formation catalyzed by the MCLs occurs as proposed for malate synthases. However, a comparison of the two MCL structures with known malate synthases raised the question why the MCLs are not also able to hydrolyze CoA thioester bonds. Our results suggest the previously proposed reaction mechanism for malate synthases may be incomplete or not entirely correct. Further studies involving site-directed mutagenesis based on these structures may be required to solve this puzzling question.
Keywords
Malyl-CoA lyaseMalate synthaseCitrate lyaseCitE
Background
Enzymes of the CitE-like superfamily are widely distributed among Bacteria, but can also be found in Archaea and Eukaryota. However, only very few of these enzymes have been biochemically characterized. The true CitE is the β-subunit of the ATP-independent citrate lyase, which consists of three different subunits [
1
,
2
] and the corresponding genes are part of the
citC
DEF(X)G operon [
3
,
4
]. The ATP-independent citrate lyase is only found in prokaryotes and is important for the anaerobic fermentation of citrate [
1
]. Its γ-subunit (CitD) functions as an acyl-carrier-protein (ACP) and contains a CoA derivative as prosthetic group [
4
–
6
]. The α-subunit (CitF) functions as an acyl-transferase and is responsible for the formation of a citryl-ACP intermediate [
2
]. CitE, the β-subunit, cleaves the citryl-moiety into oxaloacetate and acetyl-ACP (Figure
1
) [
2
]. Other CitE-like enzymes are encoded by "stand alone" genes or genes that are part of clusters unrelated to the citrate lyase operon [
7
]. Examples of CitE-like enzymes that have been biochemically characterized use free acyl-CoA thioesters instead of ACPs as substrates, including the malyl-CoA lyases [
8
–
12
], a malyl-CoA thioesterase [
11
], and haloarchaeal forms of a malate synthases [
13
–
15
]. All of these enzymes require divalent metal ions, Mg
2+
or Mn
2+
, for catalysis.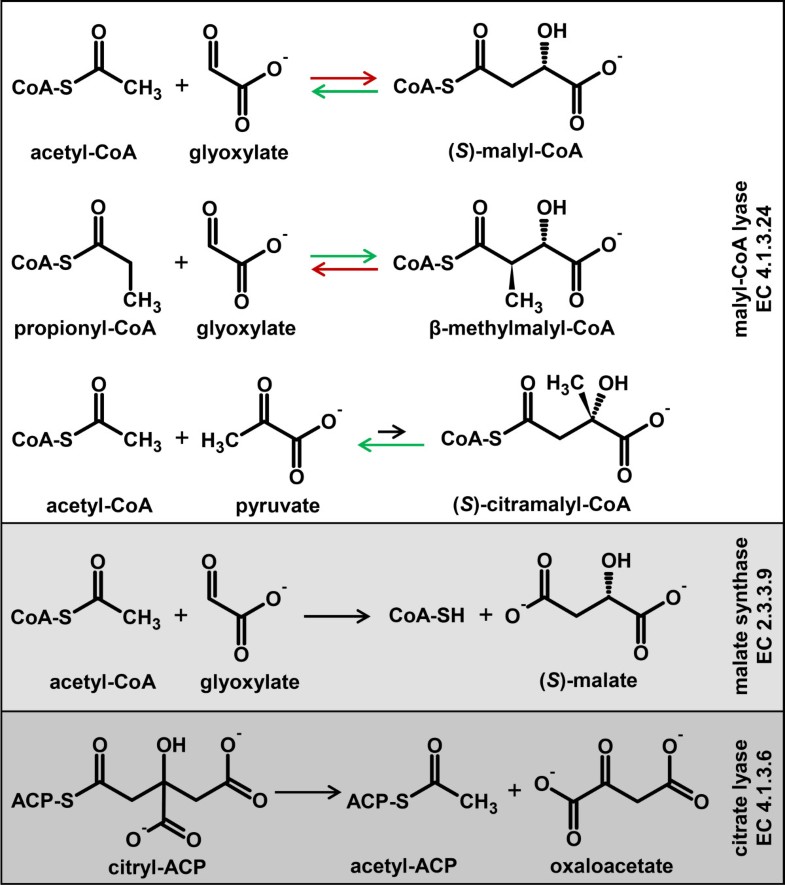 Malyl-CoA lyases are promiscuous enzymes that accept a variety of substrates and can catalyze the reversible aldol condensation of CoA thioesters like acetyl-CoA or propionyl-CoA with 2-oxoacids like glyoxylate or pyruvate [9–11]. MCLs are known to function in different pathways of central carbon metabolism in Bacteria and Haloarchaea. The very first MCLs were described in Methylobacterium extorquens AM1 (formerly Pseudomonas sp. AM1) [12, 16] and Aminobacter aminovorans (formerly Pseudomonas sp. MA) [17]. In Methylobacterium an MCL takes part in the serine cycle, which allows the assimilation of C1 compounds such as methanol, formate, and formaldehyde into biomass [18]. In this case, MCL is responsible for the cleavage of (S)-malyl-CoA into glyoxylate and acetyl-CoA [16].
Subsequently it was discovered that in C. aurantiacus an MCL (MCLC) catalyzes three different steps in the 3-hydroxypropionate bi-cycle for autotrophic CO2 fixation [9, 10, 19]. This tri-functional enzyme cleaves (S)-malyl-CoA into acetyl-CoA and glyoxylate, combines glyoxylate with propionyl-CoA to β-methylmalyl-CoA, and finally also cleaves (S)-citramalyl-CoA into acetyl-CoA and pyruvate (Figure 1). This pathway is garnering considerable attention for biotechnological applications [20, 21] because it is unique among the known CO2 fixing pathways in that the constituent enzymes are insensitive to oxygen [10]. Moreover, the whole bi-cyclic CO2 fixation strategy is metabolically streamlined; it comprises 19 chemical reaction steps but involves only 13 enzymes because several multifunctional enzymes are employed [10]. The tri-functionality of the MCLC underscores its key role for this pathway.
An MCL was also functionally characterized in Rhodobacter capsulatus and R. sphaeroides [8, 11], which belong to a group of organisms that lack isocitrate lyase. Therefore, they are unable to use the glyoxylate bypass to assimilate acetyl-CoA or other substrates that enter central carbon metabolism at the level of acetyl-CoA. Instead, they use the ethylmalonyl-CoA pathway [22] for the assimilation of acetyl-CoA. In the ethylmalonyl-CoA pathway, characterized in the R. sphaeroides, the MCL (MCLR) is bifunctional; it catalyzes the cleavage of β-methylmalyl-CoA and the synthesis of malyl-CoA [11]. Interestingly, both MCLR and MCLC essentially catalyze the same reactions, but function in opposite directions in the ethylmalonyl-CoA pathway and the 3-hydroxypropionate bi-cycle, respectively (Figure 1).
Furthermore, MCL-like enzymes were found in Haloarchaea like Haloarcula marismortui, which lacks isocitrate lyase as well as enzymes that are required to establish the ethylmalonyl-CoA pathway. Nevertheless, it is still able to grow on acetate as the sole carbon source. It was recently demonstrated that these organisms employ yet another unique pathway for acetyl-CoA assimilation, the so called methylaspartate cycle [15]. This cyclic pathway makes use of two MCL-like enzymes, one of which seems to be optimized for the cleavage of β-methylmalyl-CoA into propionyl-CoA and glyoxylate (HaloMCL), whereas the other one acts like a malate synthase. The crystal structure of the homologous haloarchaeal malate synthase (HaloMS) from Haloferax volcanii was solved recently [23]. Although HaloMS shows only very low amino acid sequence identity (10 to 23%) to other malate synthases [23], all key catalytic residues in the active site are conserved.
While several different members of the CitE-like superfamily of enzymes and the related malate synthases have been structurally characterized (Table
1
, Figure
2
), until now, no structures were available for enzymes of the phylogenetic subgroups that harbor malyl-CoA lyases. We determined the crystal structures of the phylogenetically distinct MCLs (Figure
2
) of
C. aurantiacus
and
R. sphaeroides
, with and without bound substrates/ligands. The two MCLs share the common fold of a central TIM-barrel with small elaborations, as well as an additional C-terminal domain. In both cases the oligomeric state constitutes a dimer of trimers. The MCLC, however, is more compact than the MCLR, with a larger buried surface area between the two trimers. The trimeric assembly itself is a prerequisite for the catalytic activity of the MCLs as well as other CitE-like enzymes. This is due to a domain swap of the C-terminal domain that functions as a lid over the active site of the respective neighboring subunit. We observed different conformational states of this lid domain for both MCLs concomitant with substrate binding. Structural comparison of the MCLs with malate synthases provides hints as to what governs their substrate specificities and whether previously postulated reaction mechanisms for malate synthases also apply to MCLs.
Table 1
Enzymes used for phylogenetic and structural analyses
| Enzyme | Organism | GenBank Accession | PDB ID |
| --- | --- | --- | --- |
| Malyl-CoA lyase | Chloroflexus auranticus OK-70-fl | AGR55786 | 4L7Z, 4L80 |
| Malyl-CoA lyase | Rhodobacter spaeroides 2.4.1 | ACJ71673 | 4L9Y, 4L9Z |
| Haloarchaeal malyl-CoA lyase | Haloarcula marismortui | YP_135395 | - |
| CitE-like (RipC) | Yersinia pestis KIM10+ | NP_669690 | 3QLL |
| CitE-like | Pseudomonas aeruginosa PAO1 | NP_249574 | - |
| CitE-like | Mycobacterium tuberculosis H37Rv | NP_217014 | 1U5V, 1U5H, 1Z6K |
| CitE-like | Ralstonia eutropha JMP134 | YP_298346 | 3QQW, 3IUZ |
| CitE-like | Deinococcus radiodurans R1 | NP_294964 | 1SGJ |
| CitE-like | Burkholderia xenovorans LB400 | YP_552446 | 3R4I |
| CitE | Klebsiella pneumonia MGH 78578 | YP_001333726 | - |
| Haloarchaeal malate synthase | Haloferax volcanii DS2 | YP_003536009 | 3OYZ, 3OYX, 3PUG |
| Malate synthase G | Escherichia coli K-12 | NP_417450 | 1P7T |
| Malate synthase A | Escherichia coli K-12 | NP_418438 | 3CUZ, 3CV1, 3CV2 |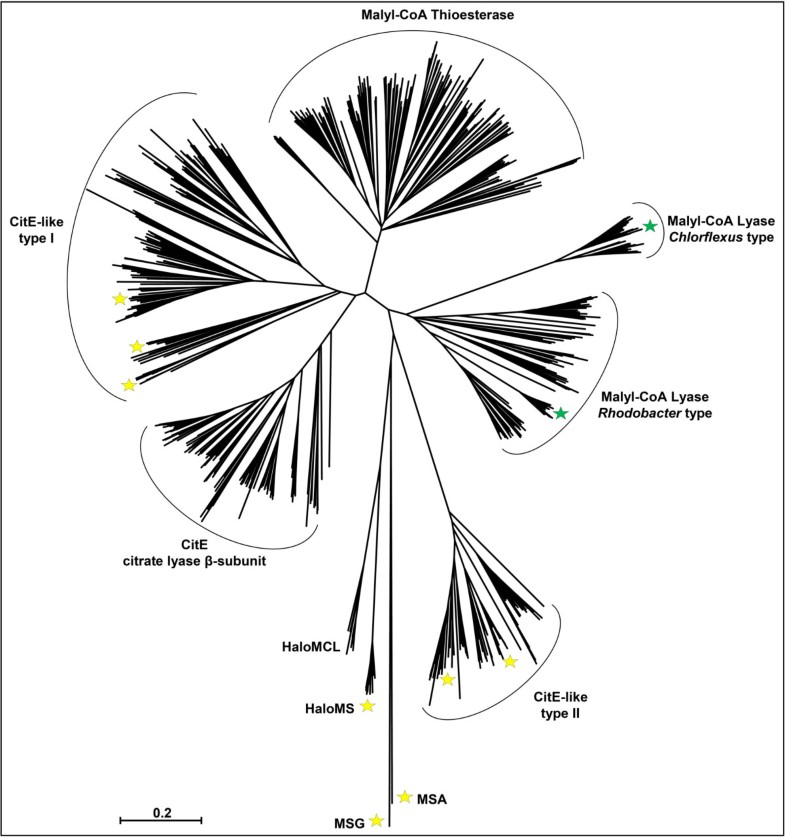 Conclusions
Despite the relatively low amino acid sequence identity between MCLC and MCLR, their tertiary and quaternary structures are almost identical. The only prominent differences were found in the N-termini, which differ in size and orientation. These N-termini influence the strength of the interaction at the dimer interface between trimers in the hexameric assemblies. Furthermore, the comparison of the two MCL structures to the structures of HaloMS, MSG, and MSA does not explain why the MCLs are not able to hydrolyze CoA thioester bonds. Very few differences were observed between the active sites. Nevertheless, some hints emerge to explain the different substrate specificities of the MCLs compared to the different kinds of malate synthases. The structures and the previously proposed reaction mechanism for malate synthases suggest that malyl-CoA lyases should be able to hydrolyze CoA thioester bonds too. This however, has not been observed.
Collectively, these structures and the comparative analyses of the catalytic mechanism proposed for malate synthases lay the foundation for further studies including site directed mutagenesis to gain insights into the specific determinants of the different reaction specificities. Expanding the biochemical and structural knowledge about other CitE-like enzymes may also help to understand why MCLs are not hydrolyzing CoA-thioester bonds, especially since the structures of several CitE-like enzymes have been solved already but without knowledge of their respective functions, substrate spectra, and catalyzed reactions.
Declarations
Acknowledgments
We thank the staff at the Advanced Light Source, Lawrence Berkeley National Laboratory, which is supported by the Director, Office of Science, Office of Basic Energy Sciences, of the United States Department of Energy under Contract No. DE-AC02-05CH11231. C.A.K. was also supported by National Science Foundation grant EF1105897. Thanks are due to Birgit E. Alber for providing the MCLR expression plasmid, Annette Salmeen, Markus Sutter, BethA. Wurzburg, Fei Cai, and Jonathan K. Lassila for invaluable assistance and helpful discussions. Work conducted by the U.S. Department of Energy Joint Genome Institute is supported by the Office of Science of the U.S. Department of Energy under contract No. DE-AC02-05CH11231.
Authors' Affiliations
(1)
Department of Biochemistry and Molecular Biology, Plant Research Laboratories, Michigan State University, East Lansing, USA
(2)
Department of Plant and Microbial Biology, University of California, Berkeley, USA
(3)
Synthetic Biology Institute, University of California, Berkeley, USA
(4)
Lawrence Berkeley National Laboratory, Berkeley, USA
Copyright
© Zarzycki and Kerfeld; licensee BioMed Central Ltd. 2013
This article is published under license to BioMed Central Ltd. This is an open access article distributed under the terms of the Creative Commons Attribution License (http://creativecommons.org/licenses/by/2.0), which permits unrestricted use, distribution, and reproduction in any medium, provided the original work is properly cited.