Research article
Open Access
Crystal structures of Leptospira interrogans FAD-containing ferredoxin-NADP+ reductase and its complex with NADP+
BMC Structural Biology
2007
7:69
Received: 06 May 2007
Accepted: 24 October 2007
Published: 24 October 2007
Abstract
Background
Ferredoxin-NADP(H) reductases (FNRs) are flavoenzymes that catalyze the electron transfer between NADP(H) and the proteins ferredoxin or flavodoxin. A number of structural features distinguish plant and bacterial FNRs, one of which is the mode of the cofactor FAD binding. Leptospira interrogans is a spirochaete parasitic bacterium capable of infecting humans and mammals in general. Leptospira interrogans FNR (LepFNR) displays low sequence identity with plant (34% with Zea mays) and bacterial (31% with Escherichia coli) FNRs. However, LepFNR contains all consensus sequences that define the plastidic class FNRs.
Results
The crystal structures of the FAD-containing LepFNR and the complex of the enzyme with NADP+, were solved and compared to known FNRs. The comparison reveals significant structural similarities of the enzyme with the plastidic type FNRs and differences with the bacterial enzymes. Our small angle X-ray scattering experiments show that LepFNR is a monomeric enzyme. Moreover, our biochemical data demonstrate that the LepFNR has an enzymatic activity similar to those reported for the plastidic enzymes and that is significantly different from bacterial flavoenzymes, which display lower turnover rates.
Conclusion
LepFNR is the first plastidic type FNR found in bacteria and, despite of its low sequence similarity with plastidic FNRs still displays high catalytic turnover rates. The typical structural and biochemical characteristics of plant FNRs unveiled for LepFNR support a notion of a putative lateral gene transfer which presumably offers Leptospira interrogans evolutionary advantages. The wealth of structural information about LepFNR provides a molecular basis for advanced drugs developments against leptospirosis.
Keywords
NADPLeptospirosisMolecular ReplacementDistance Distribution FunctionLeptospira Interrogans
Background
Ferredoxin-NADP(H) reductases (FNRs) are flavoenzymes that catalyze electron transfer between NADP(H) and the iron-sulfur protein ferredoxin (Fd) or flavin mononucleotide-containing flavodoxin [1]. These enzymes are normally present as monomeric proteins in plastids, bacteria, mitochondria, and apicoplasts of intracellular parasites, where they catalyze the reaction described in equation (1), using noncovalently bound FAD as a prosthetic group.2 Fd(Fe+2) + NADP+ + H+⇆2 Fd(Fe+3) + NADPH
Depending on the primary energy source of the organism the reaction catalyzed by FNR can be driven toward one of the directions indicated by the double arrow in equation (1). In heterotrophic bacteria and eukaryotes, the catalysis is driven toward ferredoxin reduction providing reducing power for a wide range of metabolic pathways [1, 2].
Structural information is available for FNRs from plastids (maize leaf [3], spinach [4], pea [5]), cyanobacteria (Anabaena [6]) and bacteria (Azobacter vinelandii [7], Escherichia coli [8] and Rhodobacter capsulatus [9]). Topologically, there is a number of similarities within the two structural domains of FNRs of a different origin. The protein core, composed of a αβ-sandwich with a 5-strand β-sheet surrounded by 5 α-helices, is strongly conserved among FNRs. Structural differences however, appear in the size and conformation of the loops on the protein surface [10]. FAD binding site is located between the protein domains and has been described in detail by Bruns & Karplus [4].
The binding of the prosthetic group to FNRs from different sources is structurally different. The crystal structures of enzymes from plastids and cyanobacteria have FAD molecule in an extended conformation, while those from others prokaryotes are bended toward themselves and establish hydrogen bond interactions between the adenine and the isoalloxazine [1, 11].
Sequence alignments of FNRs from different organisms revealed conservation profiles in close agreement with above discussed structural differences. A sequence alignment of plants, bacteria and algae FNRs reveals that the overall homology between enzyme primary structures is not so high, although amino acid sequence conservation between plant enzymes, for example, is significantly better (Fig.
1
).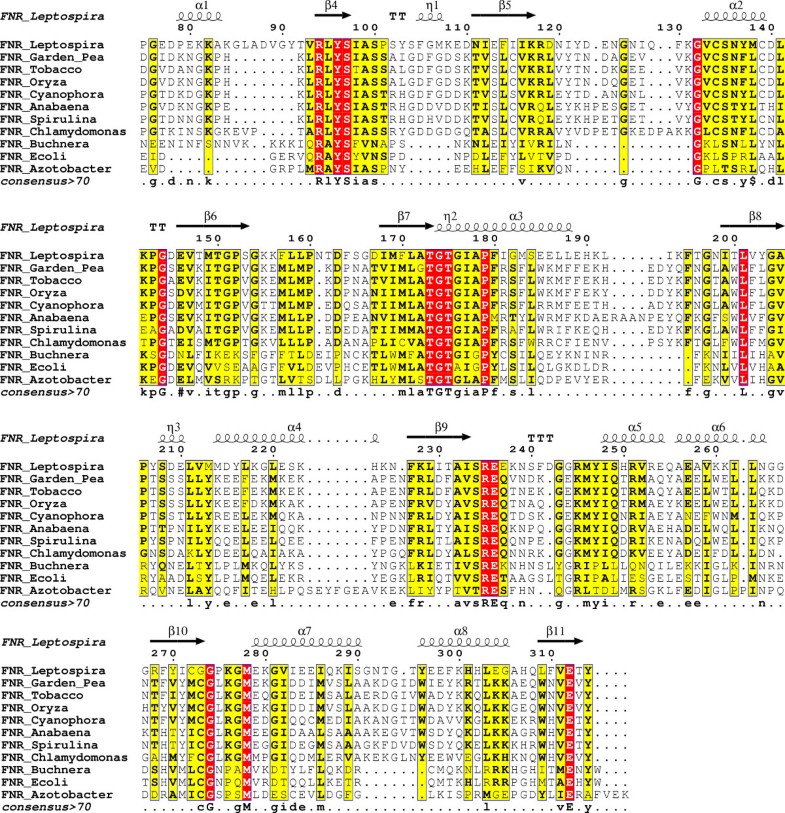 Leptospira interrogans is a spirochaete parasitic bacterium known to infect humans and mammals including cattle, dogs, pigs, horses and its natural carrier hosts, rodents. Quite surprisingly, according to phylogenetic analysis, Leptospira FNR (LepFNR) has been recently suggested to belong to the plastidic class FNRs [1]. The low identity in primary structure with the members of plastidic FNRs (Fig. 1), makes LepFNR an interesting target for structural and biochemical analysis aiming to better understand the structural grounds of the high catalytic efficiency of these oxidoreductases. In addition, the structure of LepFNR provides structural basis for the design of efficient and specific drugs dedicated to leptospirosis treatment.
In this work we submitted LepFNR to both structural and biochemical analysis. The crystal structures of LepFNR, presented here, reveal the molecular basis of recognition and binding of both prosthetic group FAD and substrate NADP+ by the enzyme. Structural comparison of LepFNR with other FNRs, both from plant and bacterial origin, demonstrated more structural similarities of LepFNR with plant enzymes than with the bacterial FNRs. Small angle scattering experiments prove that LepFNR is a monomeric enzyme in solution. Finally, our biochemical data indicate that the LepFNR has a high enzymatic activity similar to those reported for the plastidic class enzymes and, considerably different from bacterial flavoenzymes which display lower turnover rates.
Conclusion
Crystal structures of LepFNR reveal a typical plastidic type reductase, analogous in its folding architecture to the enzymes found in plant and cyanobacteria, in spite of displaying an important divergence at primary structure level. The typical FAD and NADP+ binding domains are well conserved among them and the amino acids involved in prosthetic group and NADP+ binding have a high degree of structural conservation. Our analysis reveal several distinct key features of this structure: 1) The FAD molecule is bound in an extended conformation and the adenosine moiety is interacting with a different aromatic residue than in all other plastidic reductases; 2) The poorly conserved amino acid fragment 113-EFIIKR DN-120 still contains both basic amino acids that participate in the FAD binding; 3) The carboxyl terminal amino acid is a tyrosine, that is planar to the isoalloxazine at 3.6 Å distance. All these features of the LepFNR are found in enzymatically highly efficient reductases and are in a good agreement with the biochemical data we have obtained for this enzyme.
Structural comparison between present LepFNR crystal structures and the X-ray structure of the previously determined Anabaena FNR complexed with NADP+ [6, 14] reveals a number of important similarities in the model of substrate binding between these two enzymes. The adenosine part of NADP+ and the 2'phosphate group of the substrate are in equivalent positions in these two structures. In both models the nicotinamide reactive part of substrate is not positioned in a productive form and was found too far from the isoalloxazine to allow electron transfer [this work and ref 14]. The position observed for the Anabaena FNR·NADP+ complex is somewhat different than the observed in LepFNR·NADP+ crystal structure. A sequence of three steps for the coenzyme recognition and binding mechanism has been proposed to explain the different conformation obtained in the Anabaena FNR·NADP+ complex [15]. Here, the position adopted by the NADP+ nicotinamide bound to the LepFNR enzyme may represent another intermediate before the productive binding of the substrate.
An interesting outcome of our analysis is that the binding of the substrate to holoenzyme produces not only a rearrangement of some of the residues involved in its binding but also a moderate but indubitable conformational change in the carboxyl terminal domain. This structural rearrangement can help to explain the strong negative cooperativity that has been observed for the ferredoxin and NADP+ binding [16].
Atomic coordinates and structure factors were deposited to the Protein Data Bank and received accession codes 2RC5 and 2RC6.
List of abbreviations
FNR:

ferredoxin-NADP+ reductase
NADP+:

nicotinamide adenine dinucleotide phosphate
IPTG:

isopropyl β-D-1-thiogalactopyranoside
SAXS:

small angle X-ray scattering
FAD:

flavin adenine dinucleotide.
Declarations
Acknowledgements
The authors thank to L. Bleicher and N. Leite for the helpful discussion and to T. Ferrarezi for the help in crystallization trials. We also thank to Fundação de Apoio à Pesquisa do Estado de São Paulo (FAPESP) for the financial support via grant #04/08070-9 and #06/00182-8, to Conselho Nacional de Desenvolvimento Científico e Tecnológico (CNPq) and, grants #10777 from CONICET and #01-14650 from Agencia de Promoción Científica y Tecnológica (ANPCyT), Argentina, and the Regional Research Training Fellowships Program of AMSUD/Pasteur.
Authors' Affiliations
(1)
Instituto de Física de São Carlos, Universidade de São Paulo, São Carlos, Brazil
(2)
Facultad de Ciencias Bioquímicas y Farmacéuticas, Molecular Biology Division, Instituto de Biología Molecular y Celular de Rosario (IBR), CONICET, Universidad Nacional de Rosario, S2002LRK Rosario, Argentina
Copyright
© Nascimento et al; licensee BioMed Central Ltd. 2007
This article is published under license to BioMed Central Ltd. This is an Open Access article distributed under the terms of the Creative Commons Attribution License (http://creativecommons.org/licenses/by/2.0), which permits unrestricted use, distribution, and reproduction in any medium, provided the original work is properly cited.