Research Article

Open Access
Molecular dynamics simulation of the opposite-base preference and interactions in the active site of formamidopyrimidine-DNA glycosylase
BMC Structural Biology
BMC series – open, inclusive and trusted
2017
17:5
Received: 12 November 2016
Accepted: 20 April 2017
Published: 8 May 2017
Abstract
Background
Formamidopyrimidine-DNA glycosylase (Fpg) removes abundant pre-mutagenic 8-oxoguanine (oxoG) bases from DNA through nucleophilic attack of its N-terminal proline at C1′ of the damaged nucleotide. Since oxoG efficiently pairs with both C and A, Fpg must excise oxoG from pairs with C but not with A, otherwise a mutation occurs. The crystal structures of several Fpg–DNA complexes have been solved, yet no structure with A opposite the lesion is available.
Results
Here we use molecular dynamic simulation to model interactions in the pre-catalytic complex of Lactococcus lactis Fpg with DNA containing oxoG opposite C or A, the latter in either syn or anti conformation. The catalytic dyad, Pro1–Glu2, was modeled in all four possible protonation states. Only one transition was observed in the experimental reaction rate pH dependence plots, and Glu2 kept the same set of interactions regardless of its protonation state, suggesting that it does not limit the reaction rate. The adenine base opposite oxoG was highly distorting for the adjacent nucleotides: in the more stable syn models it formed non-canonical bonds with out-of-register nucleotides in both the damaged and the complementary strand, whereas in the anti models the adenine either formed non-canonical bonds or was expelled into the major groove. The side chains of Arg109 and Phe111 that Fpg inserts into DNA to maintain its kinked conformation tended to withdraw from their positions if A was opposite to the lesion. The region showing the largest differences in the dynamics between oxoG:C and oxoG:A substrates was unexpectedly remote from the active site, located near the linker joining the two domains of Fpg. This region was also highly conserved among 124 analyzed Fpg sequences. Three sites trapping water molecules through multiple bonds were identified on the protein–DNA interface, apparently helping to maintain enzyme-induced DNA distortion and participating in oxoG recognition.
Conclusion
Overall, the discrimination against A opposite to the lesion seems to be due to incorrect DNA distortion around the lesion-containing base pair and, possibly, to gross movement of protein domains connected by the linker.
Keywords
DNA glycosylase8-oxoguanineFpgMolecular dynamicsOpposite-base specificityReaction mechanism
Background
Formamidopyrimidine-DNA glycosylase (Fpg or MutM) is a bacterial DNA repair enzyme that removes several abundant oxidized bases from DNA. The principal substrate bases of Fpg are 8-oxoguanine (oxoG), 2,6-diamino-4-oxo-5-formamidopyrimidine (fapyG) and 2,4-diamino-5-formamidopyrimidine (fapyA) [1, 2] but the enzyme also can recognize several dozens of other damaged purines and pyrimidines [3–10]. By excision of a damaged base, Fpg initiates base excision repair (BER), which engages AP endonucleases, a DNA polymerase and a DNA ligase to restore the integrity of DNA [11, 12].
The activity of Fpg towards oxoG has attracted much attention due to abundance and biological importance of this lesion, induced in DNA by oxidative metabolism byproducts, oxidative stress, and ionizing radiation [13]. Steric and electrostatic repulsion between the substituent at C8 and the sugar–phosphate atoms effectively pushes oxoG towards the syn conformation, in which oxoG forms a Hoogsteen pair with A [14, 15]. Misincorporation of A by DNA polymerases, in the absence of repair, leads to a G → T transversion after the second round of replication.
Systems for repair of oxoG have been found in all cellular organisms. The tendency of oxoG to form pairs with both C and A presents a challenge to its repair: both oxoG:C and oxoG:A pairs must be converted into G:C pairs. This requirement is not trivial since a simple removal of oxoG from an oxoG:A mispair would generate a G → T transversion after the repair. This problem is circumvented by repair of oxoG:A pairs in two sequential rounds of BER [16]. The non-damaged (but inappropriately incorporated) A is removed first and replaced with C, and the resulting oxoG:C pair is then repaired through the excision of oxoG. In E. coli, the mutagenic potential of oxoG is counteracted by three enzymes, Fpg, MutT, and MutY, collectively known as a "GO system". Fpg excises oxoG from oxoG:C pairs but has little activity towards oxoG:A substrates to prevent G → T transversions [1, 17]. Another DNA glycosylase, MutY, specifically excises A from A:oxoG mispairs. If G in DNA is oxidized to oxoG, it will inevitably be paired with C and will be removed by Fpg. If, on the other hand, A is incorporated during replication opposite an unrepaired oxoG, the resulting oxoG:A mispair will be a substrate for MutY but not for Fpg. The repair synthesis then has a chance to incorporate C opposite oxoG [16].
The function of the GO system therefore critically depends on the selectivity of Fpg to the base opposite to the damaged one. X-ray structures are available for free Fpg protein from
Thermus thermophilus
(
Tth
-Fpg) and for various types of complexes of DNA with Fpg from
Escherichia coli
(
Eco
-Fpg),
Geobacillus stearothermophilus
(
Bst
-Fpg) and
Lactococcus lactis
(
Lla
-Fpg) [
18
–
33
] (Fig.
1a
). Based on these structures, kinetic data, and computational modeling, a reaction mechanism has been suggested that involves a nucleophilic attack at C1′ of oxoG by a lone electron pair of the secondary amino group of the deprotonated N-terminal Pro1 residue, assisted by protonation of O4′ in the deoxyribose moiety [
33
–
36
]. As a result, the
N
-glycosidic bond is broken, the deoxyribose ring is opened, and a Schiff base covalent intermediate between Fpg and DNA is formed (Fig.
1b
). This series of events is followed by two sequential steps of elimination of the 3′- and 5′-phosphates and hydrolysis of the Schiff base. However, many questions about the initial stages of the reaction still remain. For example, the mechanism of oxoG recognition in the active site of the enzyme is unclear, and the mechanism of proton transfer in the multistep reaction is unknown. Notably, no structural or modeling data is available for Fpg in a complex with oxoG:A-containing DNA, limiting our knowledge of the mechanisms of rejection of this functionally relevant mispair. In this work, we use molecular dynamics approach to analyze the structure of complexes of Fpg with oxoG-containing DNA (either A or C opposite the lesion) to get an insight into the reasons behind the opposite-base selectivity of the enzyme and into the dynamic features of the immediate pre-catalytic complex involving oxoG.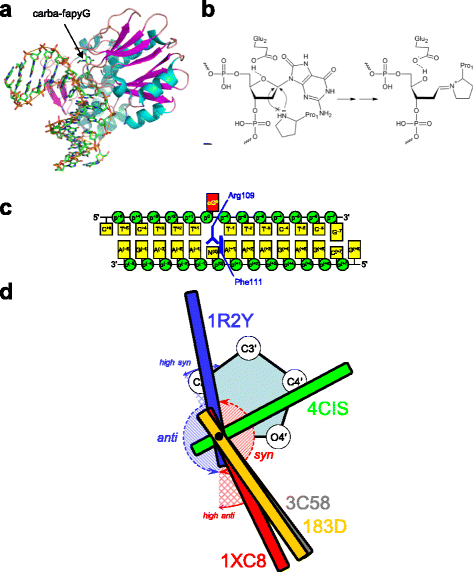 Conclusion
The opposite-base selectivity of Fpg and some other DNA glycosylases (eukaryotic OGG1 and TDG, bacterial MutY and Mug, etc.) is extremely important for the prevention of mutations in the course of DNA repair. Analysis of the causes of this selectivity is complicated due to the paucity of structures of DNA glycosylases bound to substrates with disfavored opposite bases. In the case of Fpg, no structure containing oxoG:A, the biologically relevant disfavored mispair, is available. Our modeling effort was mostly undertaken to analyze possible structural features of such a complex and reveal those that could explain low activity of Fpg on oxoG:A substrates.
As our models suggest, introduction of A opposite to oxoG indeed distorts the protein–DNA interface within ±2 base pairs around the lesion site, outside of which DNA exists as a normal duplex. Arg-109 and Phe-111, two residues that Fpg inserts into DNA to sharply kink it and maintain oxoG everted from the base stack, tended to withdraw if A was opposite to the lesion, indicating that the pre-catalytic complex of Fpg with oxoG:A is inherently unstable. Interestingly, although the oxoG:A mispair adopts oxoG(syn):A(anti) conformation in free DNA, our models showed that upon Fpg binding and oxoG eversion, the orphaned A is more stable as a syn conformer, engaged both in hydrogen bonding with Arg-109 and in base stacking. We speculate that Fpg binding to oxoG(syn):A(anti) may be energetically disadvantageous and require rotation of the A base around the glycosidic bond for rare events of base excision; direct test of this hypothesis would require solving the structure of Fpg–DNA(oxoG:A) complex or stopped-flow kinetics with a series of fluorescent reporter bases incorporated next to A, in which case the anti–syn transition may be expected to be observed in the fluorescent traces.
Analysis of model-specific hydrogen bonds unexpectedly revealed a cluster of highly conserved residues next to the interdomain linker of Fpg, which adopted alternative conformations when C or A was in the opposite strand. This cluster is remote from what is usually considered the active site of Fpg; however, it is packed against a helix–two-turn–helix motif that is present in all Fpg family members and partly forms the DNA-binding groove. Of note, it has been shown that in Nei, a homolog of Fpg specific for oxidized pyrimidines, a structural rearrangement of the linker and the region adjacent to it induces productive DNA binding [79]. Thus, our models add weight to a hypothesis of indirect readout by DNA glycosylases, which states that recognition of damaged bases is not limited to formation of specific bonds but greatly relies on the differences in energetics and dynamics of protein and DNA parts that may be far away from the moiety being recognized.
Structural and kinetic data together with QM/MM modeling of Fpg favor the reaction chemistry that combines a nucleophilic attack at C1′ of oxoG by N[Pro1] residue and protonation of O4′ of oxoG by Oε2[Glu2] [33, 35, 36]. The latter step is important since it affords a ~60 kcal/mol lower barrier to glycosidic bond breakage compared to base protonation as the leaving group activation [33]. Such mechanism requires Pro1 to be in the unprotonated, and Glu2, in the protonated state immediately before the reaction, implying that both these residues should change their preferred protonation state. Our measurements of the pH dependence of Fpg activity suggest that only one group is ionized in a pH-dependent manner, in which case it is consistent with Pro1 N-terminal secondary amine losing a proton at increasing pH. Consequently, the ionization state of Glu2 in the Fpg–DNA complex shows no evidence of being pH-dependent, which means that the assembled active site is capable of protonating Glu2, possibly using a water molecule as a proton shuttle. The arrangement of the reacting atoms is only consistent with the reaction stereochemistry with SN2 displacement of O4′ as the first step, in agreement with the QM/MM data [33]. Since the substitution of Gln for Glu2 inactivates the enzyme, which rules out simple hydrogen bonding as the primary function of Glu2, the mechanistic implication of our results is that Glu2 has to be deprotonated again later in the reaction, likely by the nascent alkoxide O4′, and contribute its charge to the stabilization of the transition state of the departing oxoG base. In the QM/MM simulation, several consecutive acts of proton transfer between Oε2[Glu2], O4′[oxoG], N[Pro1], and O8[oxoG] allow the enzyme to lower the highest barrier in the reaction from 71 kcal/mole (as with direct oxoG protonation path) to 13 kcal/mole relative to the lesion recognition complex [33]; a similar energy gain was calculated for fapyG excision [36].
Finally, our modeling concerned only the pre-catalytic complex of Fpg–DNA. It is now clear that the selectivity of DNA glycosylases is not determined exclusively by interactions in their pre-catalytic complexes, the structures of which are relative easy to establish by X-ray crystallography, but also relies on several kinetic gates along the full recognition pathway, including primary encounter and damaged base eversion. Future modeling of the early steps of recognition of oxoG-containing pairs will add clarity to our understanding of the opposite-base discrimination by Fpg.
Declarations
Acknowledgments
The modeling was performed on an NKS-30T cluster at the SB RAS Supercomputing Center.
Funding
The work was supported by Russian Foundation for Basic Research (grant 17-04-01761-a). The funding body had no role in the design of the study and collection, analysis, and interpretation of data and in writing the manuscript.
Availability of data and materials
The trajectories generated in the current study are available from the corresponding author on reasonable request. All results are presented in the main text and additional supporting files.
Authors' contributions
DOZ and YNV have designed the study. AVP has carried out the MD simulations. AVE has performed biochemical experiments. AVP and YNV have contributed custom software. AVP, YNV and DOZ have participated in the analysis and interpretation of MD trajectories, and writing of the manuscript. All authors read and approved the final manuscript.
Competing interests
The authors declare that they have no competing interests.
Consent for publication
Not applicable.
Ethics approval and consent to participate
Not applicable.
Publisher's Note
Springer Nature remains neutral with regard to jurisdictional claims in published maps and institutional affiliations.
Open AccessThis article is distributed under the terms of the Creative Commons Attribution 4.0 International License (http://creativecommons.org/licenses/by/4.0/), which permits unrestricted use, distribution, and reproduction in any medium, provided you give appropriate credit to the original author(s) and the source, provide a link to the Creative Commons license, and indicate if changes were made. The Creative Commons Public Domain Dedication waiver (http://creativecommons.org/publicdomain/zero/1.0/) applies to the data made available in this article, unless otherwise stated.
Authors' Affiliations
(1)
SB RAS Institute of Chemical Biology and Fundamental Medicine, Novosibirsk, Russia
(2)
Novosibrsk State University, Novosibirsk, Russia