Research article

Open Access
Identification of recurring protein structure microenvironments and discovery of novel functional sites around CYS residues
BMC Structural Biology
2010
10:4
Received: 31 July 2009
Accepted: 2 February 2010
Published: 2 February 2010
Abstract
Background
The emergence of structural genomics presents significant challenges in the annotation of biologically uncharacterized proteins. Unfortunately, our ability to analyze these proteins is restricted by the limited catalog of known molecular functions and their associated 3D motifs.
Results
In order to identify novel 3D motifs that may be associated with molecular functions, we employ an unsupervised, two-phase clustering approach that combines k-means and hierarchical clustering with knowledge-informed cluster selection and annotation methods. We applied the approach to approximately 20,000 cysteine-based protein microenvironments (3D regions 7.5 Å in radius) and identified 70 interesting clusters, some of which represent known motifs (e.g. metal binding and phosphatase activity), and some of which are novel, including several zinc binding sites. Detailed annotation results are available online for all 70 clusters at http://feature.stanford.edu/clustering/cys.
Conclusions
The use of microenvironments instead of backbone geometric criteria enables flexible exploration of protein function space, and detection of recurring motifs that are discontinuous in sequence and diverse in structure. Clustering microenvironments may thus help to functionally characterize novel proteins and better understand the protein structure-function relationship.
Keywords
Protein Data BankFunctional SiteCoherence MeasureFunctional ClusterZinc Binding Site
Background
Protein function and structure are inherently linked, with molecular interactions determined by the shape and energetics of the participating structures. Knowledge of structure is especially important for elucidating detailed molecular mechanisms of function for the development of disease therapeutics and pharmaceuticals. Galvanized by the Protein Structure Initiative, the field of structural genomics has begun to solve the structures of proteins in high-throughput [1–3]. By solving representative structures throughout protein structure space, researchers can more fully determine the relationship between protein structure and function [4]. Many of the solved structural genomics targets, however, lack annotation regarding the proteins' biological functions.
Numerous methods exist for predicting protein function computationally, with most using some kind of sequence or structure-based similarity to match the query protein to other proteins or trained models of known function. The most popular sequence-based methods employ Hidden Markov Models to detect matches to functional domains, such as Pfam [5] and SUPERFAMILY [6], or use regular expression patterns and shorter motifs, such as PROSITE [7] and PRINTS [8]. Structure-based methods include those that use structural alignments of the protein backbone (e.g. Dali [9]) or secondary structure elements (e.g. SSM [10]), those that match spatial residue geometry such as 3D templates [11], and those that use a combination of structural features more abstractly - for example, FEATURE [12].
Since most of these methods use prior knowledge in a supervised fashion, they are good at detecting functions that are already well characterized in proteins that bear similarity in sequence and/or structure to known proteins. By design, many unannotated structural genomics proteins have sequences with no detectable homology to known structures; these structures are, not surprisingly, often dissimilar in structure as well [13]. Consequently, most methods that rely on conserved similarities in sequence or structure may not successfully predict function for these proteins. Because structure is more conserved than sequence [14], structure-based methods may have more success [15, 16], but even structure-based methods will struggle if structural similarity to known proteins is very low. In these cases, we have shown that an abstract 3D representation, called a microenvironment, can better model and predict functional sites [16, 17].
Most methods for function annotation require the sequence or structure motif to be present in a continuous stretch of polypeptide. This requirement makes the discovery of convergent or highly divergent motifs more difficult. 3D templates - specifically the "reverse template" technique - can be used to describe recurring residue triads that are discontinuous in sequence, but this method has not been applied in a comprehensive manner across a large set of structures. Similarly, cleft- and patch-finding algorithms such as CASTp [18], PocketPicker [19], and PatchFinder [20] can identify interesting regions of protein structures, but have not been applied comprehensively to discover recurring motifs.
Unsupervised approaches are useful for discovering patterns and groups in data without prior information or training. A recent study by Manikandan and colleagues [21] clustered structural fragments from a fold-unique subset of the Protein Data Bank (PDB) [22] based on backbone angles, resulting in groups of fragments with similar conformations. They then associated each fragment with Gene Ontology (GO) terms [23] to produce significantly enriched functional labels for groups. Their findings support the idea that clustering of sub-structures can identify novel functional motifs.
In this work, we present an unsupervised procedure for clustering microenvironments in protein structures. The microenvironments are described using physicochemical properties radially averaged around a site of interest and therefore do not constrain residue identities or continuity in sequence or structure. We have used this representation previously to build robust, supervised models of protein function [12, 16, 24] and to perform a preliminary study of unsupervised clustering [25]. We have improved the clustering procedure by better defining the biological context and decreasing feature redundancy, and applied a discriminating cluster selection method to produce more coherent groups, which we then annotate using external knowledge from several sources.
We demonstrate that this approach, applied to a set of cysteine (CYS) residues from a subset of the PDB, is able to rediscover known functions, distinguish between functional sub-classes, make compelling functional site predictions for individual proteins, and identify novel groups of interesting microenvironments. We therefore show the value of representing protein structure and functional sites using microenvironment similarity. Cysteine is an interesting initial residue on which to focus because it plays diverse and widespread roles in biology, including in proteolysis, redox-catalysis, structural stability, and metal-binding [26].
Results
We used
k
-means followed by hierarchical clustering to group a set of cysteine-based microenvironments into clusters. To approximate the biological signal present in a cluster, we used a literature-based metric called functional coherence [
27
,
28
] which measures the degree to which a set of proteins shares similar literature. The resulting clusters were associated with descriptive terms derived from curated databases and literature abstracts associated with the proteins in each cluster. The overall approach is outlined in Figure
1
.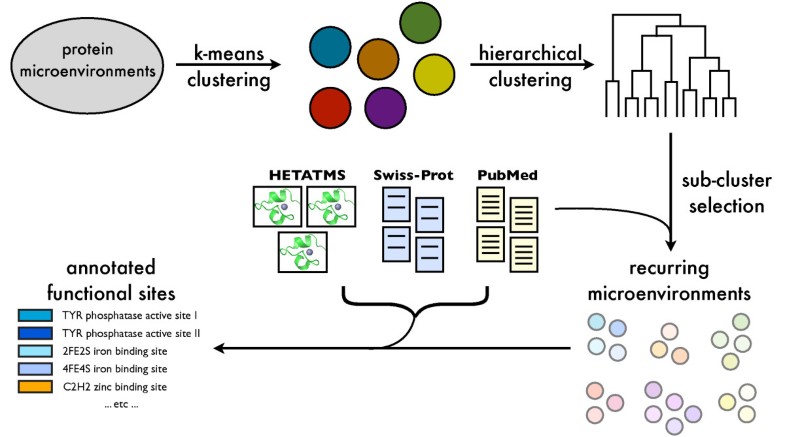 Discussion
Protein function prediction has traditionally concentrated on modeling known functional domains and motifs. This becomes a problem when increasing numbers of newly discovered proteins lack similarity to existing ones and when the new proteins may contain novel biological functions. In this work, we present a two-step unsupervised clustering procedure combined with automated knowledge-based characterization methods - a pipeline that can be applied over a large number of protein structures to discover potentially novel functional sites systematically.
This pipeline uses a site representation - the FEATURE microenvironment - that is sequence independent and captures physicochemical properties in a radially averaged way. Although detailed geometric information is not retained, the representation is robust to differences in exact sequence or structure. As shown in previous work [16], this allows more robust detection of function in proteins that are evolutionarily more distant.
In defining optimal clusters in the hierarchical clustering step, we use both internal and external coherence measures. Node correlation gives an indication of how physically similar two sets of microenvironments are, while the functional coherence measure approximates the biological signal through shared literature connections. This enables us to define a cutoff above which we consider a cluster for further investigation.
We have applied this pipeline to microenvironments centered on cysteine residues. The resulting clusters recapitulate many well-known cysteine-related functions, such as metal-binding and tyrosine phosphatase activity; these clusters can easily be used to train supervised FEATURE models. In addition, we make three kinds of novel predictions: new annotations for individual proteins, new 3D motifs with putative function, and new 3D motifs with unknown function. In particular, we predict novel zinc binding sites in structures 1NYQ, 1UC2, and 1GY8; a potential tyrosine phosphorylation motif; an aliphatic microenvironment motif that may play a structural role; and a microenvironment motif containing a potentially active residue triad.
Conclusions
Structural genomics efforts are rapidly expanding the diversity of known protein structures. The lack of functional annotation for many novel structures and the identification of novel biological functions are two problems that existing methods have yet to address. We have developed an unsupervised approach for exploring protein structure-function space that identifies groups of recurring 3D protein microenvironments that can be discontinuous in sequence. By using a two-phase clustering approach, we incorporate flexibility into the procedure, while the addition of external knowledge enables better filtering and interpretation of resulting clusters. We applied this approach to a set of cysteine microenvironments, identifying many known functional site motifs as well as novel predictions for individual proteins and potentially novel biological motifs. This approach can be applied across other amino acid data sets to discover additional recurring microenvironments.
Methods
The functional site discovery and annotation pipeline consists of four main steps: 1) generation of a large set of protein microenvironments; 2) coarse-grained clustering of the generated microenvironments; 3) fine-grained clustering of coarse clusters and cluster selection; and 4) cluster analysis and annotation. Figure 1 illustrates this pipeline. We describe each of the steps in more detail below.
Declarations
Acknowledgements
The authors would like to acknowledge the following funding sources: NIH LM005652, LM007033, GM072970; and NSF CNS-0619926. We also thank the Helix group for helpful discussions.
Authors' Affiliations
(1)
23andMe, Mountain View, USA
(2)
Program in Biomedical Informatics, Stanford University, Palo Alto, USA
(3)
Department of Genetics, Stanford University, Palo Alto, USA
(4)
Department of Bioengineering, Stanford University, Palo Alto, USA
Copyright
© Wu et al; licensee BioMed Central Ltd. 2010
This article is published under license to BioMed Central Ltd. This is an Open Access article distributed under the terms of the Creative Commons Attribution License (http://creativecommons.org/licenses/by/2.0), which permits unrestricted use, distribution, and reproduction in any medium, provided the original work is properly cited.