Research article
Open Access
Central domain deletions affect the SAXS solution structure and function of Yeast Hsp40 proteins Sis1 and Ydj1
BMC Structural Biology
2011
11:40
Received: 17 June 2011
Accepted: 19 October 2011
Published: 19 October 2011
Abstract
Background
Ydj1 and Sis1 are structurally and functionally distinct Hsp40 proteins of the yeast cytosol. Sis1 is an essential gene whereas the ydj1 gene is essential for growth at elevated temperatures and cannot complement sis1 gene deletion. Truncated polypeptides capable of complementing the sis1 gene deletion comprise the J-domain of either Sis1 or Ydj1 connected to the G/F region of Sis1 (but not Ydj1). Sis1 mutants in which the G/F was deleted but G/M maintained were capable of complementing the sis1 gene deletion.
Results
To investigate the relevance of central domains on the structure and function of Ydj1 and Sis1 we prepared Sis1 constructs deleting specific domains. The mutants had decreased affinity for heated luciferase but were equally capable of stimulating ATPase activity of Hsp70. Detailed low resolution structures were obtained and the overall flexibility of Hsp40 and its mutants were assessed using SAXS methods. Deletion of either the G/M or the G/M plus CTDI domains had little impact on the quaternary structure of Sis1 analyzed by the SAXS technique. However, deletion of the ZFLR-CTDI changed the relative position of the J-domains in Ydj1 in such a way that they ended up resembling that of Sis1. The results revealed that the G/F and G/M regions are not the only flexible domains. All model structures exhibit a common clamp-like conformation.
Conclusions
Our results suggest that the central domains, previously appointed as important features for substrate binding, are also relevant keeping the J-domains in their specific relative positions. The clamp-like architecture observed seems also to be favorable to the interactions of Hsp40 with Hsp70.
Keywords
Quaternary StructureHsp40 ProteinCentral DomainClient ProteinDummy Atom
Background
Molecular chaperones are proteins that are involved in assisting the folding and assembly of newly synthesized proteins recognizing non-native substrate proteins predominantly via their exposed hydrophobic residues [1]. However, the conditions for the successful folding in vivo are not always favorable. The cellular environment is crowded and thus protein denaturation and aggregation will be major problems. Thus, there is the need for chaperones that also protect cells from elevated temperature or other cellular stress situations, to achieve successful folding of proteins in vivo. There are several families of Heat Shock Proteins (HSPs), each family acts to assist protein folding in a different way.
An important chaperone family is the 40-kDa Heat shock protein (Hsp40). Chaperones from the Hsp40/DnaJ family play important roles in cells by working together with molecular chaperone Hsp70 to promote protein folding, assembly, translocation and degradation [2–5]. Hsp40 proteins can interact with the hydrophobic side-chains of non-native polypeptides preventing aggregation [6, 7]. Hsp40 can then form transient complexes with Hsp70 presenting non-native polypeptides for subsequent protein folding [8–10]. The members of the Hsp40 family typically contain a J-domain, which regulates the ATP-dependent binding of peptides by Hsp70 [4, 11, 12].
Members of the Hsp40 family act as molecular chaperones to bind and deliver non-native proteins to Hsp70 and can be divided into three main groups, from which two: Type I and Type II are the most studied. The two types are not functionally equivalent [
13
–
15
] and exhibit major differences in chaperone activity [
16
]. In both types the J-domains are connected to the central and C-terminal domains via a G/F-rich (Glycine/phenylalanine-rich) linker (Figure
1
).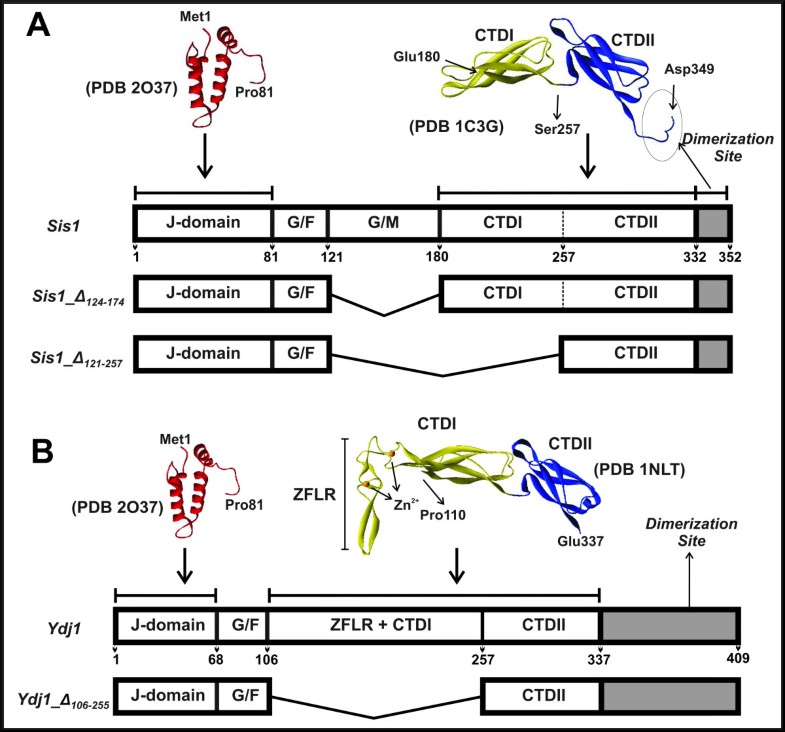 Type I Hsp40s, such as Escherichia coli DnaJ, yeast Ydj1 and human Hdj2, contain a zinc-finger-like linker region (ZFLR) between the G/F domain and the C-terminus (Figure 1B), and Type II Hsp40 proteins such as yeast Sis1 and human Hdj1 contain a G/M-rich (Glycine/Methionine-rich) domain in the linker region (Figure 1A) [14–17]. Both types have a substrate-binding site located at their C-terminal domain, which is divided in subdomains I (CTDI) and II (CTDII) (Figure 1).
The reason why Type I and Type II Hsp40s exhibit differences in chaperone activity is unknown. Some biochemical and structural studies have already provided some insight into this question, suggesting that the answer resides in their structural differences [15, 18, 19]. Hence, the need for a comprehensive study of their structure is of considerable importance.
High-resolution structural studies with fragments of Sis1 and other Type II Hsp40s indicated that these proteins function as homodimers that have a clamp-like architecture and use a shallow groove located on the surface of monomers to bind non-native proteins [20, 21]. In addition, the G/F-rich regions of Ydj1 and Sis1 lie adjacent to their putative polypeptide binding domains and they seem to specify the functions of these Hsp40s [22–24]. These structure/function studies together with hydrodynamic analysis showed that both types of Hsp40 proteins form dimers in solution [6, 18, 19]. Dimer formation plays a critical role in Hsp40s chaperone activity because disruption of the dimerization motifs results in severe defects in both chaperone functions [20, 25].
Previous results showed that human and yeast Type I and Type II Hsp40s, have distinct quaternary structure [18, 19]. These results raised the hypothesis that the central domains controlled the quaternary structure of both types of Hsp40s, because in chimeric mutants, in which the central domains of Ydj1 (ZFLR) and Sis1 (G/M) were switched, their properties were exchanged. A chimeric Ydj1 in which the ZFLR had been switched by the G/M from Sis1 proved to be functionally and structurally similar to Type II Sis1. Correspondingly, a chimeric Sis1 in which the G/M had been switched by the ZFLR from Ydj1 proved to be functionally and structurally similar to Type I Ydj1 [15, 19].
To increase our knowledge on the role of the central domains in the structure/function relationship we defined the biophysical and functional features of Sis1 and Ydj1 mutants with deleted central domains that were specific for Type I or Type II Hsp40s. These studies entailed a functional analysis of mutated Hsp40s coupled with biophysical investigation of the quaternary structure by dynamic light scattering, analytical ultracentrifugation and small-angle X-ray scattering (SAXS). A refined solution structure of Sis1 was also obtained using improved SAXS data. The outcome of these studies showed that deletion of either the G/M or the G/M plus CTDI domain regions had minor impact on the overall quaternary structure of Sis1. Consequently, our results suggest that the central domains are important for substrate binding and maintenance of the J-domains in their specific relative positions.
Conclusions
In previous studies, Ydj1 and Sis1 were found to be homodimers, whose structures differed in the context of the orientation of the J-domain in relation to the long-axis of the respective proteins [18, 19]. These differences in structure correlate with functional differences exhibited by Ydj1 and Sis1, and the G/F and G/M regions in these proteins were proposed to impact J-domain orientation [15]. To test this hypothesis we carried out hydrodynamic and low-resolution structural studies on Sis1 and Ydj1 deletion mutants. The deletion of the G/F region from Sis1 and Ydj1 had little impact on the function of the J-domain in regulating Hsp70 ATPase activity, but did decrease polypeptide binding activity. Surprisingly, deletion of the G/F region did not change the quaternary structure or overall flexibility of Hsp40s. However, deleting the ZFLR plus the CTDI domain in Type I Ydj1 altered the conformation of J-domains from lying along the long axis of the molecule to be orientated in a crosswise direction as in Type II Sis1. Thus, orientation of J-domains in Type I Hsp40 may be controlled by the ZFLR-CTDI, which is consistent with results from domain swap experiments [15, 19]. When these domains are missing, as in the deleted mutants studied here or in the Type II Hsp40s, the J-domains become oriented in a crosswise direction. Our results also point to interactions between the ZFLR-CTDI and the J-domains as an important factor in determining the unique quaternary structure of Type I Hsp40s.
One interesting feature of Type I and Type II Hsp40s that is clear from our data is that these sub-types of Hsp40s are highly flexible. The SAXS intensity data obtained within a wider range of reciprocal space in the present experiments allowed a comparative analysis of the flexible nature of the proteins by means of the Kratky and Porod plots. These results showed that the Type I Ydj1 and Type II Sis1 Hsp40 proteins are highly flexible in solution and confirm the dimerization at the C-terminal. Besides, flexibility was observed in all constructs studied, even after deleting a flexible region (G/M). So, other flexible regions should exist in the protein in addition to G/M. Prior to the studies presented herein it was assumed that the G/F and G/M domains were the only flexible regions of Hsp40s that enabled the J-domain multiple paths to gain access to the Hsp70 ATPase domain. However, Kratky and Porod analysis of SAXS data on Sis1 and Ydj1 deletion mutants show that both remain highly flexible in the absence of the G/F region. Hsp40s bind and deliver proteins that range from nascent monomeric polypeptides to amyloid-like aggregates to Hsp70. Thus, the overall flexibility of Type I and Type II Hsp40s detected may be important to permit delivery of proteins or different sizes or assembly states to the Hsp70 polypeptide binding site and allow for simultaneous interaction of the J-domains with Hsp70s ATPase domain [5]. These results are also in agreement with crystallographic structural studies reported by Hu et al. [27], in which they observed that the CTDI of human Hsp40 may possess significant flexibility. In their work, the authors proposed an "anchoring and docking" model for Hsp40 in which the flexibility of the CTDI may be important for Hsp40 to regulate the size of the cleft in its interaction with non-native polypeptides and transfer them to Hsp70.
Functions for the G/F and G/M regions found in Type II Hsp40 in regulation of Hsp70 ATPase activity and/or substrate binding are not clear. Yet, this is an important question because a Sis1 fragment containing just the J-domain and G/F region is capable of rescuing the lethality of the sis1 Δ strain [22]. In addition, amino acid residues in the G/M region appear to play a role in specification of Sis1 function [28]. Studies with forms of Sis1 in which the G/M domain was deleted show that loss of the G/M impairs the ability of Sis1 to bind denatured luciferase, but have no effect on regulation of Hsp70 ATPase activity. The G/M region lies adjacent to the hydrophobic grove in CTDI implicated as a polypeptide binding site and methionine has a hydrophobic side chain, which may help to build the proper binding site. Thus, the G/M region helps specify Type II Hsp40 function by assisting in substrate binding.
Since the effects on function are likely to be related to changes in the structure of the Hsp40s, one important objective of this work was to obtain low resolution models of the mutants under study using the latest computational methods available for the spatial representation of these molecules in solution using small angle scattering data. To date, there are crystallographic structures of isolated domains and the quaternary structure of Hsp40s is mainly known as a result of SAXS data from these proteins in solution, combined with other hydrodynamic techniques. Previous structural studies have also proved that Type I Ydj1 and Type II Sis1 have distinct functions and quaternary structures [15, 19]. In this work, estimation of molecular masses from SAXS and AUC data indicated that the deletion mutants in solution dimerized at the C-terminal, just like the full-length protein. Thus, it is clear that the C-terminal region is very important for dimerization of both Type I and Type II Hsp40s.
Using three different low-resolution modeling methods, we obtained molecular envelopes for each protein. The rigid body modeling method seemed to be the most appropriate for flexible proteins like Hsp40 and also elucidated the domain arrangement which is important to understand possible functions of the deleted domain mutants in the cell. Interestingly, even deleting some flexible domains of Sis1 and Ydj1, the constructs kept their flexibility and maintained the clamp-like architecture of the full-length protein with the J-domains pointing outwards in opposite directions. This architecture seems to be favorable to the interactions of Hsp40 with Hsp70. The models we built for the proteins seem to agree with the anchoring and docking model, proposed by Qian et al. [10], describing how Hsp40 facilitates the delivery of non-native polypeptides to Hsp70.
Declarations
Acknowledgements and Funding
This research was supported by the Brazilian Synchrotron Light Laboratory (LNLS)/Ministry of Science and Technology (MCT) and the State of São Paulo Research Foundation (FAPESP). Research in the laboratory of CHIR is supported by grants from FAPESP, and MCT/National Research Council (MCT/CNPq), and NIH-R03TW007437 funded by the Fogarty International Center (FIRCA-NIH). J.C. Silva thanks FAPESP and CNPq for financial support and FIRCA-NIH for paying for travelling expenses for training. J.C. Borges thanks FIRCA-NIH for fellowship, FAPESP (2007/05001-4) for financial support and CNPq for Research Fellowship. ILT is a CNPq (1B) Research Fellow, and CHIR a CNPq (1C) Research Fellow. DMC is supported by NIH RO1- GM067785.
Authors' Affiliations
(1)
Department of Condensed Matter Physics, "Gleb Wataghin" Physics Institute, State University of Campinas (UNICAMP), Campinas, Brazil
(2)
Brazilian Biosciences National Laboratory, Center for Research in Energy and Materials (CNPEM), Campinas, Brazil
(3)
Institute of Chemistry of São Carlos, University of São Paulo, São Carlos, Brazil
(4)
Department of Cell and Developmental Biology, University of North Carolina, Chapel Hill, USA
(5)
Department of Organic Chemistry, Institute of Chemistry, University of Campinas UNICAMP,
(6)
European Synchrotron Radiation Facility, Grenoble, France
Copyright
© Silva et al; licensee BioMed Central Ltd. 2011
This article is published under license to BioMed Central Ltd. This is an Open Access article distributed under the terms of the Creative Commons Attribution License (http://creativecommons.org/licenses/by/2.0), which permits unrestricted use, distribution, and reproduction in any medium, provided the original work is properly cited.