Research article
Open Access
A comprehensive analysis of 40 blind protein structure predictions
BMC Structural Biology
2002
2:3
Received: 9 April 2002
Accepted: 1 August 2002
Published: 1 August 2002
Abstract
Background
We thoroughly analyse the results of 40 blind predictions for which an experimental answer was made available at the fourth meeting on the critical assessment of protein structure methods (CASP4). Using our comparative modelling and fold recognition methodologies, we made 29 predictions for targets that had sequence identities ranging from 50% to 10% to the nearest related protein with known structure. Using our ab initio methodologies, we made eleven predictions for targets that had no detectable sequence relationships.
Results
For 23 of these proteins, we produced models ranging from 1.0 to 6.0 Å root mean square deviation (RMSD) for the Cα atoms between the model and the corresponding experimental structure for all or large parts of the protein, with model accuracies scaling fairly linearly with respect to sequence identity (i.e., the higher the sequence identity, the better the prediction). We produced nine models with accuracies ranging from 4.0 to 6.0 Å Cα RMSD for 60–100 residue proteins (or large fragments of a protein), with a prediction accuracy of 4.0 Å Cα RMSD for residues 1–80 for T110/rbfa.
Conclusions
The areas of protein structure prediction that work well, and areas that need improvement, are discernable by examining how our methods have performed over the past four CASP experiments. These results have implications for modelling the structure of all tractable proteins encoded by the genome of an organism.
Keywords
Monte CarloMain ChainComparative ModellingRoot Mean Square DeviationProtein Structure Prediction
Results and Discussion
We present a comprehensive analysis of all 40 blind predictions, for which an experimental answer was later available, that were made for CASP4 using a barrage of different but related techniques. We discuss what went right, what went wrong, what further improvements can be made to the methodologies, and the implications of these results for modelling the structure of all tractable proteins encoded by the genome of an organism.
Conclusions
Why is protein/proteome modelling important?
Even given the ongoing structural genomics projects, the continually increasing amount of DNA and protein sequence data from genome projects makes it infeasible for NMR and x-ray crystallography techniques to rapidly provide information about the 3D structures of the sequences determined [59]. Thus there is an urgent need for reliably predicting structure from amino acid sequence.
Proteins in a cell do not work in isolation of one another. Thus to understand the function of multi-protein complexes, or whole proteomes, from a structural viewpoint, it is necessary to have a model for many proteins encoded by the genome of an organism. The CASP results indicate that structure prediction methods have matured to a point where they can be applied on a genome-wide scale, and that these structures can be used with novel but straight-forward approaches to annotate and understand function [54, 55, 60, 61]. The resulting models and annotations, when combined with other genomic/proteomic data, including that from gene expression arrays [62], genome-wide two-hybrid experiments [63], and other proteomics studies [64], will provide us with a dynamic picture of organismal structure, function, and evolution [65].
Methods
In this section, we describe the procedures we used for making predictions at CASP4. The techniques described are divided based on the major structure prediction categories, but methods developed for application in one category are useful in the other.
Comparative modelling and fold recognition
The same procedure was used for comparative modelling and fold recognition targets. Protein sequences determined to be evolutionarily related to sequences with known structure were modelled using comparative modelling techniques developed by us. We used a combination of methodologies grouped together as shown in Figure
5
. Our primary focus was on improving alignment and template selection techniques, and developing methods for moving an approximate conformation closer to the native structure. Additionally, the lessons we learnt from application of our
ab initio
methodologies were incorporated to better construct non-conserved side chains and main chains.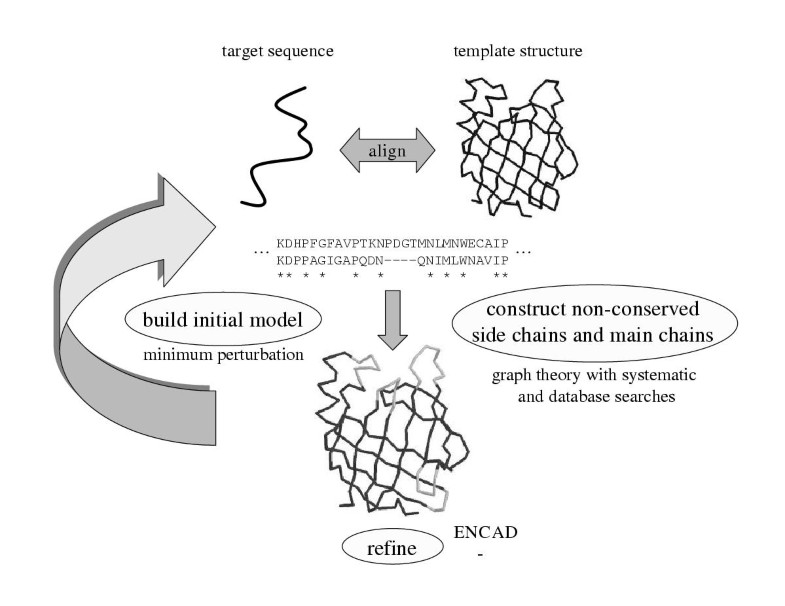 Template selection and alignment
Target sequences related to proteins that have conformations determined by experiment (X-ray crystallography or NMR) were candidates for comparative modelling. If the sequence relationship between the template and target proteins was unambiguous (usually when the sequence identity is > 40%), or if there was only one protein with known structure in the family, the template structure was used to construct the sole initial model. If there were many possible template structures, models were constructed using all available templates.
PSIBLAST alignments and other publicly available servers such as GenTHREADER [27] and SAM-T99 [28], available as part of the CAFASP meta-server [29], were also used to generate a variety of choices for alignments. These alternate alignments were used to construct initial models. Thus, for a given protein in a family with at least one known representative structure, there could be many template and alignment choices for constructing the initial models.
Constructing initial models
Following the sequence alignment, an initial model was generated for each template structure and corresponding alignment by copying atomic coordinates for the main chain (excluding any insertions/loops) and for the side chains of identical residues in the target and template proteins. Residues that differed in side chain type were constructed using a minimum perturbation (MP) technique [24]. The MP method changes a given amino acid to the target amino acid preserving the values of equivalent torsion angles between the two side chains, where available. The other angles were constructed for each residue type using internally developed library based on the most frequently observed χ values in a database of known structures [30].
Manual inspection to improve alignments
An all-against-all structure comparison between all the initial models was used to produce a multiple sequence alignment based on structural similarity for a given family. This alignment was used in conjunction with sequence information and interactive graphics to create new sequence alignments.
Constructing variable side chains and main chains
Multiple side chain conformations for residue positions that differ in type between the template and target proteins were generated by exploring all the possibilities in a rotamer library [31]. The most probable conformations based on the interactions of a given conformation with the local main chain were selected using an all-atom distance dependent conditional probability discriminatory function [32].
A set of possible conformations were generated for main chain regions (loops) considered to vary in the target with respect to the template structures, including insertions and deletions. Main chain sampling was performed using an exhaustive enumeration technique based on 14 discrete torsion angle states [33]. For longer main chain regions (> 15 residues), fragments from a database of protein structures are used to generate the torsion angle values. Developments in our ab initio sampling protocol were incorporated into our loop sampling technique.
In CASP experiments, main chain regions and side chains selected for sampling were determined visually using interactive computer graphics. We partially automated this procedure by developing programs to identify side chains with implausible packing, clashes, and unfavorable electrostatic interactions with other side chains and/or main chain.
All-atom conditional probability scoring function
The all-atom scoring function is the core of many aspects of this project where identification of native-like conformations is required. The function calculates the probability of a conformation being native-like given a set of inter-atomic distances [32]. The conditional probabilities are compiled by counting frequencies of distances between pairs of atom types in a database of protein structures. All non-hydrogen atoms are considered, and a residue-specific description of the atoms is used, i.e., the Cα of an alanine is different from the Cα of a giycine. This results in a total of 167 atom types. The distances observed are divided into 1.0 Å bins ranging from 3.0 Å to 20.0 Å. Contacts between atom types in the 0–3 Å range are placed in a separate bin, resulting in a total of 18 distance bins. Distances between atoms within a single residue are not included in the counts.
We then compile tables of scores proportional to the negative log conditional probability that one is observing a native conformation given an interatomic distance for all possible pairs of the 167 atom types for the 18 distance ranges. Given a set of distances in a conformation, the probability that the conformation represents a "correct" fold is evaluated by summing the scores for all distances and the corresponding atom pairs.
Using graph theory to generate consistent conformations
We use a graph-theoretic approach to assemble the sampled side chain and main chain conformations together in a consistent and optimal manner: Each possible conformation of a residue is represented using the notion of a node in a graph. Each node is given a weight based on the degree of the interaction between its side chain atoms and the local main chain atoms. The weight is computed using the all-atom scoring function [32]. Edges are then drawn between pairs of residues/nodes that are consistent with each other (i.e., clash-free and satisfying geometrical constraints). The edges are also weighted according to the probability of the interaction between atoms in the two residues. Once the entire graph is constructed, all the maximal sets of completely connected nodes (cliques) are found using a clique-finding algorithm [34]. The cliques with the best total weights represent the optimal combinations of mixing and matching among the various possibilities, taking the respective environments into account [35]. The clique-finding approach for generating conformations is fast, since it pre-calculates all the scores. In its present implementation, it can sample up to 1011 conformations in a 24-hour period on a 1000 MHz Intel processor.
Selecting the most native-like conformations
All models produced are refined using the Energy Calculation and Dynamics (ENCAD) package [36]. For a given protein sequence, there could be more than one all-atom model produced. For such cases, all models were ranked using the all-atom pairwise scoring function [32] and the best scoring models are considered to be the most native-like ones.
Ab initio prediction
Target sequences without known homologues or analogues that were small in size and/or predicted to have largely helical content were modelled by our ab initio protocol. Such sequences can be subsequences of larger proteins, in which case they most likely represent domain boundaries [37].
Our general paradigm for predicting structure involves sampling the conformational space (or generating "decoys") such that native-like conformations are observed, and then selecting them using a hierarchical filtering technique with many different scoring functions (Figure
6
). The two parts to our method are designed to be completely automated and readily extendable to application for hundreds or thousands of sequences. Generally, we explore combinations of different representations/move sets with two search methods for exploring protein conformational space, and combinations of a variety of scoring function "filters" to identify biologically relevant conformations.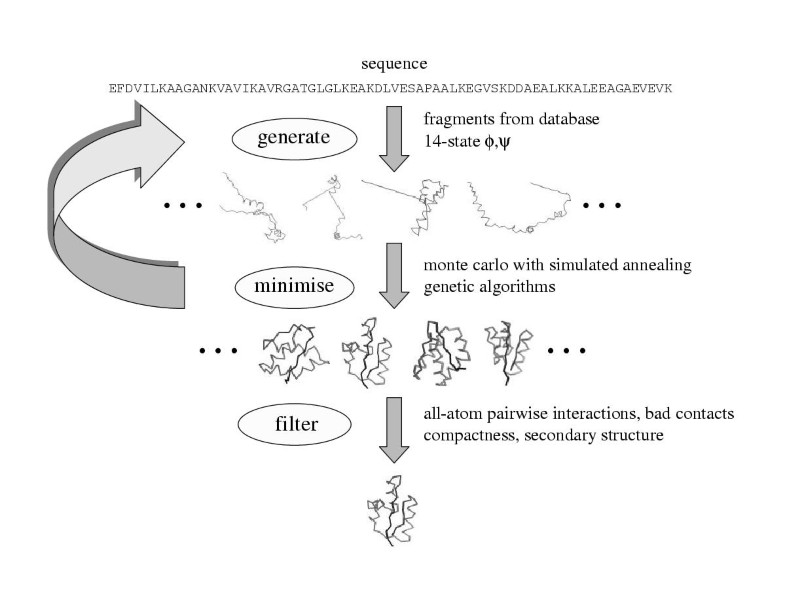 Sampling protein conformational space
We initially start with an all-atom conformation where the torsion values for residues predicted to be in helix/sheet by PSIPRED secondary structure prediction [38] are set to idealised values [33]. The remaining φ/ψ values are set in an extended conformation. Side chain conformations are predicted by simply using the most frequently observed rotamer in a database of protein structures [30]. New conformations are generated by perturbing the existing conformation at an arbitrary residue by one of two methods: (i) the torsion values for three residues with identical sequence from a known structure are used to modify the current conformation, similar in spirit to that of Baker and colleagues [39]; (ii) one of possible 14 torsion (φ/ψ) values derived based on the most frequently occurring torsion values for a given residue in a database of known structures. The move sets were combined sequentially (i.e., where a certain number of iterations consisted of copying torsion values for 3-residue fragments and the next few iterations would use torsion values from the 14-state φ/ψ model).
The scoring function for minimisation is primarily a combination of the all-atom function, a hydrophobic compactness function, and a bad contacts function [40]. The primary search technique we used was a Metropolis Monte Carlo (MC) procedure where conformations are accepted or rejected based on the Boltzmann's equation [41]. Each trajectory was allowed 50,000 iterations, starting with a high temperature such that 99% of the moves were accepted for the first 1000 steps and "cooled" linearly until only 1% of the moves were accepted for the last 100 steps.
At particular points in the trajectory (every 1000 steps), a fragment from another trajectory was copied at random, similar in spirit to genetic algorithms (GA) strategies [42, 43]. The standard Metropolis criterion would then apply: i.e., if the selected fragment enhanced the score of the conformation relative to the previous conformation, it would be accepted. If not, its probability of acceptance would be determined by the difference in score between the current conformation and the previous conformation. The probability is calculated by the Boltzmann-like equation

where ΔE is the difference in scores and kT, representing the product of Boltzmann's constant and temperature, is set to a value calculated using the standard deviation of the scores of the first 1000 steps in a given trajectory.
Selecting biologically relevant conformations
The conformations generated were minimised using ENCAD [36] and scored using a combination of scoring functions that hierarchically reduces the total number of conformations produced to one final conformation. The scoring functions used for the final filtering include the all-atom function [32], hydrophobic compactness [40], a simple residue-residue contact function [44], a density-scoring function that is based on the distance of a conformation to all its relatives in the conformation pool, contact order [45], a secondary structure based scoring function that evaluates the match between the predicted structure and the secondary structure of a final energy-minimised conformation, and standard physics-based electrostatics and Van der Waals terms [46].
Internal testing and comparison of models to the experimental result
We initially ran our algorithms on test sets consisting of 10–20 proteins. To minimise bias of a particular algorithm to a fixed test set, new proteins were added to the test sets regularly. In all cases where a three-dimensional model must be compared to an experimental structure, we use the root mean square deviation (RMSD) between corresponding atoms of the prediction and the experimental answer (usually calculated using the Cα atoms).
Availability of software and decoys
The ensembles of structures that were generated and much of the software used to generate them are available at http://compbio.washington.edu
Declarations
Acknowledgements
This work was supported in part by a Burroughs Wellcome Fund Fellowship from the Program in Mathematics and Molecular Biology to Ram Samudrala and NIH grant GM-41455 Michael Levitt. We thank Patrice Koehl for his efficient FORTRAN code used for constructing protein structures and calculating RMSDs. We also thank past and present members of the Levitt group for their intellectual guidance and support. Most importantly, we thank all the experimentalists who provided targets for CASP, and the assessors and the organisers for conducting a stimulating experiment.
Authors' Affiliations
(1)
Department of Microbiology, School of Medicine, University of Washington, Seattle, USA
(2)
Department of Structural Biology, School of Medicine, Stanford University, Stanford, USA
Copyright
© Samudrala and Levitt; licensee BioMed Central Ltd. 2002
This article is published under license to BioMed Central Ltd. This is an Open Access article: verbatim copying and redistribution of this article are permitted in all media for any purpose, provided this notice is preserved along with the article's original URL.