Research Article

Open Access
A structural preview of aquaporin 8 via homology modeling of seven vertebrate isoforms
BMC Structural Biology
BMC series – open, inclusive and trusted
2018
18:2
Received: 13 July 2017
Accepted: 25 January 2018
Published: 17 February 2018
Abstract
Background
Aquaporins (AQPs) facilitate the passage of small neutral polar molecules across membranes of the cell. In animals there are four distinct AQP subfamilies, whereof AQP8 homologues constitute one of the smallest subfamilies with just one member in man. AQP8 conducts water, ammonia, urea, glycerol and H2O2 through various membranes of animal cells. This passive channel has been connected to a number of phenomena, such as volume change of mitochondria, ammonia neurotoxicity, and mitochondrial dysfunction related to oxidative stress. Currently, there is no experimentally determined structure of an AQP8, hence the structural understanding of this subfamily is limited. The recently solved structure of the plant AQP, AtTIP2;1, which has structural and functional features in common with AQP8s, has opened up for construction of homology models that are likely to be more accurate than previous models.
Results
Here we present homology models of seven vertebrate AQP8s. Modeling based on the AtTIP2;1 structure alone resulted in reasonable models except for the pore being blocked by a phenylalanine that is not present in AtTIP2;1. To achieve an open pore, these models were supplemented with models based on the bacterial water specific AQP, EcAqpZ, creating a chimeric monomeric model for each AQP8 isoform. The selectivity filter (also named the aromatic/arginine region), which defines the permeant substrate profile, comprises five amino acid residues in AtTIP2;1, including a histidine coming from loop C. Compared to AtTIP2;1, the selectivity filters of modelled AQP8s only deviates in that they are slightly more narrow and more hydrophobic due to a phenylalanine replacing the histidine from loop C. Interestingly, the models do not exclude the existence of a side pore beneath loop C similar to that described in the structure of AtTIP2;1.
Conclusions
Our models concur that AQP8s are likely to have an AtTIP2;1-like selectivity filter. The detailed description of the expected configuration of residues in the selectivity filters of AQP8s provides an excellent starting point for planning of as well as rationalizing the outcome of mutational studies. Our strategy to compile hybrid models based on several templates may prove useful also for other AQPs for which structural information is limited.
Keywords
Homology modeling
Aquaporins
Selectivity
Ammonia
Molecular dynamics simulations
Background
Fundamental intrinsic properties of a biological membrane are formed by its lipid composition, which can lead to unusual tight membranes, excluding certain solutes very efficiently [1]. Nonetheless, directed exchange of ions and uncharged molecules between compartments and dynamic permeant substrate selectivity of membranes require a repertoire of active transporters and passive channels, which can be readily regulated both in number and activity. In analogy with enzymes increasing the rate of a reaction by lowering the activation energy, channels facilitate diffusion across membranes by reducing an equivalent energy barrier for a permeating ion or uncharged molecule, from here on referred to as the substrate of the channel. In man, there are 13 channels belonging to the aquaporin (AQP) superfamily, which vary in their expression pattern and substrate selectivity [2]. Where some members of the superfamily specifically conduct water, others are also permeable to more bulky solutes. AQP8 is found in the inner mitochondrial membrane [3] and epithelial plasma membranes (reviewed in [4]). Well known to channel water and ammonia, more recent experiments in Xenopus laevis oocytes have added urea and glycerol to the substrate profile of some AQP8-paralogs in fish [5, 6]. Furthermore, heterologous expression of human AQP8 in yeast increased the sensitivity to H2O2-induced growth depression [7], and mitochondrial AQP8 knockdown in human cells showed reduced H2O2-release [8]. A similar substrate profile has been described for plant aquaporins belonging to the subfamily of tonoplast intrinsic proteins (TIPs), which are therefore understood as functionally related [7, 9, 10].
Despite localization studies and functional characterization, the biological function of AQP8s remains unclear. Situated in the inner mitochondrial membrane and being highly water permeable, AQP8 was suggested to facilitate rapid volume changes of mitochondria [11]. Accordingly, cholestatic liver disease was connected to reduced AQP8 expression resulting in decreased water permeability [12]. Additionally, AQP8 has been shown to conduct NH3 through planar bilayers [13]. While mammals have only one AQP8 isoform, some fishes are known to express up to three paralogs [14]. The fact that these gene duplications happened early in the evolution of fish AQP8s and that certain substitutions are conserved to allow formation of paralog groups, point towards a neo-functionalization for some of these proteins [14]. Differences in substrate profiles reported for different homologs of the AQP family can only be fully understood on the basis of the protein structures. Furthermore, the physiological role of AQP8 with its implications in diseases raises the demand for structural information of this protein family, potentially allowing knowledge-based drug design.
All aquaporin structures reported share a common fold and have been solved as homotetramers. Each monomer forms a functional pore by 6 transmembrane helices (helix 1–6) and two half-transmembrane helices (helix B and E). These two short helices point towards each other, forming a 7th pseudo transmembrane helix. The positive end of the macro-dipoles produced by these half helices are both facing towards the center of the membrane, each holding a conserved motif (Asn-Pro-Ala), the NPA box. This partial positive charge pose a significant energetic barrier for protons to overcome [
15
]. Most aquaporin isoforms additionally exclude protons by the positive charge of an arginine situated in a narrow part of the pore about 7 Å away from the membrane center towards the non-cytosolic side [
16
,
17
]. As this region constitutes the highest energy barrier for various substrates, such as water, glycerol and ammonia [
18
], it is here referred to as the selectivity filter. The selectivity filter, also called the aromatic/arginine region, comprises four or five residues that interact directly with substrates in the pore [
19
–
22
]. The positions of these residues are termed according to the secondary structure they are embedded in (Fig.
1
). The amino acid at the helix 2 position of the selectivity filter (H2
P
) typically has an aromatic sidechain that is oriented perpendicular to the radius of the pore. The helix 5 position (H5
P
) encompasses a histidine in water specific aquaporins but is replaced by a more hydrophobic residue in the TIPs. The amino acid residue in loop E (LE
P
) provides a carbonyl to the filter, which functions as hydrogen bond acceptor. This carbonyl is found in two distinct spatial orientations, and all available aquaporin structures can be grouped accordingly. In general, the carbonyl at LE
P
of water specific aquaporins is hydrogen bonded to a residue from loop C (LC
P
), whereas it orients more towards H5
P
in aquaporins of other subfamilies [
22
]. The non-hydrogen bonded carbonyl can interact more freely with pore substrates and may thereby compensate for a hydrophobic residue at H5
P
. Furthermore, in TIPs the residue at LC
P
, which is histidine in TIP2s, can also interact with pore substrates. From sequence alignments, it is clear, that for TIP3s a phenylalanine is located at the LC
P
[
22
]. Beside the potential of hydrogen bonding to LE
P
carbonyl and the interaction with a permeating molecule, the amino acid residue at LC
P
can have an additional effect. Bulky sidechains at this position are able to shift the location of arginine in helix E (HE
P
). Depending on the residue at H2
P
this shift is further stabilized by a hydrogen bond between the secondary nitrogen of arginine and the residue at H2
P
. By establishing the highest energy barrier for a permeating molecule, confining diameter and offering hydrogen bonding network, the selectivity filter is determining the substrate profile of the channel.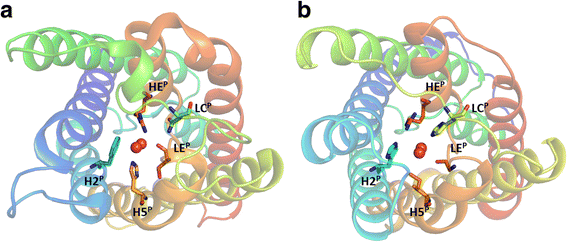 The distinctly different substrate profile of AQP8s compared to the well described water-specific aquaporins and glycerol facilitators enhances the interest in determining the molecular structure of an AQP8 and the determinants of its function. These structural determinants are difficult to derive based on known structures of these families in e.g. animals, because of sequence variation in the selectivity filter. Although human AQP8 analyzed with electron microscopy confirmed the formation of tetramers and 2D crystals [23], there is no solved structure of AQP8 available yet. So far, high resolution structures of mammalian AQP0, AQP1, AQP2, AQP4, and AQP5, which are classified as water specific aquaporins, have been solved [20, 24–27]. Additionally, a homology model of AQP9 was supported by a projection map at 7 Å [28]. Homology modeling approaches of a plant isoform functionally related to AQP8, the wheat (Triticum aestivum) TaTIP2;1, have been applied using a water specific aquaporin (bovine AQP1) as a template [9]. Although the overall fold is conserved, the modelled selectivity filter did not comply with the TIP2 structure that was later solved (see below), demonstrating that comparative modeling of this region is strongly dependent on the used template. Sequence alignments of AQP8s combined with structural alignments of aquaporins of known structure has an isoleucine at H5P. Loop C can be aligned such that a phenylalanine is positioned at LCP, which would render the selectivity filter identical to TIP3s, aquaporins that are also expected to be permeable for ammonia and water [22, 23, 29]. Recently, our group solved the first structure of a functionally related protein from the TIP family (AtTIP2;1 from Arabidopsis thaliana) and could thereby extend the view on the selectivity filter [22]. The new findings and revised alignments suggested that this structure should be a good template for homology modeling of AQP8.
Here, we explore this idea by modeling seven closely related AQP8 orthologs, for which common structural features are expected. The initial models are optimized using various techniques, and the final open monomeric models are analyzed structurally. For one of the seven monomeric models, a tetrameric model is generated, and the stability of the AtTIP2;1-like selectivity filter is validated by molecular dynamics (MD) simulations.
Discussion
A relevant model is a prerequisite for structural based discussions on channel properties. However, achieving a high resolution structure of a eukaryotic membrane protein may be both laborious and time demanding, if at all possible. In the absence of an experimentally determined structure, homology models can provide a conjecture of the most reasonable three dimensional structure of the protein of interest. Based on sequence alignments we have hypothesized that AtTIP2;1 should be a good template for homology modeling of selected AQP8s, since they appear to share identical residues in at least three of the five positions of the extended selectivity filter, have a small residue in LEP, and can be aligned with an aromatic residue at the LCP position of the filter [22]. It should be noted that employing template based methods does not automatically yield reasonable structures. For example, Swiss Modeller did not return a model for AQP8 from tardigrade (Milnesium tardigradum), which has a sequence identity of 21% to AtTIP2;1, as a loop could not be aligned well enough (data not shown). Furthermore, the model of AQP8 from parakeet (Melopsittacus undulates) was discarded, since not all helices could be modelled, resulting in an insufficiently stable structure.
To achieve an open pore, structural information from EcAqpZ was incorporated in the presented models of AQP8. This strategy of creating a composite model by combining elements from different structures is a general approach that might be useful also for other AQPs lacking a 3D structure. Our models confirm that the studied AQP8s are likely to have an AtTIP2;1-like extended selectivity filter. A prominent feature of this filter is the specific orientation of the arginine at HEP, engaged in an interaction with the histidine at H2P and additionally constrained by the phenylalanine at LCP fitted next to the arginine. Notably, the automatically built HsAQP8 model currently provided in the MIP modeling database MIPModDB [33] is not taking the recent AtTIP2;1 structure into account and is fundamentally different from the models presented here, as it is not placing the arginine at HEP in a AtTIP2;1-like orientation. Arginine and phenylalanine are able to stabilize each other by cation-π interaction. The strength of this interaction is depending on the distance between the guanidinium group of arginine and the aromatic ring and their relative orientation. Interestingly, the proximity of phenylalanine to arginine could cause a deformation of the π-electron clouds, which in turn could have an effect on interactions between phenylalanine and pore solutes.
AQP8s may utilize an additional way to stabilize arginine in a
At
TIP2;1-like position. On the side of the arginine not facing the pore, some AQP8s harbor a cysteine in helix 1. In our automatically optimized models, this potential hydrogen bond partner is oriented away from the arginine at HE
P
. This orientation and an alternative rotamer are exemplified for
Ss
AQP8b cysteine 53 (C53) in Fig.
11
. All three salmon AQP8 paralogs (aa1, ab, and b) are, as typical for aquaporins, susceptible to blocking by mercury, although
Ss
AQP8aa1 exhibits a much lower sensitivity [
6
]. As C53 (
Ss
AQP8b) is close to the HE
P
arginine, binding of mercury could potentially block the pore indirectly via displacement of the arginine. Interestingly, a difference between
Ss
AQP8aa1 and the other two paralogs is an alanine that replaces serine 128 (S128
Ss
AQP8b), which hydrogen bonds to C53 in our model.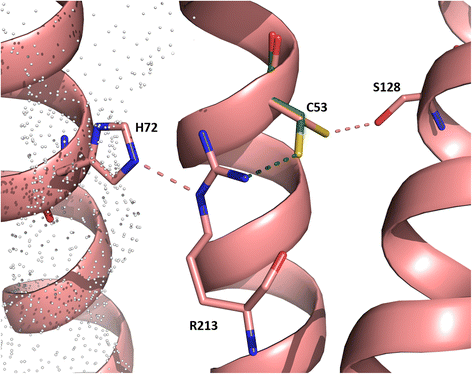 It is known that arginines can change the pK a of close cysteines [36]. This may influence the susceptibility of C53 to oxidation. An oxidized cysteine might, in turn, change the location of the arginine at HEP and thereby modify the permeability of the selectivity filter. If an oxidizing agent, e.g. H2O2, can access this cysteine (C53 in SsAQP8b), it may, therefore, regulate the aquaporin function. Interestingly, there are recent results supporting that stress can regulate the permeability of AQP8 via the oxidation state of this cysteine [37].
In all solved AQP structures except
At
TIP2;1 the arginine at HE
P
is stabilized by hydrogen bonding to a backbone carbonyl of the C loop. In
At
TIP2;1 the arginine is also connected to the C loop but indirectly via hydrogen bonding a water molecule [
22
]. This water molecule is located at the possible entrance of a water filled side pore going under loop C and up to the surface of the protein. The waters in the side pore have been speculated to form a proton wire that may assist in deprotonation of ammonium ions leading to an increased local concentration of ammonia and thereby elevating the net permeation of ammonia. So far there is no experimental evidence for such a mechanism, and it is conceivable that these water molecules instead have a strictly structural role in the protein. Interestingly, there is no clash between the four water molecules in the side pore of
At
TIP2;1 and the residues of the modelled AQP8s (Fig.
12
). Thus the models are compatible with a water filled side pore in this region and all static models, except
Hs
AQP8, are compatible with a water molecule connecting the arginine at HE
P
with loop C in a
At
TIP2;1-like fashion. In
Hs
AQP8 the afore mentioned carbonyl of the C loop adopts a position found in e.g. water specific AQPs, and the carbonyl clashes with the water at this location in
At
TIP2;1 (Fig.
12
). A possible explanation of this difference is that the
Hs
AQP8 model deviates from the other models at this site because a larger part of its C loop was initially modelled based on the water specific
Ec
AqpZ. Nonetheless, the MD simulation with
Hs
AQP8 demonstrates formation of a
At
TIP2;1-like hydrogen bond network that connects the C loop via an exchangeable water molecule to the arginine at HE
P
. Furthermore, the MD simulation shows that the water filled side pore persists over time even though the positions of water molecules are not fixed. Thus a functional role of a side pore in AQP8, possibly in deprotonation, cannot be excluded.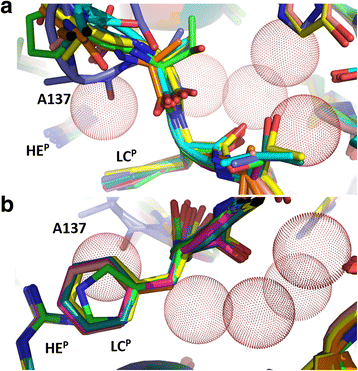 The surface electrostatics of AQP8 may hold clues to its orientation in membranes. The surface close to the selectivity filter is more negative than the opposite side where N and C termini are protruding. This may indicate an evolutionary selection based on stability at a lower pH. Alternatively, the distribution of charges can be a result of the requirements for membrane insertion, as suggested by the positive-inside rule [38]. This rule might apply when AQP8 is localized to the plasma membrane, however, when nuclear encoded proteins, like AQP8, are localized to the mitochondria they may not always follow this rule. Nevertheless, depending on the insertion pathway, negatively charged residues have been reported to be under-represented on the matrix side of the membrane [39]. This would suggest that the N and C termini of mitochondrial AQP8s are positioned on the matrix side. In both cases, the more acidic side of AQP8s and the putative side pore is facing the more acidic intermembrane space.
Conclusions
Overall the models of the selected AQP8s are compatible both with an AtTIP2;1-like selectivity filter and the existence of a side pore. Using the published AtTIP2;1 X-ray structure as a template, the presented AQP8 models are likely to be closer to the real structures as compared with currently available AQP8 models in the MIPmodDB [33]. The models generated in this study provide a base for further detailed structural analysis. These may include cross-linking experiments, which can be analyzed by mass spectrometry. Alternatively, FRET spectrometry is a known tool to derive distances between neighboring residues, which are accordingly labeled. Comparison of functional data from mutational studies or between different isoforms may lead to insights in functional mechanisms. As previously shown for other AQPs, the presented tetrameric model of human AQP8 may be used to find drug binding sites or improve potential binders by interaction mapping.
Abbreviations
AQP:

Aquaporin
At :

Arabidopsis thaliana
Bt :

Bos taurus
Cp :

Chrysemys picta bellii
Ec :

Escherichia coli
Fp :

Falco peregrinus
H2P :

Helix 2 position
H5P :

Helix 5 position
HEP :

Helix E position
Hs :

Homo sapiens
LCP :

Loop C position
LEP :

Loop E position
MD:

Molecular dynamics
MIP:

Major intrinsic protein
PBC:

Periodic boundary conditions
PME:

Particle mesh Ewald method
POPC:

1-palmitoyl-2-oleoyl-sn-glycero-3-phosphocholine
Rn :

Rattus norvegicus
Ss :

Salmo salar
Ta :

Triticum aestivum
TIP:

Tonoplast intrinsic protein
Xt :

Xenopus tropicalis
Declarations
Acknowledgements
Past and present colleagues in the aquaporin group are acknowledged for inspiring discussions on the structure, function and evolution of AQPs.
Funding
Carl Tryggers Stiftelse, Stiftelsen Olle Engkvist Byggmästare and the Swedish Research Council (VR) are gratefully acknowledged for financial support. The funding bodies had no role in the design of the study, or in the collection, analysis, and interpretation of data, or in writing the manuscript.
Authors' contributions
AK conceived and designed the study, carried out homology modeling, participated in model validation and drafted the manuscript. YS designed and performed model validation, molecular dynamics simulation and participated in revision of the manuscript. PK took part in revision of the manuscript. UJ conceived the study and wrote the manuscript. All authors contributed to analysis and interpretation of data and finalized and approved the manuscript.
Ethics approval and consent to participate
Not applicable.
Consent for publication
Not applicable.
Competing interests
The authors declare that they have no competing interests.
Publisher's Note
Springer Nature remains neutral with regard to jurisdictional claims in published maps and institutional affiliations.
Open Access This article is distributed under the terms of the Creative Commons Attribution 4.0 International License (http://creativecommons.org/licenses/by/4.0/), which permits unrestricted use, distribution, and reproduction in any medium, provided you give appropriate credit to the original author(s) and the source, provide a link to the Creative Commons license, and indicate if changes were made. The Creative Commons Public Domain Dedication waiver (http://creativecommons.org/publicdomain/zero/1.0/) applies to the data made available in this article, unless otherwise stated.
Authors' Affiliations
(1)
Division of Biochemistry and Structural Biology, Center for Molecular Protein Science, Department of Chemistry, Lund University, Lund, Sweden