Research article
Open Access
Structural basis for hypermodification of the wobble uridine in tRNA by bifunctional enzyme MnmC
BMC Structural Biology
2013
13:5
Received: 8 December 2012
Accepted: 16 April 2013
Published: 24 April 2013
Abstract
Background
Methylaminomethyl modification of uridine or 2-thiouridine (mnm5U34 or mnm5s2U34) at the wobble position of tRNAs specific for glutamate, lysine and arginine are observed in Escherichia coli and allow for specific recognition of codons ending in A or G. In the biosynthetic pathway responsible for this post-transcriptional modification, the bifunctional enzyme MnmC catalyzes the conversion of its hypermodified substrate carboxymethylaminomethyl uridine (cmnm5U34) to mnm5U34. MnmC catalyzes the flavin adenine dinucleotide (FAD)-dependent oxidative cleavage of carboxymethyl group from cmnm5U34 via an imine intermediate to generate aminomethyl uridine (nm5U34), which is subsequently methylated by S-adenosyl-L-methionine (SAM) to yield methylaminomethyl uridine (mnm5U34).
Results
The X-ray crystal structures of SAM/FAD-bound bifunctional MnmC from Escherichia coli and Yersinia pestis, and FAD-bound bifunctional MnmC from Yersinia pestis were determined and the catalytic functions verified in an in vitro assay.
Conclusion
The crystal structures of MnmC from two Gram negative bacteria reveal the overall architecture of the enzyme and the relative disposition of the two independent catalytic domains: a Rossmann-fold domain containing the SAM binding site and an FAD containing domain structurally homologous to glycine oxidase from Bacillus subtilis. The structures of MnmC also reveal the detailed atomic interactions at the interdomain interface and provide spatial restraints relevant to the overall catalytic mechanism.
Keywords
tRNA modificationX-ray crystallographySAM-dependent methyl transferaseOxidoreductase
Background
tRNAs are the most frequently modified cellular RNAs in all three phylogenetic domains of life. To date, almost 100 modified nucleosides have been reported in the tRNA sequence database (http://rna-mdb.cas.albany.edu/RNAmods/). Position 34 in tRNAs, the 5′ nucleoside of the anticodon triplet, also known as the wobble position, exhibits the greatest propensity for post-transcriptional modification, with nearly 50% of all E. coli tRNAs bearing modifications at this site [1]. Modifications at the wobble position affect the codon recognition properties of the tRNA and are essential for the accurate and complete reading of the genetic code [2]. The wobble hypothesis was proposed by Crick to account for the observation that most organisms code for considerably fewer tRNAs than the number of sense codons, precluding a simple one-to-one correspondence between codon and tRNA. Specifically, he postulated that the first nucleoside of the anticodon is less constrained than the last two, which results in the required degeneracy by allowing non-canonical recognition (i.e., non-Watson-Crick base pairing) of the last nucleoside of a codon presented on the ribosome [3].
Accumulating tRNA sequence data and increased knowledge of the chemical structures of modified nucleosides led to a modified wobble hypothesis, which encompasses the effects of post-transcriptionally modified uridines frequently found at the anticodon wobble position in bacteria and eukaryotic [4, 5]. For example, oxyacetyl uridine (cmo5U34) at the wobble position allows tRNAVal and tRNAPro to recognize all four bases in the 3′ position of the codon, while modification of U34 to 5-methylaminomethyl-2-thiouridine (mnm5s2U34) enables tRNAGlu and tRNALys to read codons ending in A or G but not C or U [6]. In addition, 5-methylaminomethyl uridine (mnm5U34), which lacks thiolation at C2 of the pyrimidine, permits tRNAArg to decode AGA and AGG, but not AGC and AGU.
In
E. coli
, the enzymes involved in biosynthesis of the thiol-bearing mnm5s2U34 have been identified; MnmA (formerly AsuE or TrmU), together with the cysteine desulfurase IscS, catalyze the thiolation of position 2 of the wobble uridine, leading to 2-thiouridine (s2U) on tRNA
Glu
and tRNA
Lys
[
7
]. MnmE and MnmG form an α
2
β
2
heterotetramer [
8
,
9
] that catalyzes transformation of the wobble uridine and s2U34 to 5-carboxymethyl aminomethyl uridine (cmnm5U34) and 5-carboxymethylaminomethyl-2-thiouridine (cmnm5s2U34), respectively. These modifications at 2- and 5- positions have been shown to occur independently to each other [
10
]. MnmC (formally known as YfcK or TrmC) is a bifunctional enzyme responsible for the final two steps of biosynthetic pathway of mnm5s2U in tRNA
Glu
and tRNA
Lys
, and mnm5U in tRNA
Arg
[
11
,
12
]. As illustrated in Figure 
1
, the C-terminal domain (MnmC1) catalyzes the flavin adenine dinucleotide (FAD)-dependent oxidation of the C
α
-N bond in cmnm5U34. The resulting imine intermediate is (presumably) non-enzymatically hydrolyzed to 5-aminomethyl uridine (nm5U34), followed by S-adenosyl L-methionine (SAM)-dependent methylation to yield mnm5U in the N-terminal domain active site (MnmC2). Bifunctional MnmC is found predominately in γ-proteobacteria, while non-fused orthologs of the MnmC1 and MnmC2 domains are present in various other bacteria [
12
]. Although MnmC is not essential for
E. coli
, the ΔMnmC strain exhibits a slower growth rate compared to the wild-type, suggesting that cmnm5U34 is not as efficient as mnm5U34 in supporting translation [
13
].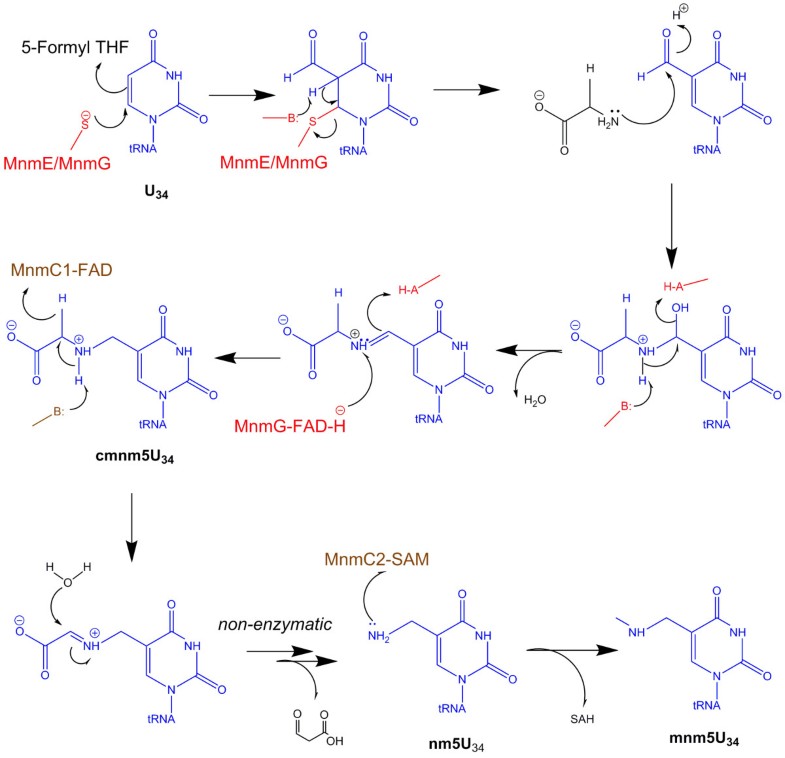 To date, crystal structures have been reported for the FAD-bound bifunctional MnmC (3AWI), the isolated MnmC2 domain (i.e., a truncated MnmC from E. coli; 2QY6) and the stand-alone MnmC2 from Aquifex aeolicus (3VYW). Here we present the FAD/SAM-bound crystal structures of full-length MnmC from E. coli (ecMnmC) and Y. pestis (ypMnmC), and an FAD-bound crystal structure of ypMnmC. These are the first experimentally determined structures of bifunctional MnmC with both FAD and SAM bound, and reveal the architectures of both active sites, as well as the detailed interactions between the MnmC1 and the MnmC2 domains. These structures also suggest features of MnmC catalysis that will aid further kinetic and mechanistic investigations.
Discussion
The crystal structures of ecMnmC and ypMnmC reveal the overall architecture of the full-length bifunctional MnmC, as well as a detailed description of the determinants responsible for binding the SAM and FAD cofactors in the two active sites. YpMnmC and ecMnmC share 61% overall sequence identity and exhibit similar structural organization with an RMSD of 1.1 Å calculated over 626 Cαs (Figure 2C). All of the current structures exhibit FAD bound in the MnmC1 active site, consistent with the previous identification of this cofactor by TLC analysis [15]. The binding mode of SAM within the MnmC2 domain was examined by soaking pre-existing crystals, which did not elicit any significant structural alteration of the MnmC2 domain or reorganization of the MnmC1/MnmC2 interface. The architecture of MnmC clearly defines the arrangement of the two domains, which separates the catalytic sites for FAD-dependent oxidation and SAM-dependent methylation by approximately 45 Å.
Conclusions
Direct visualization of SAM and FAD in their respective domains defines their binding determinants and the overall organization of bifunctional MnmC. Of particular importance, the structures of E. coli and Y. pestis MnmC reveal evolutionarily conserved structural features around the active sites and interdomain interface that contribute to function.
Methods
Cloning
mnmC genes were amplified from genomic DNA of E. coli BL21 and Y. pestis Kim by PCR and cloned into LIC-pET30a (Novagen) following the manufacturer's protocol. Plasmids containing the mnmC gene were selected and verified by the DNA sequence analysis (Genewiz).
Purification of native MnmC
E. coli BL21 (DE3) cells (Invitrogen) were transformed with vectors harboring the mnmC genes, grown in LB containing 50 μg/mL kanamycin at 37°C and induced with 0.5 mM IPTG when the OD600 reached approximately 1. Cells were further incubated overnight at 25°C and harvested by centrifugation. The cell pellets were resuspended with Bugbuster (Novagen) at room temperature for 30 min, the lysates centrifuged at 18,500 RPM for 30 min and the supernatants applied to Ni-agarose (Qiagene) columns pre-equilibrated with buffer A (50 mM HEPES, pH 7.5, 150 mM KCl and 10% glycerol). The recombinant protein was eluted with 150 mM imidazole in buffer A and the N-terminal hexa- histidine tag removed by overnight incubation with either thrombin or enterokinase (Novagen) for ecMnmC and ypMnmC, respectively. The tag-free proteins were further purified by size exclusion chromatography on a HiLoad Superdex 200 column (GE) equilibrated with buffer A. Final purity was over 95% as verified by SDS-PAGE analysis. Typical yields were approximately 5 mg per liter of fermentation. Enzyme concentrations was determined spectrophotometrically (ϵ280 = 1.46 cm-1mL/mg for ecMnmC or ϵ280 = 1.43 cm-1mL/mg for yp MnmC).
Purification of selenomethionine Y. pestis MnmC
E. coli strain B834 (Novagen) was transformed with the ypMnmC expression vector, grown in selenomethionine-containing media (Molecular Dimensions) at 37°C, induced with 0.5 mM IPTG when the OD600 reached approximately 1 and further incubated overnight at 25°C. The selenomethionyl-substituted protein was purified in a fashion identical to that described for the native protein.
Gel filtration experiments
Approximately 1 mg of purified MnmC was applied to a HiLoad 16/60 Superdex75 size exclusion column (GE) pre-equilibrated in running buffer composed of 10 mM Tris–HCl, pH 8.0 and 150 mM NaCl. Chromatography was performed with a flow rate of 1.5 mL/min at room temperature. Bovine albumin and γ-globulin were used for calibration and were chromatographed in a fashion identical to that used for MnmC. Eluted proteins were examined by SDS-PAGE.
Biochemical synthesis of pre-tRNAArg
For the MnmC activity assay, pre-tRNAArg was prepared in vitro with T7-RNA polymerase. The reaction mixture contained 40 mM Tris–HCl, pH 8.1, 1 mM spermidine, 0.001% (wt/vol) Triton X-100, 10 mM DTT, 1 μM T7 promotor (5′- TAATACGACT CACTATAGG-3′), 1 μM anti-sense template (5′- TGTCCCCTGCAGGAATCGAACCTGCAATTGCCCTTAGTTGGGGCTCGTTATATCCATTTAACTAAGAGGACC TATAGTGAGTGCTATTA-3′), 10 mM dNTPs, and 10 units of T7-polymerase (Sigma-Aldrich) in 5 mL and was incubated overnight at room temperature. The RNA transcript is typically of high purity as verified by running the product on the 20% polyacrylamide TBE gel with 8M urea (Biorad). Three rounds of 1:1 (v/v) phenol extraction were performed with the reaction mixture and the final aqueous phase was loaded on HiPrep Desalting column (GE) pre-equilibrated with running buffer identical to that used for the gel filtration experiments described above. Fractions containing tRNA were pooled, concentrated and stored at -20°C.
Cloning and purification of MnmE and MnmG
MnmE and MnmG genes were amplified by PCR from E. coli genomic DNA and inserted into LIC-pET30a. A purification strategy identical that used for MnmC was employed for MnmE and MnmG.
Assay
The in vitro assay for MnmC activity was initiated by mixing 10 mM Tris–HCl, pH 8.0, 1.6 mM 5-formyl-THF, 3.3 mM glycine, 1.7 mM NADH, 3.3 mM GTP, 10 μM T7-transcribed full-length tRNAArg, 0.27 mg/mL E. coli MnmE and MnmG, 100 μM [methyl-14C] SAM (Perkin Elmer) with bacterial MnmC (0.2 mg/mL) and incubating overnight at room temperature (total volume is 15 μL). The reaction was quenched by addition of 10 μL of 0.5% trichloro acetic acid (TCA) to a 5 μL aliquot of the reaction mixture. The quenched solution was spotted on DE81 filter (GE) and washed sequentially with 0.5 mL ethanol and 8mL 0.5% TCA. The filter was air-dried, images of the radioactive tRNA recorded on a phosphorimaging plate (Molecular Dynamics) and analyzed using a Molecular Dynamics Storm 860 PhosphorImager System with ImageQuant software.
Crystallization and structure determination
ecMnmC was crystallized by sitting drop vapor diffusion at 21°C by mixing 1 μL of the protein at 10 mg/mL with 1 μL of reservoir solution (1.8 M tri-Ammonium Citrate, pH 7.0 and 0.5% ethyl acetate) and equilibrating over 0.1 mL of reservoir solution. Crystals were transferred to reservoir solution supplemented with 20% glycerol and 5 mM S-adenosyl L-methionine (SAM) prior to flash-cooling in liquid nitrogen. Selenomethionyl-substituted ypMnmC was crystallized by sitting drop vapor diffusion at 21°C by mixing 1 μL of the protein at 10 mg/mL with 1 μL of reservoir solution containing 0.1 M HEPES pH 7.0 and 30% v/v Jeffamine ED-2001® Reagent, pH 7.0 (Hampton Research). Crystals were cryoprotected by soaking in a drop of reservoir solution supplemented with 20% glycerol. SAM/FAD-bound crystals of ypMnmC were obtained by soaking in mother liquor supplemented with 5 mM SAM and 20% glycerol prior to flash-cooling in liquid nitrogen. All X-ray data were collected on an ADSC QUANTUM 315 CCD detector at the NSLS beam line X29A and processed with HKL3000 [29]. Single wavelength anomalous diffraction data extending to 2.3 Å resolution were collected at the selenium peak wavelength for the selenomethionyl-substituted ypMnmC crystals. Diffraction from these crystals was consistent with space group P21 (a = 65.15, b = 59.57, c = 99.63 Å, β = 99.57°), with one molecule per asymmetric unit. Experimental phases were calculated and an initial model built with PHENIX [30]. Iterative rounds of manual model building with Coot [31] and refinement with REFMAC5 [32] to a resolution of 2.31 Å converged at R work = 0.171 and R free = 0.234 for the FAD-bound ypMnmC structure. Diffraction data from the FAD/SAM-bound ypMnmC crystal was consistent with space group P21 (a = 66.09, b = 59.82, c = 100.80 Å, β = 100.18) and the structure was determined by molecular replacement using the FAD-bound ypMnmC as a search model with program MOLREP [33]. Subsequent iterations of manual modeling and refinement to a resolution of 2.7 Å yielded a final model with R work and R free of 0.180, and 0.259, respectively (Table 2).
Diffraction data from an FAD/SAM-bound ecMnmC crystal were collected at a wavelength λ=1.075 nm and were consistent with space group P41212 (a = b = 100.06, c = 159.19 Å), with one molecule per asymmetric unit. Molecular replacement was performed using the FAD-bound ypMnmC structure as a search model with MOLREP [33]. Subsequent model building and refinement was performed with Coot and REFMAC5 [32]. The final model was refined to 2.55 Å with R work = 0.179 and R free = 0.246 (Table 2).
PDB accession numbers
The coordinates and structure factors for the crystal structures of SAM/FAD-bound ecMnmC, SAM/FAD-bound ypMnmC, and FAD-bound ypMnmC have been deposited in the Protein Data Bank (PDB) under accession code of 3PS9, 3SGL, and 3PVC, respectively.
Declarations
Acknowledgements
This work was supported by NIH grant GM094662 to S.C.A. This publication was made possible by the Center for Synchrotron Biosciences grant, P30-EB-009998, from the National Institute of Biomedical Imaging and Bioengineering (NIBIB). Use of the National Synchrotron Light Source, Brookhaven National Laboratory, was supported by the U.S. Department of Energy, Office of Science, Office of Basic Energy Sciences, under Contract No. DE-AC02-98CH10886.
Authors' Affiliations
(1)
Albert Einstein College of Medicine, Bronx, USA
Copyright
© Kim and Almo; licensee BioMed Central Ltd. 2013
This article is published under license to BioMed Central Ltd. This is an Open Access article distributed under the terms of the Creative Commons Attribution License (http://creativecommons.org/licenses/by/2.0), which permits unrestricted use, distribution, and reproduction in any medium, provided the original work is properly cited.