Research article
Open Access
The structure of Mycobacteria 2C-methyl-D-erythritol-2,4-cyclodiphosphate synthase, an essential enzyme, provides a platform for drug discovery
BMC Structural Biology
2007
7:68
Received: 08 May 2007
Accepted: 23 October 2007
Published: 23 October 2007
Abstract
Background
The prevalence of tuberculosis, the prolonged and expensive treatment that this disease requires and an increase in drug resistance indicate an urgent need for new treatments. The 1-deoxy-D-xylulose 5-phosphate pathway of isoprenoid precursor biosynthesis is an attractive chemotherapeutic target because it occurs in many pathogens, including Mycobacterium tuberculosis, and is absent from humans. To underpin future drug development it is important to assess which enzymes in this biosynthetic pathway are essential in the actual pathogens and to characterize them.
Results
The fifth enzyme of this pathway, encoded by ispF, is 2C-methyl-D-erythritol-2,4-cyclodiphosphate synthase (IspF). A two-step recombination strategy was used to construct ispF deletion mutants in M. tuberculosis but only wild-type double crossover strains were isolated. The chromosomal copy could be deleted when a second functional copy was provided on an integrating plasmid, demonstrating that ispF is an essential gene under the conditions tested thereby confirming its potential as a drug target. We attempted structure determination of the M. tuberculosis enzyme (Mt IspF), but failed to obtain crystals. We instead analyzed the orthologue M. smegmatis IspF (Ms IspF), sharing 73% amino acid sequence identity, at 2.2 Å resolution. The high level of sequence conservation is particularly pronounced in and around the active site. Ms IspF is a trimer with a hydrophobic cavity at its center that contains density consistent with diphosphate-containing isoprenoids. The active site, created by two subunits, comprises a rigid CDP-Zn2+ binding pocket with a flexible loop to position the 2C-methyl-D-erythritol moiety of substrate. Sequence-structure comparisons indicate that the active site and interactions with ligands are highly conserved.
Conclusion
Our study genetically validates Mt IspF as a therapeutic target and provides a model system for structure-based ligand design.
Keywords
TuberculosisHydrophobic CavityDeletion AlleleDouble CrossoverFlexible Loop
Background
Approximately one-third of the world's population is infected with Mycobacterium tuberculosis, the causative agent of tuberculosis and 2005, almost 9 million cases of tuberculosis emerged, resulting in an estimated 1.6 million deaths [1]. Typical treatments require combination drug therapies taken over a period of 6–9 months. The global economic burden of tuberculosis amounts to approximately $12 billion annually. The need for novel chemotherapeutics in the treatment of infection by M. tuberculosis is clearly demonstrated by its high infectivity rate and prolonged and extensive therapy requirements.
The isoprenoid biosynthesis pathways are attractive, established targets for chemotherapeutic treatment [2, 3]. Isoprenoids are building blocks for several biologically or commercially important compounds, including steroids, flavoring compounds like limonene, and natural medicinal products like taxol [4]. Cells are dependent on isoprenoid derivatives for critical functions like growth, hormone-based signaling, differentiation, maintenance of homeostasis, and electron transport in respiration and photosynthesis [4]. In Mycobacteria species, isoprenoid biosynthesis is particularly important for the synthesis of the cell wall, including mycolic acids and lipoarabinomannan [5]. The universal precursors of isoprenoids are the isomers isopentenyl pyrophosphate (IPP) and dimethylallyl pyrophosphate (DMAPP). Synthesis of these precursors occurs via two distinct biochemical pathways. In mammals, fungi, the cytoplasm of plants, and archaebacteria, synthesis occurs via the mevalonate pathway [6], and, in chloroplasts, algae, cyanobacteria, apicomplexa and most eubacteria (including M. tuberculosis), via the 1-deoxy-D-xylulose 5-phosphate (DOXP) or non-mevalonate pathway [7–11]. Fosmidomycin is an inhibitor of the third enzyme in the DOXP pathway, 1-deoxy-D-xylulose 5-phosphate reductoisomerase, and has been used against infections by Plasmodium species [3, 12]. Since the compound is a clinically approved antibacterial agent then there is chemical validation of this stage of the pathway for drug development. Recently, the crystal structure of the M. tuberculosis reductoisomerase has been determined opening up routes to structure-based inhibitor discovery methods targeting that particular stage of the pathway [13].
Eight enzymes are involved in the synthesis of IPP and DMAPP via the DOXP pathway [
8
,
14
]. IspF, or 2
C
-methyl-D-erythritol-2,4-cylodiphosphate (MECDP) synthase, is the fifth enzyme of the pathway. Structural and biochemical studies, in particular on the
Escherichia coli
enzyme (
Ec
IspF), demonstrate that IspF directs an intramolecular attack of the 2-phosphate on the internal β-phosphate of the substrate, 4-diphosphocytidyl-2
C
-methyl-D-erythritol-2-phosphate (CDP-ME2P), to form MECDP and CMP (Figure
1
). IspF depends on two divalent cations to orient and polarize the substrate during catalysis [
15
–
18
] In Gram-negative bacteria and
Mycobacteria
species,
ispF
is found in a putative operon with
ispD
, which encodes the third enzyme in the DOXP pathway [
14
]. Genetic studies indicate that
ispF
is essential in
E. coli
as well as
Bacillus subtilis
[
8
,
19
,
20
] and partial depletion of
ispF
in these bacteria increases sensitivity to cell wall-active antibiotics [
19
]. In larger genomic scale hybridization studies, failure to insert a transposon into the
ispF
gene also suggests it is essential in
Haemophilus influenzae
[
21
] and
M. tuberculosis
[
22
].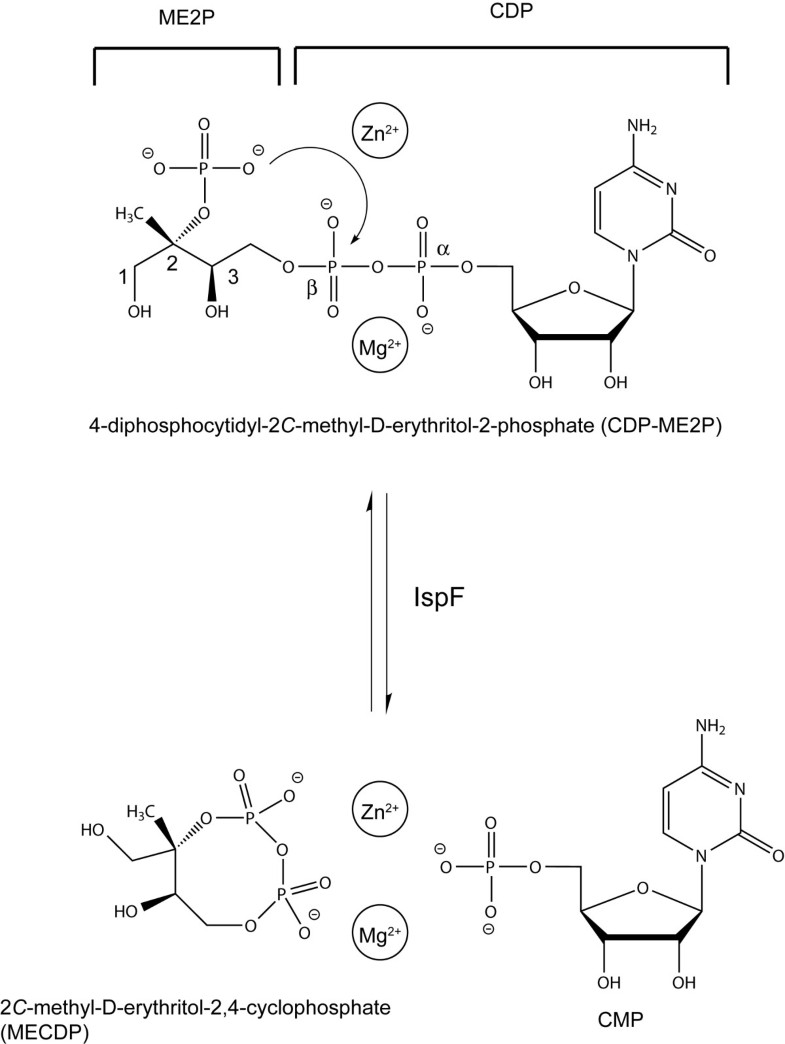 These observations, in conjunction with the absence of this enzyme from humans, demonstrate the importance of IspF as a novel target for drug discovery. The structure of Ec IspF has provided a model for rational ligand design [23] and a high throughput screen has been developed to enable ligand discovery [24]. Little information is available for M. tuberculosis IspF (Mt IspF) and earlier genetic studies only suggest that ispF is essential in this organism. Here, we prove that ispF is essential in M. tuberculosis. Furthermore, for use as a model in structure-based ligand design, we present a structure of the orthologue, Mycobacterium smegmatis IspF (Ms IspF), bound to CDP.
Conclusion
There is an urgent need to identify new targets and to develop new treatments for tuberculosis. Our work demonstrates that ispF is essential in M. tuberculosis, thus establishing it as a potentially valuable target for chemotherapeutic intervention. In addition, we have determined the crystal structure of the closely related orthologue Ms IspF bound to CDP. The protein is a homotrimer with three equivalent active sites formed at the subunit interfaces. Each active site bears a strong resemblance to those observed in other IspF structures, presenting a rigid CDP-Zn2+ binding-pocket and a flexible substrate-binding loop. Mt IspF and Ms IspF share 73% sequence identity, and, of the eleven residues in the active site that bind CDP, ten are identical and the eleventh highly conserved. Based on the high degree of similarity between the orthologues, particularly in the active site, the structure of Ms IspF provides a suitable template for structure-based inhibitor design targeting the pathogenic organism M. tuberculosis.
Declarations
Acknowledgements
We thank D. Flot at the ESRF, C. Bond, A. Schüttelkopf and members of the labs for help and advice, Dina Robertson and Scott Cameron for technical assistance. This research was supported by EU Project QLRT-2001-00887, the Biotechnology and Biological Sciences Research Council Project BB/D000181, the (Structural Proteomics of Rational Targets) and The Wellcome Trust.
Authors' Affiliations
(1)
Division of Biological Chemistry and Molecular Microbiology, College of Life Sciences, University of Dundee, Dundee, UK
(2)
Centre for Infectious Disease, Institute for Cell and Molecular Science, Barts and the London, London, UK
References
World Health Organisation: Global tuberculosis control: surveillance, planning, financing.WHO report; 2005. [http://www.who.int/mediacentre/factsheets/fs104/en/index.html]Google Scholar
Swanson KM, Hohl RJ: Anti-cancer therapy: targeting the mevalonate pathway. Curr Cancer Drug Targets 2006, 6: 15–37. 10.2174/156800906775471743View ArticlePubMedGoogle Scholar
Jomaa H, Wiesner J, Sanderbrand S, Altincicek B, Weidemeyer C, Hintz M, Turbachova I, Eberl M, Zeidler J, Lichtenthaler HK, Soldati D, Beck E: Inhibitors of the nonmevalonate pathway of isoprenoid biosynthesis as antimalarial drugs. Science 1999, 285: 1573–1576. 10.1126/science.285.5433.1573View ArticlePubMedGoogle Scholar
Dewick PM: Medicinal natural products: a biosynthetic approach. 2nd edition. Wiley, Chichester, West Sussex, England; New York, NY, USA; 2002.Google Scholar
Crick DC, Schulbach MC, Zink EE, Macchia M, Barontini S, Besra GS, Brennan PJ: Polyprenyl phosphate biosynthesis in Mycobacterium tuberculosis and Mycobacterium smegmatis . J Bacteriol 2000, 182: 5771–5778. 10.1128/JB.182.20.5771-5778.2000PubMed CentralView ArticlePubMedGoogle Scholar
Koga Y, Morii H: Biosynthesis of ether-type polar lipids in archaea and evolutionary considerations. Microbiol Mol Biol Rev 2007, 71: 97–120. 10.1128/MMBR.00033-06PubMed CentralView ArticlePubMedGoogle Scholar
Eisenreich W, Schwarz M, Cartayrade A, Arigoni D, Zenk MH, Bacher A: The deoxyxylulose phosphate pathway of terpenoid biosynthesis in plants and microorganisms. Chem Biol 1998, 5: R221–233. 10.1016/S1074-5521(98)90002-3View ArticlePubMedGoogle Scholar
Hunter WN: Structure and reactivity in the non-mevalonate pathway of isoprenoid precursor biosynthesis. J Biol Chem 2007, 282: 21573–1577. 10.1074/jbc.R700005200View ArticlePubMedGoogle Scholar
Kuzuyama T: Mevalonate and nonmevalonate pathways for the biosynthesis of isoprene units. Biosci Biotechnol Biochem 2002, 66: 1619–1627. 10.1271/bbb.66.1619View ArticlePubMedGoogle Scholar
Lichtenthaler HK, Schwender J, Disch A, Rohmer M: Biosynthesis of isoprenoids in higher plant chloroplasts proceeds via a mevalonate-independent pathway. FEBS Lett 1997, 400: 271–274. 10.1016/S0014-5793(96)01404-4View ArticlePubMedGoogle Scholar
Schwender J, Seemann M, Lichtenthaler HK, Rohmer M: Biosynthesis of isoprenoids (carotenoids, sterols, prenyl side-chains of chlorophylls and plastoquinone) via a novel pyruvate/glyceraldehyde 3-phosphate non-mevalonate pathway in the green alga Scenedesmus obliquus . Biochem J 1996, 316: 73–80.PubMed CentralView ArticlePubMedGoogle Scholar
Borrmann S, Lundgren I, Oyakhirome S, Impouma B, Matsiegui PB, Adegnika AA, Issifou S, Kun JF, Hutchinson D, Wiesner J, Jomaa H, Kremsner PG: Fosmidomycin plus clindamycin for treatment of pediatric patients aged 1 to 14 years with Plasmodium falciparum malaria. Antimicrob Agents Chemother 2006, 50: 2713–2718. 10.1128/AAC.00392-06PubMed CentralView ArticlePubMedGoogle Scholar
Henriksson LM, Unge T, Carlsson J, Aqvist J, Mowbray SL, Jones TA: Structures of Mycobacterium tuberculosis 1-deoxy-D-xylulose-5-phosphate reductoisomerase provide new insights into catalysis. J Biol Chem 2007, 282: 19905–19916. 10.1074/jbc.M701935200View ArticlePubMedGoogle Scholar
Rohdich F, Wungsintaweekul J, Fellermeier M, Sagner S, Herz S, Kis K, Eisenreich W, Bacher A, Zenk MH: Cytidine 5'-triphosphate-dependent biosynthesis of isoprenoids: YgbP protein of Escherichia coli catalyzes the formation of 4-diphosphocytidyl-2-C-methylerythritol. Proc Natl Acad Sci USA 1999, 96: 11758–11763. 10.1073/pnas.96.21.11758PubMed CentralView ArticlePubMedGoogle Scholar
Kemp LE, Alphey MS, Bond CS, Ferguson MA, Hecht S, Bacher A, Eisenreich W, Rohdich F, Hunter WN: The identification of isoprenoids that bind in the intersubunit cavity of Escherichia coli 2C-methyl-D-erythritol-2,4-cyclodiphosphate synthase by complementary biophysical methods. Acta Crystallogr D Biol Crystallogr 2005, 61(Pt 1):45–52.View ArticlePubMedGoogle Scholar
Kemp LE, Bond CS, Hunter WN: Structure of 2C-methyl-D-erythritol 2,4- cyclodiphosphate synthase: an essential enzyme for isoprenoid biosynthesis and target for antimicrobial drug development. Proc Natl Acad Sci USA 2002, 99: 6591–6596. 10.1073/pnas.102679799PubMed CentralView ArticlePubMedGoogle Scholar
Richard SB, Ferrer JL, Bowman ME, Lillo AM, Tetzlaff CN, Cane DE, Noel JP: Structure and mechanism of 2-C-methyl-D-erythritol 2,4-cyclodiphosphate synthase an enzyme in the mevalonate-independent isoprenoid biosynthetic pathway. J Biol Chem 2002, 277: 8667–8672. 10.1074/jbc.C100739200View ArticlePubMedGoogle Scholar
Steinbacher S, Kaiser J, Wungsintaweekul J, Hecht S, Eisenreich W, Gerhardt S, Bacher A, Rohdich F: Structure of 2C-methyl-D-erythritol-2,4-cyclodiphosphate synthase involved in mevalonate-independent biosynthesis of isoprenoids. J Mol Biol 2002, 316: 79–88. 10.1006/jmbi.2001.5341View ArticlePubMedGoogle Scholar
Campbell TL, Brown ED: Characterization of the depletion of 2-C-methyl-D-erythritol-2,4-cyclodiphosphate synthase in Escherichia coli and Bacillus subtilis . J Bacteriol 2002, 184: 5609–5618. 10.1128/JB.184.20.5609-5618.2002PubMed CentralView ArticlePubMedGoogle Scholar
Freiberg C, Wieland B, Spaltmann F, Ehlert K, Brotz H, Labischinski H: Identification of novel essential Escherichia coli genes conserved among pathogenic bacteria. J Mol Microbiol Biotechnol 2001, 3: 483–489.PubMedGoogle Scholar
Akerley BJ, Rubin EJ, Novick VL, Amaya K, Judson N, Mekalanos JJ: A genome-scale analysis for identification of genes required for growth or survival of Haemophilus influenzae . Proc Natl Acad Sci USA 2002, 99: 966–971. 10.1073/pnas.012602299PubMed CentralView ArticlePubMedGoogle Scholar
Sassetti CM, Boyd DH, Rubin EJ: Genes required for mycobacterial growth defined by high-density mutagenesis. Mol Microbiol 2003, 48: 77–84. 10.1046/j.1365-2958.2003.03425.xView ArticlePubMedGoogle Scholar
Crane CM, Kaiser J, Ramsden NL, Lauw S, Rohdich F, Eisenreich W, Hunter WN, Bacher A, Diederich F: Fluorescent inhibitors for IspF, an enzyme in the non-mevalonate pathway for isoprenoid biosynthesis and a potential target for antimalarial therapy. Angew Chem Int Ed Engl 2006, 45: 1069–1074. 10.1002/anie.200503003View ArticlePubMedGoogle Scholar
Illarionova V, Kaiser J, Ostrozhenkova E, Bacher A, Fischer M, Eisenreich W, Rohdich F: Nonmevalonate terpene biosynthesis enzymes as antiinfective drug targets: substrate synthesis and high-throughput screening methods. J Org Chem 2006, 71: 8824–8834. 10.1021/jo061466oView ArticlePubMedGoogle Scholar
Parish T, Gordhan BG, McAdam RA, Duncan K, Mizrahi V, Stoker NG: Production of mutants in amino acid biosynthesis genes of Mycobacterium tuberculosis by homologous recombination. Microbiology 1999, 145(Pt 12):3497–3503.View ArticlePubMedGoogle Scholar
Parish T, Lewis J, Stoker NG: Use of the mycobacteriophage L5 excisionase in Mycobacterium tuberculosis to demonstrate gene essentiality. Tuberculosis 2001, 81: 359–364. 10.1054/tube.2001.0312View ArticlePubMedGoogle Scholar
Parish T, Roberts G, Laval F, Schaeffer M, Daffe M, Duncan K: Functional complementation of the essential gene fabG1 of Mycobacterium tuberculosis by Mycobacterium smegmatis fabG, but not Escherichia coli fabG. J Bacteriol 2007, 189: 3721–3728. 10.1128/JB.01740-06PubMed CentralView ArticlePubMedGoogle Scholar
Parish T, Stoker NG: glnE is an essential gene in Mycobacterium tuberculosis . J Bacteriol 2000, 182: 5715–5720. 10.1128/JB.182.20.5715-5720.2000PubMed CentralView ArticlePubMedGoogle Scholar
Parish T, Stoker NG: Use of a flexible cassette method to generate a double unmarked Mycobacterium tuberculosis tlyA plcABC mutant by gene replacement. Microbiology 2000, 146: 1969–1975.View ArticlePubMedGoogle Scholar
Abagyan R, Batalov S, Cardozo T, Totrov M, Webber J, Zhou Y: Homology modeling with internal coordinate mechanics: deformation zone mapping and improvements of models via conformational search. Proteins 1997, (Suppl 1):29–37. Publisher Full Text 10.1002/(SICI)1097-0134(1997)1+<29::AID-PROT5>3.0.CO;2-J
Martin AC, MacArthur MW, Thornton JM: Assessment of comparative modeling in CASP2. Proteins 1997, (Suppl 1):14–28. Publisher Full Text 10.1002/(SICI)1097-0134(1997)1+<14::AID-PROT4>3.0.CO;2-O
Thiry A, Ledecq M, Cecchi A, Dogne JM, Wouters J, Supuran CT, Masereel B: Indanesulfonamides as carbonic anhydrase inhibitors Toward structure-based design of selective inhibitors of the tumor-associated isozyme CA IX. J Med Chem 2006, 49: 2743–2749. 10.1021/jm0600287View ArticlePubMedGoogle Scholar
Takami A, Iwakubo M, Okada Y, Kawata T, Odai H, Takahashi N, Shindo K, Kimura K, Tagami Y, Miyake M, Fukushima K, Inagaki M, Amano M, Kaibuchi K, Iijima H: Design and synthesis of Rho kinase inhibitors (I). Bioorg Med Chem 2004, 12: 2115–37. 10.1016/j.bmc.2004.02.025View ArticlePubMedGoogle Scholar
Gabrielsen M, Bond CS, Hallyburton I, Hecht S, Bacher A, Eisenreich W, Rohdich F, Hunter WN: Hexameric assembly of the bifunctional methylerythritol 2,4-cyclodiphosphate synthase and protein-protein associations in the deoxy-xylulose-dependent pathway of isoprenoid precursor biosynthesis. J Biol Chem 2004, 279: 52753–52761. 10.1074/jbc.M408895200View ArticlePubMedGoogle Scholar
Kishida H, Wada T, Unzai S, Kuzuyama T, Takagi M, Terada T, Shirouzu M, Yokoyama S, Tame JR, Park SY: Structure and catalytic mechanism of 2-C-methyl-D-erythritol 2,4-cyclodiphosphate (MECDP) synthase, an enzyme in the non-mevalonate pathway of isoprenoid synthesis. Acta Crystallogr D Biol Crystallogr 2003, 59(Pt 1):23–31.View ArticlePubMedGoogle Scholar
Lehmann C, Lim K, Toedt J, Krajewski W, Howard A, Eisenstein E, Herzberg O: Structure of 2C-methyl-D-erythrol-2,4-cyclodiphosphate synthase from Haemophilus influenzae: activation by conformational transition. Proteins 2002, 49: 135–138. 10.1002/prot.10182View ArticlePubMedGoogle Scholar
Ni S, Robinson H, Marsing GC, Bussiere DE, Kennedy MA: Structure of 2C-methyl-D-erythritol-2,4-cyclodiphosphate synthase from Shewanella oneidensis at 1.6 Å: identification of farnesyl pyrophosphate trapped in a hydrophobic cavity. Acta Crystallogr Biol Crystallogr 2004, D60: 1949–1957. 10.1107/S0907444904021791View ArticleGoogle Scholar
Wilson K: Preparation of genomic DNA from bacteria. In CurrentProtocols in Molecular Biology. Edited by: Ausubel FM. Greene Publishing Associates, Brooklyn, New York; 1994:2.4.1–2.4.2.Google Scholar
Leslie AGW: Recent changes to the MOSFLM package for processing film and image plate data. Joint CCP4 and ESF-EAMCB Newsletter on Protein Crystallography 1992, 26–30.Google Scholar
Evans PR: Scaling of MAD data. Joint CCP4 ESF-EAMCB Newsletter on Protein Crystallography 1997, 33: 22–24.Google Scholar
CCP4: The CCP4 suite: programs for protein crystallography. Acta Crystallogr Biol Crystallogr 1994, 50: 760–763. 10.1107/S0907444994003112View ArticleGoogle Scholar
Navaza J: AMoRe: an automated package for molecular replacement. Acta Crystallogr 1994, A50: 157–163.View ArticleGoogle Scholar
Terwilliger TC: Maximum-likelihood density modification. Acta Crystallogr Biol Crystallogr 2000, D56: 965–972. 10.1107/S0907444900005072View ArticleGoogle Scholar
Murshudov GN, Vagin AA, Dodson EJ: Refinement of macromolecular structures by the maximum-likelihood method. Acta Crystallogr Biol Crystallogr 1997, D53: 240–255. 10.1107/S0907444996012255View ArticleGoogle Scholar
Schüttelkopf AW, van Aalten DM: PRODRG: a tool for high-throughput crystallography of protein-ligand complexes. Acta Crystallogr Biol Crystallogr 2004, D60: 1355–1363. 10.1107/S0907444904011679View ArticleGoogle Scholar
Emsley P, Cowtan K: Coot: model-building tools for molecular graphics. Acta Crystallogr Biol Crystallogr 2004, D60: 2126–2132. 10.1107/S0907444904019158View ArticleGoogle Scholar
KleywegT GJ: Use of non-crystallographic symmetry in protein structure refinement. Acta Crystallogr Biol Crystallogr 1996, D52: 842–57. 10.1107/S0907444995016477View ArticleGoogle Scholar
Laskowski RA, MacArthur MW, Moss DS, Thornton JM: PROCHECK: a program to check the stereochemical quality of protein structures. J App Cryst 1993, 283: 283–291. 10.1107/S0021889892009944View ArticleGoogle Scholar
Kabsch W, Sander C: Dictionary of protein secondary structure: Pattern recognition of hydrogen-bonded and geometrical features. Biopolymers 1983, 22: 2577–2637. 10.1002/bip.360221211View ArticlePubMedGoogle Scholar
Jones S, Thornton JM: Principles of protein-protein interactions. Proc Natl Acad Sci USA 1999, 93: 13–20. 10.1073/pnas.93.1.13View ArticleGoogle Scholar
Kleywegt GJ, Jones TA: Detection, delineation, measurement and display of cavities in macromolecular structures. Acta Crystallogr Biol Crystallogr 1994, D50: 178–185. 10.1107/S0907444993011333View ArticleGoogle Scholar
DeLano WL: The PyMOL Molecular Graphics System. DeLano Scientific, San Carlos, CA; 2002.Google Scholar
Cruickshank DW: Remarks about protein structure precision. Acta Crystallogr Biol Crystallogr 1999, D55: 583–601. 10.1107/S0907444998012645View ArticleGoogle Scholar
Copyright
© Buetow et al; licensee BioMed Central Ltd. 2007
This article is published under license to BioMed Central Ltd. This is an Open Access article distributed under the terms of the Creative Commons Attribution License (http://creativecommons.org/licenses/by/2.0), which permits unrestricted use, distribution, and reproduction in any medium, provided the original work is properly cited.